Cooke: Chamber Cops Out on Street Conversions
By Ryan McGreal
Published August 05, 2008
Terry Cooke, former regional chairman and now a columnist for the Spectator, directed a blunt j'accuse at the Hamilton Chamber of Commerce on Saturday for choosing to "sit on its hands" on the matter of two-way street conversions.
The column was a response to a letter to the editor by Chamber CEO John Dolbec, who defended the Chamber's position of "benign neutrality" on the grounds that its members can't reach consensus on whether to endorse converting Hamilton's downtown streets back to two-way.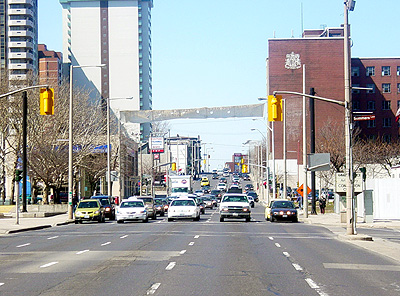 Supporters of two-way conversion argue that wide, one-way streets discourage pedestrians (RTH File Photo)
Calling the Chamber's neutrality a "cop-out", Cooke laments, "In the marketplace of ideas, Hamilton's voice of business can't take and defend a position on the most talked about local policy debate in recent memory."
Pointing out the Chamber's "proud history of advocacy on both local and national isues even where there was a clear difference of opinion within the ranks of business leaders", Cooke concludes, "No wonder the Chamber's influence at City Hall is fast becoming irrelevant to the decision-making process."
Ouch.
Earlier this year, Cooke wrote in his column that the city should "summon the political courage to simply eliminate our anachronistic system of one-way streets. No more public-policy baby steps and enough already with pilot projects" like the James and John St. conversions.
However, it's not just the Chamber of Commerce that is divided over street conversions. Some city councillors, like West Mountain councillor Terry Whitehead, object to spending scarce dollars on a project they are not convinced will pay for itself in economic development.
In July, council voted against endorsing the Five-Year Review of the Downtown Transportation Master Plan. The motion was lost (PDF) as follows:
For: Bratina, Jackson, Pearson, Powers
Against: Clark, Collins, Duvall, Ferguson, McCarthy, Whitehead
Absent: Eisenberger, McHattie, Merulla, Morelli, Pasuta, Mitchell
Instead, they voted to reconsider the matter at a subsequent committee of the whole (COW) meeting. That will take place at a special COW on August 7.
You can read the Downtown Transportation Master Plan Five Year Review (PDF).
Post a Comment
You must be logged in to comment.