Transit IS Pedestrian-Friendly
By Ryan McGreal
Published August 25, 2008
I really hope McMaster University will reconsider its decision to move the B-Line express buses off-campus, particularly given that the justification is to make the campus more pedestrian-friendly.
Transit is highly compatible with pedestrian areas. Indeed, access to good transit is a principal hallmark of a pedestrian-friendly area, since it eliminates the need to accommodate automobiles (lanes and parking) for people to travel there.
Moving the nearest transit stop farther away from most destinations on campus actually reduces the attraction and effectiveness of transit and, hence, pedestrianization.
If more students have to navigate the cumbersome crosswalks on Main St., their walking distance will be longer, their risk of collision with high-speed traffic on Main will be higher, and the convenience of taking transit will decline compared to driving.
In other words, moving the stops off-campus actually runs contrary to your goal of increasing pedestrianization.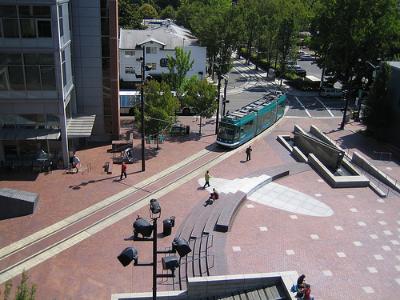 Rapid transit compatible: light rail on pedestrian plaza (Image Credit: Flickr)
This becomes even more critical as the city moves toward rapid transit with an emphasis on light rail transit, since it will a) blend even more smoothly with pedestrians and b) further increase transit's convenience and carrying capacity.
The whole thing rather smacks of a tit-for-tat move against the city for banning truck traffic from the Sterling St. entrance to the university.
Terry Sulliven, McMaster's director of parking and security, is quoted in the Spectator explaining, "The City requirement that trucks coming to campus must use the centre core made it necessary to ask the HSR to develop a plan to reduce the bus traffic."
Post a Comment
You must be logged in to comment.