Trucks, One-Way Streets 'Killing the City': Urbanists
By Ryan McGreal
Published May 14, 2009
Who knew? It turns out that one-way streets and through truck traffic create "patches of despair" that discourage pedestrian life and hurt business, according to an article in today's Spectator.
Yesterday, an international team of professional urbanists studying how to make cities more livable toured around Hamilton and plan to present their conclusions to the city.
Reinforcing what we amateur urbanists have been saying for years, the team pointed out that the city has pockets of vitality that are torn by the discontinuities of pedestrian-hostile urban expressways.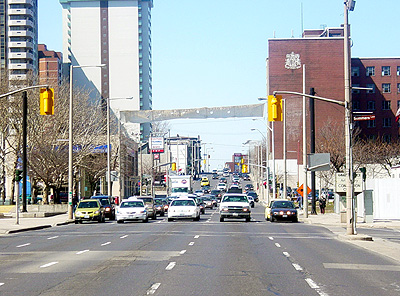 A team of urban experts argues that our one-way expressways are harming street life (RTH file photo)
They minced no words in their assessments of where we have gone wrong. "Truck traffic can't be the sacred goose," warns Walk21 development director Bronwen Thornton - in direct contradition to Chamber of Commerce spokesperson John Dolbec, who maintains that our "just-in-time" economy trumps livability.
Paul Young, an urban designer from Toronto, was even more blunt: "Trucks are killing the city."
James North impresario Dave Kuruc, who operates Mixed Media and publishes H Magazine, is quoted in the article inviting city planners to have tea with him outside his shop on the southeast corner of James St. North and Cannon St.
He hopes it will help them to make the conceptual shift from seeing streets as means of moving people across distances rapidly to seeing them as a means of letting people interact locally.
It can't be repeated enough: people on the street spend money downtown; encased motorists passing through at high speed do not. Likewise, would-be pedestrians recoil from the greedy tug of a truck's slipstream or the interminable roar of high-speed traffic.
Folks, this is not rocket science. All you have to do is walk around and pay attention, and it becomes impossible not to notice where we went wrong. We can no longer afford the luxury of our city leaders and planners making abstract, top-down policy decisions without confronting the street-level consequences of those decisions.
It's far past the point where we can still rationalize allowing persistent one-way expressways and through truck traffic to go on "killing the city".
Post a Comment
You must be logged in to comment.