Ottawa's Byward Market Demonstrates Urban Livability
By Jason Leach
Published November 30, 2009
Over the years I've written several blogs about the sad effects of maintaining high speed truck routes through the heart of our downtown core. I've also posted several blogs outlining ideas and thoughts for developing a vibrant market district in the area of our current market and adjacent empty land north of the market which could be redeveloped and tied into James North.
If a picture is worth a thousand words, I'll shut up and let a wonderful photographer take us on a tour of a proper market district that thrives with people and is a magnet for new residents looking for a great urban lifestyle.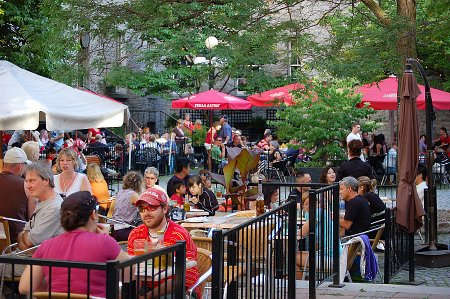 Actual people, outside, at Ottawa's Byward Market
Please note the restoration of the old building stock. Before anyone thinks that Hamilton's demolition-happy residents might be onto something when they suggest razing downtown, imagine King, James, Main, Queen, Bay and other downtown area streets being restored back to their original beauty with some well-designed modern projects mixed in.
We're spending a lot of money on York Blvd and our Market only to allow semi-trucks carrying steel coils to rumble past at will. Don't expect any nice outdoor tent/market place scenes here unless we're willing to make the basic changes necessary to create a vibrant, business-friendly downtown core.
Post a Comment
You must be logged in to comment.