Soot is All Over Hamilton
By Maggie Hughes
Published September 05, 2010
I am finding it more difficult to breathe - especially the past three or four years. Soot isn't just a problem for the East Enders. The wind is taking this black devil all across the City, including McMaster University and Dundas.
I had a very bad day in May. It was a Sunday and a stink permeated all through my apartment. All windows were shut tight, but it managed to fill the air in my home to the point that I was very physically ill.
I called Arcelor Mittal and found the Environment representative. Being a Sunday, there was nobody to call, really. The man asking me questions was someplace else, not in Hamilton and reading Air quality information off a computer screen.
He kept telling me his monitors did not show the levels I was describing. We spoke for an hour until I realized nothing would be done.
What a horrible day. I wore one of those general face masks and just tried to get through it.
Not having a car, I can't really do anything about leaving town.
Then again, on a Sunday, August 22, I woke up at 4:00 AM struggling to breathe. It was pretty foggy out so I could not even see the stacks.
Since my first problem I have taken the habit of wiping the inside of my balcony screen with a white facecloth, or white sock.
I do this every morning to let me know what I can expect if I go outside. I do not rely on the weather and Air Quality index on the weather channel. It is often out of sync with my lungs.
At daylight, I grabbed one of my freshly laundered white socks and did what I always do. I wiped the inside of my balcony screen. Most days I get a brownish tinge, which I put down to car and Truck exhaust.
That morning I picked up heavy black soot, like a powder. I wiped the freshly washed floor inside the door with a dry white cloth, and picked up more black soot. It was everywhere. I couldn't understand how it got inside so easily.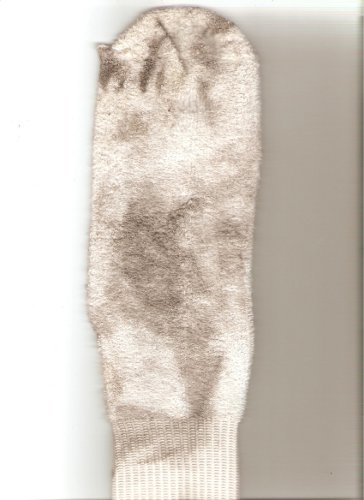 Black soot on a white sock
I called Acelor-Mittal again, got a return call from one of their Environment reps but as before, not much could be done for me. At least my call let them know how far and when this soot was traveling.
I managed to get use of a car and simply left town. As soon as I left the City area, my voice returned and my breathing wasn't labored.
This needs to stop. The entire City is being covered with this black stuff. Totally toxic chemicals are getting into our lungs. We won't be able to flush any of it out of our system.
I have been doing some research, and plan to continue to dig into U.S Steel and Columbia, but the track record I found for Arcelor Mittal is appalling. It seems whereever that company goes, it pollutes the water and fills the air with toxins and soot.
I am now seriously thinking of moving out of Hamilton while I still can. In these times of climate disasters, we do not need money to be made at the detriment of the very air we breathe and the water we drink. Water is becoming a scarcity just due to the hot climate. But when companies like these add more pollution by using water in their process, how can we hope to have enough drinking water left for our children?
Everyone should take a look at the Good Neighbour Campaign website and join up with Environment Hamilton. We are lucky to have these volunteers.
Post a Comment
You must be logged in to comment.