Hamilton Ready for Bike-Sharing
By Jason Leach
Published September 05, 2010
This past Tuesday afternoon, the city of Hamilton hosted two bike sharing programs to set up a display at City Hall and gauge public interest in potentially starting a program here.
Bixi and B-Cycle both made presentations before council in the afternoon and then set up a display of their product in the forecourt to allow citizens to test ride the bikes and learn how the system works.
I had the pleasure of test riding the bikes and they are great bikes for an urban environment. Both had a carrying basket over the handlebars and thick tires suitable for city riding and the inevitable potholes, sewer grates and manhole covers that urban cyclists encounter. The bikes had different gears and handled very smoothly.
The Bixi bike was especially comfortable. It was more of a Dutch cruiser style bike than the B-Cycle. The ease of unlocking the bikes with the electronic keys was remarkable and it was simply a matter of sliding the front wheel back into the bike base upon returning.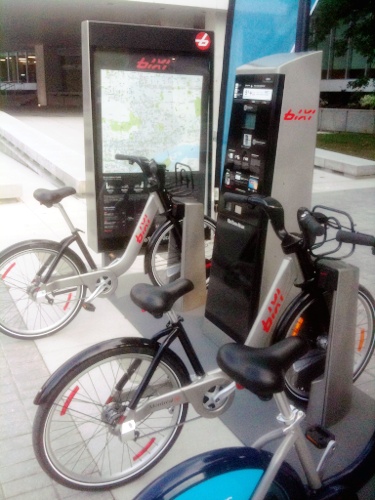 Bixi depot on display at City Hall
Chatting with the staff who were involved with the display was informative and I got the distinct sense that they viewed Hamilton as being ripe for this sort of program.
As we all know, despite our massive downtown freeways and flawed planning over the past 30 years, Hamilton is still remarkably compact, walkable and bike-friendly (if you're brave or know safe alternate routes).
In researching the two companies, it is clear that both present a great opportunity for Hamilton. Both have annual memberships and have done a good job at keeping their rates low. With Bixi, Montreal's annual fee is $78, and Toronto's is $95. With B-Cycle, Denver's annual fee is $65, and Des Moines is $50 - $40 for seniors and students.
In my mind there are a few important points to consider when discussing a bike sharing program.
Affordable
Next to walking, bikes are the most affordable method of transportation and require the least amount of space. A simple lane next to vehicle lanes is all that is required.
Hamilton currently has a plan to criss-cross the city with bike routes for a grand total of $50 million. $50 million may sound like a lot of money, but it costs that much to resurface 14 kilometers of roadway.
This is an entire new transportation network for our city for the same cost as doing some roadwork.
Convenient
It appears to me that in order to be successful, a bike share should have many stations located in convenient areas.
One great feature of these systems are that the bike stalls don't require any construction. They can be placed on a roadway in place of a couple parking spots or in any convenient location near shopping plazas, parks or transit terminals.
Montreal has done a wonderful job of filling their city with stations.
Attractive
One of the ways to further bike infrastructure and take a 20 year plan and turn it into a 5 year plan is to get more people cycling now. A bike share would do this in Hamilton.
In fact, I mentioned to the staff members from Bixi that I would have loved to have a bike system to take advantage of the day there were in town. I had just returned a U-Haul on Upper Wellington near the Mountain Brow and would have much preferred to pick up a bike at Sam Lawrence Park to ride downtown and drop it off near my home at Victoria Park instead of waiting for a bus and then walking home in the brutal heat.
Transportation Options
Ultimately, more convenient transportation options are a good thing for the city. In Hamilton it is only 4.5 kilometers from McMaster University to Gore Park. It is three kilometers from St Josephs Hospital to the Williams Coffee Pub on Pier 8 at the waterfront.
Think of all the destinations that exist in this small area, and this is just one part of our city - granted, the most densely populated heart of the city.
Think of the popular parks, commercial strips, education facilities, transit terminals, cultural venues, tourist attractions, neighbourhoods and workplaces that exist in the heart of our city.
A bike sharing system would give students the option to zip downtown without having to cram onto buses like sardines or be passed by several times by full buses. Folks making the short drive to work and spending money on gas and parking could get some exercise and save some money by grabbing a bike.
I can envision a system with 20-25 stations in the Downtown/Westdale area and then several more in convenient spots on the Mountain, Dundas, central and east Hamilton.
Contact Hamilton's cycling committee for more info and to show your support for bringing a bike share to the Hammer. It's long overdue.
Post a Comment
You must be logged in to comment.