Pedestrians, Please Step Up
By Adele Konyndyk
Published November 26, 2010
I often see this yellow sign when I'm out for a stroll in my neighbourhood. Most days I just walk on by without giving it any attention. But at least a few times a week, I glance at the sign ...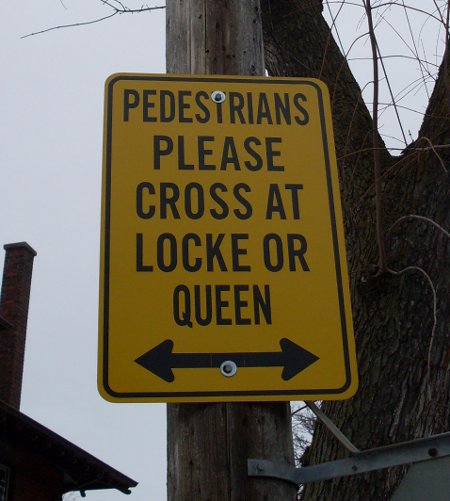 PEDESTRIANS PLEASE CROSS AT LOCKE OR QUEEN
... just before disobeying it.
At a significant lull in traffic, I dart across Aberdeen Avenue (sometimes in clickity-clack church heels that add just a little extra wobble to my step.) I reach the other side glad to have avoided walking an extra 400 meters to one of the official intersection crosswalks.
I don't enjoy - or get a silly rebellious rush from - this jaywalk of a dash. I am careful about it, and I've never been honked at, or come close to an oncoming car. Still, there's always a little risk involved in straying from official pedestrian markings.
And it doesn't feel good to disobey the sign, with its cheery yellow colour and polite "please" statement - though I doubt it'd make any difference if the sign was severe worded-like a Gandalf-esque You shall not pass! warning.

You Shall Not Pass! (Image Credit: Kuvaton.com)
But much as I don't like darting across the street, it seems a justifiable response to the lack of a proper crosswalk in this location.
I've long thought of this lack of a crosswalk as an inconvenient but unchangeable reality in Hamilton - sort of like the abundance of one way streets or, in even more fixed realities, the heavy lake-effect snow the city gets in wintertime.
Sure, every time I do my road dash, I think: "It sure would make a whole lot of sense to have a crosswalk here." But I never thought to say anything about it, or assumed there were others who really cared.
That is, not until I happened upon an article in Raise The Hammer about this very issue.
The article is part of an occasional feature of the blog called Walkability Fail, in which readers send in reports of intersections or stretches of road with particularly poor pedestrian accessibility.
It's a feature I knew nothing about, but I really should have. As someone currently without a vehicle, I spend a fair amount of time as a pedestrian, and so have good reason to be aware of and involved in protecting Hamilton's walkability.
Included in the article is the text of an email recently sent to a local councilor providing several reasons why a crosswalk should be installed at this location.
It's a civilly written and well-outlined email, too, which emphasizes the issue as a matter of providing a more pleasant and, most importantly, safer walking environment for local residents.
While this issue may seem 'small' compared to other issues facing Hamilton, it is still one that affects people's lives, and therefore worth careful consideration. I am delighted to see residents stepping up in this way, taking ownership of a situation and pressuring the City to take action.
I'm also embarrassed about how little thought I have given to the different venues for getting involved and speaking up about municipal issues.
This 'small' call for a crosswalk is, for me, a 'big' wake-up call of sorts, reminding me to take the time to evaluate and, when necessary, challenge aspects of my city rather than sit by and dismiss them as 'inevitable' or 'unchangeable.'
And I've learned that informed and active residentship is important for everyone, whoever you are, wherever you live, and however you cross the street.
This was originally published in Adele Konyndyk's website.
Post a Comment
You must be logged in to comment.