Our Height Restrictions are Insane
By Jason Leach
Published February 22, 2012
this blog entry has been updated
Hamilton's West Harbour compromise plan will result in potentially 600 new residential units on the entire site. Meanwhile, in the suburban north end of Toronto, 1,660 units are coming to a smallish parcel of land currently housing a strip mall.

Map illustrating site density (Image Credit: Urbantoronto.ca)
Note that the Toronto project backs onto family homes with pools and is too far north to be on the subway line. In other words, way out of the urban core.
We had the Options for Homes condo at the corner of King and Queen Streets held up at the OMB because some folks wanted six stories instead of 12.
At King and Queen, right downtown in front of a future LRT station.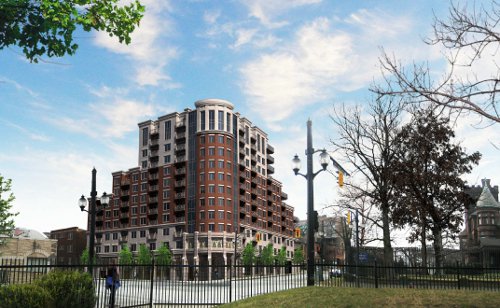 Too tall for downtown Hamilton? Rendering of a residential condo at the southeast corner of King Street West and Queen Street (Image Credit: Chamberlain Architect Services Ltd)
Our height restrictions are just insane. We need to see ourselves as a real city again. Mississauga is now building a bigger skyline than us, which means more density and eventually street life and business success.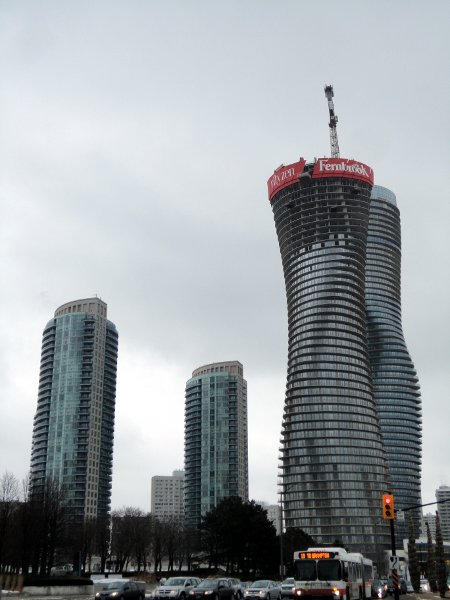 Absolute Towers in Mississauga during construction (RTH file photo)
---
Update: added rendering of the proposed condo at King Street West and Queen Street.
Post a Comment
You must be logged in to comment.