Speed Limits are a Public Health Issue
By Ryan McGreal
Published May 01, 2012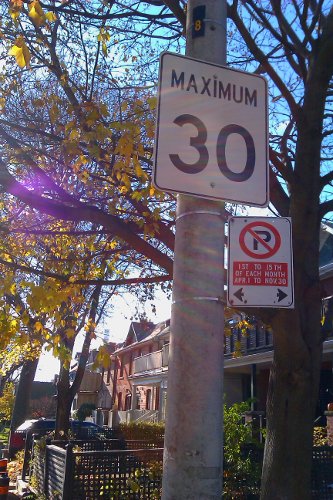 30 km/h speed limit in Toronto's Beaches neighbourhood (RTH file photo)
Demonstrating compartmental thinking - or perhaps we should call it departmental thinking - at its worst, members of Toronto City Council are scoffing at a proposal by David McKeown, their city's Medical Officer of Health, to reduce speed limits on public health grounds.
Toronto's top doctor wants speed limits in Canada's largest city reduced by 10 to 20 kilometres an hour, an idea that'll be a tough sell when he pitches it to the Board of Health on Monday.

When Medical Officer of Health David McKeown revealed his proposal last week, it was panned faster than the speed of a car on one of Toronto's 60 km/h arterial roads.

Mayor Rob Ford dismissed it as "nuts, nuts, nuts, nuts," while the head of the public works committee urged Dr. McKeown to "stick to his knitting," unless he's after a job in the transportation department.
McKeown's recommendation to yesterday's Public Health committee is just one part of a more comprehensive report, titled Road to Health: Improving Walking and Cycling in Toronto [PDF link], that proposes a broad commitment to creating a healthier transportation network. It includes the following:
Reducing vehicle speeds to 30 km/h on residential streets and 40 km/h on other streets;
Installing bike boxes and leading pedestrian signal intervals;
Developing cycling and pedestrian modal share goals based on public health outcomes;
Increasing investments in pedestrian and cycling infrastructure; and
Working with Metrolinx to develop a regional active transportation network.
The committee backed away from the speed limit proposal, proposing instead that the limit should only be imposed on neighbourhoods that ask for it - and that the decision must be approved by council.
Speed Limits and Public Health
Cities like Toronto are clearly not in the habit of thinking about speed limits in terms of public health, but it is exhaustively understood that the risk of pedestrian injury and death increases geometrically as motor vehicle speed increases. At 32 km/h, the risk of death is just 5 percent, but that jumps to 45 percent at 48 km/h and to a devastating 85 percent at 64 km/h.
A vehicle traveling at twice the speed needs four times the distance to stop. As a result, faster vehicles don't merely cause more serious injuries in a collision, they are also more likely to be involved in collisions in the first place.
While other cities around the world, ranging from Portsmouth to New York City, are taking steps to find a better balance between safety for pedestrians and convenience for motorists, other cities remain mostly stuck in the tired presumption that through traffic is sacrosanct and safe pedestrian space is expendable.
Safe Speed Limits in Hamilton
Toronto's health report recalls a request a few years ago by Hamilton's North End Neighbourhood Association (NEN) to establish a 30 km/h limit in the North End as a pilot project for the City. Staff and council shied away from the proposal, which was part of the neighourhood's Setting Sail secondary plan, and the NEN appealed the matter to the Ontario Municipal Board.
The OMB heard the appeal between November 2010 and August 2011, but has not yet rendered a decision. NEN vice-president Sheri Selway points out that New York City has already established a pilot project with area-wide 32 km/h (20 mph) slow zones, inspired by a landmark study that connects pedestrian fatalities to high speed traffic.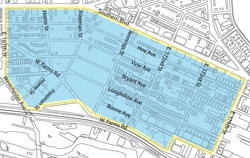 Claremont Neighbourhood Slow Zone in the Bronx, New York City (Image Credit: New York City)
The NYC project combines lower speed limits with re-engineering of streets to deter speeding: narrower lanes, painted speed limits on the street, speed bumps, bumpouts and other treatments.
The pilot project has been extremely successful, and a number of other neighbourhoods are asking to have slow zones established there as well. The City has established a process for neighbourhoods to apply for slow zones.
Post a Comment
You must be logged in to comment.