Delegations to Enbridge Pipeline Meeting
By Maggie Hughes
Published October 30, 2012
Enbridge is reversing a 37 year old pipeline that runs across the Province of Ontario and further on to Montreal. The plan is to pump diluted bitumen, or "dilbit", from Sarnia to the East Coast markets.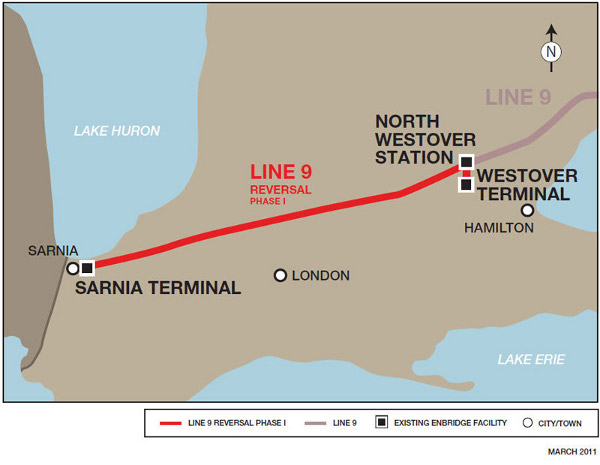 Line 8 Reversal route (Image Credit: Enbridge)
Hamilton City Hall allowed citizens to comment on Enbridge's plans to pump dilbit through an old pipeline. Enbridge was invited three times to make a presentation, and failed to show. So Hamilton allowed the 10 delegates to make their presentations anyway.
Since the city council broadcast camera does not show the delegates nor their presentations, I tried to make sure their concerns were recorded and broadcasted.
Delegates - John McGreal (HIVE), Ken Stone (Hamilton 350), Janet Chafe (HEAT), Daniell Boisse, Elysia Petron, Maggie Hughes, Diane Fields, don McLean, Dr. Lynda Kukasik (Environment Hamilton)
Post a Comment
You must be logged in to comment.