Still Struggling to Make Sense of City Policy on Crosswalks
By Nicholas Kevlahan
Published May 14, 2013
In a recent blog post, I wrote about the long struggle - more than a decade - to get decent pedestrian amenities built in Hamilton. In particular, I wrote about former traffic manager Hart Solomon's determination that painted crosswalks did not qualify as legal crossovers and would expose the city to liability risk.
It seems that Solomon somehow decided the pushbutton-activated Pedestrian Crossovers (PXO) used in Toronto, with overhead flashing amber lights, were the only solution at intersections as well (apart from stop signs or traffic lights), even though pedestrians always have a de facto right to cross at intersections under the Ontario Highway Traffic Act (HTA). (Note: PXOs are very rare outside of Toronto, although they are described in the HTA regulations.)
Years later, I even sent city alternative transportation manager Daryl Bender some photos of sign-and-painted-lines crossings from other towns in Ontario to convince him that such crossings are legal, but the engineers claimed that these signs in other Ontario towns were all illegal.
More recently, Hamilton traffic engineers have also determined that PXOs are not as safe as crosswalks with full traffic signals, which cost $80,000 to install and must be approved by the Public Works Committee and Council.
This raises the bar even higher for any street infrastructure to indicate that pedestrians are actually allowed to cross the street at intersections!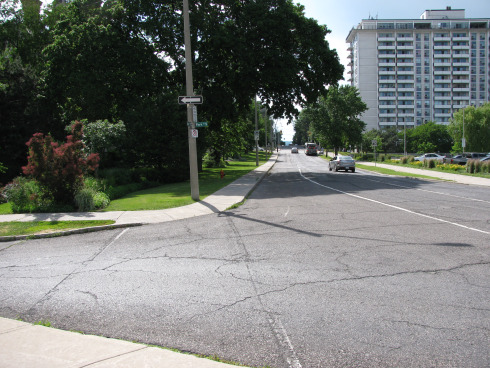 Ghost Crosswalk at the corner of Hunter and Park (Image Credit: Undustrial)
The fact is that most of Hamilton's ghost crosswalks actually are at intersections, so Hamilton's policy has effectively been to deny pedestrians their existing rights by making those rights invisible to drivers - and eventually to pedestrians as well, after the lines faded.
Why don't the police and government publicize to drivers the fact that pedestrians have the right of way when crossing legally at an intersection? This is certainly the understanding of everyone in western Canada, where I used to live and where motorists routinely yield to pedestrians at crosswalks.
Solomon's attitude may also have been mixed up with the fact that in practice it is very difficult to convict a motorist who hits a pedestrian, even when the pedestrian is crossing legally at a crosswalk. The standard penalty for killing a pedestrian legally crossing in crosswalk is a $500 fine.
However, that would argue against Solomon's 'liability' argument. This may have been what he meant by claiming drivers don't have to yield to pedestrians: that given the way the law is actually enforced, drivers effectively can run over pedestrians with impunity, so pedestrians should simply never cross the road!
This has indeed been a 'solution' proposed by the City for intersections with high pedestrian casualty rates: simply ban pedestrians!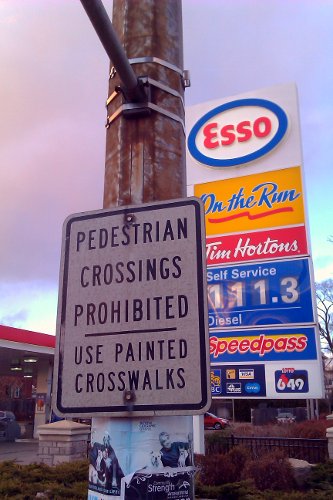 "Pedestrian Crossings Prohibited" sign on King at Dundurn. That intersection connects a residential neighbourhood with local commercial amenities including a grocery store. (RTH file photo)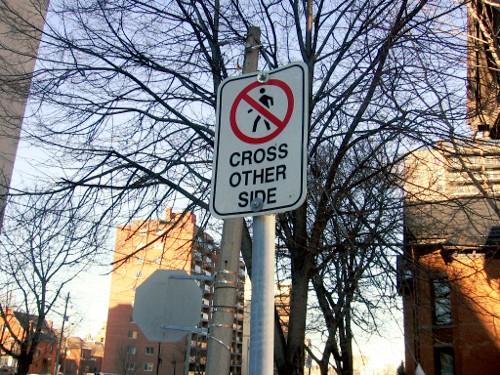 "Pedestrians Cross Other Side" sign on the east side of Hughson at Charlton. Signalized intersections all around St. Joseph's Hospital restrict pedestrian crossings to one side or the other. (RTH file photo)
Eleven years later, I am still trying to understand how the City could think it was appropriate to remove all signs and let the lines slowly fade, without providing any alternative.
Post a Comment
You must be logged in to comment.