Hamilton Tactical Urbanism in The Atlantic Cities
By Ryan McGreal
Published June 05, 2013
At RTH, we spend a fair amount of time looking at case studies from other cities as examples of things we could be doing in Hamilton, so it was a real treat, this morning, to see Hamilton used as a case study of what other cities could be doing.
An article in The Atlantic Cities contrasts Hamilton's recent foray into tactical urbanism with the city of Vallejo, California, whose police department jailed a resident for painting a crosswalk on a dangerous intersection.
While the Vallejo man was celebrated in his community but vilified by the authorities, a similar act of guerrilla road work in Hamilton inspired the City to make the crosswalk official (albeit after an initial bad reaction.
The Atlantic Cities article quotes from RTH and includes photos by Maureen Wilson and Jason Leach and a clever poster by Matt Jelly.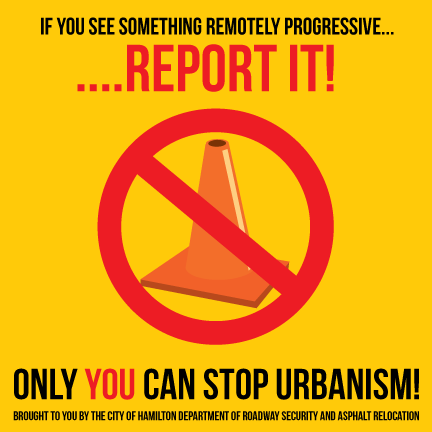 Tactical urbanism poster by Matt Jelly
It also interviews Graham McNally of the Hamilton Burlington Society of Architects (HBSA), the group that sponsored the tactical urbanism workshop and talk, on the City's commitment to continue taking cues from the community on how to make safer streets.
Post a Comment
You must be logged in to comment.