City Still Killing Development Dead with Obdurate Rule Enforcement
By Ryan McGreal
Published July 25, 2013
This story in today's Spectator is infuriating:
The same Gore Park storefront that sat empty this time last year is now filled with daily diners, but the city's focus is on the façade they say doesn't fit with the character of the area.
The Burrito Boyz on the south side of King just west of John is an excellent addition to the Gore district. Instead of a vacant storefront or yet another payday loan shop, we got a respectable business: well decorated, clean, operated by fast, efficient and friendly staff, all in the service of selling delicious, high-quality sandwiches to a bustling daily clientele.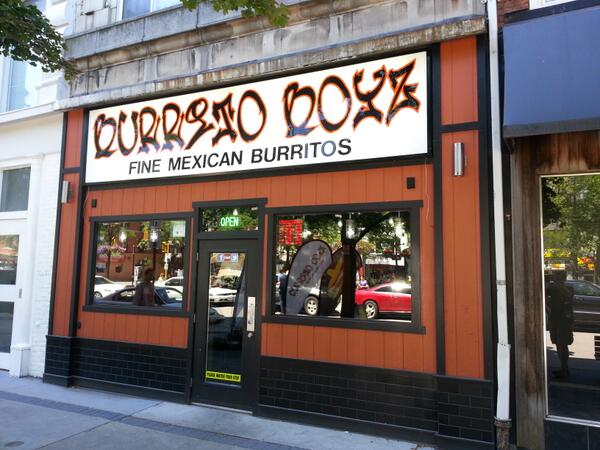 Burrito Boyz in Gore Park
Seriously, why the hell is the City getting on the owners' case over what percentage of their frontage is glass?
Look, I respect and appreciate the Downtown Heritage Character Zone Guidelines, which are in no small part responsible for the urban form of the new building at James and Vine - but they're guidelines, for crying out loud.
We seem perfectly willing to bend over backwards to accommodate "compromises" for developers who want to demolish heritage buildings, and then nitpick to death those entrepreneurs who make the kinds of small-scale, building-by-building investments that are actually responsible for the nascent recovery of the core.
You know what would do more to preserve the character of the Gore than threatening up to a $10,000 fine against Burrito Boyz? Issuing a stop work order on the demolition of 18-28 King Street East. Frankly, the City has no credibility on this issue.
When we're not cherry-picking businesses to harass over inflexible facade rules, we're denying ice cream shops in small neighbourhood commercial properties; shutting down small seating areas outside restaurants and cafes; sinking high-density developments under inane parking requirements; demanding setback variances for hundred-year-old buildings; denying commercial uses that fall outside ludicrously narrow zoning allowances (the owners of a shop on Locke Street were told it was only zoned to sell antiques or fireplaces - I'm not even making that up); telling a hotel condo developer he needs to set his building back from Main Street in case we decide to widen it even more; and on and on.
Despite EcDev's protestations to being "open for business", we're still busy killing development dead with the same obdurate inflexible bureaucratic overreach that has strangled investment in lower city Hamilton for decades.
Systematically neglect your property for years and kick out your tenants? We'll issue you a demolition permit, no questions asked, and even give you a big property tax break!
But don't you dare try to renovate a vacant storefront into a new business inside an existing heritage building with less than 80 percent glass. We have standards to uphold, after all.
Post a Comment
You must be logged in to comment.