Fringe Review: The Trial of Naomi Verne
By Ryan McGreal
Published July 19, 2014
Playwright: John Bandler
Director: Tom Mackan
Cast: Brenna Rae MacNaughton as Naomi Verne, Steve O'Brien as The Inquisitor, Andrea Adcock as Valdis, Genevieve Jack as Tamina Maxwell
Show Type: Drama Sci-Fi
Audience: General
Warning: Strong Language
Running Time: 60 minutes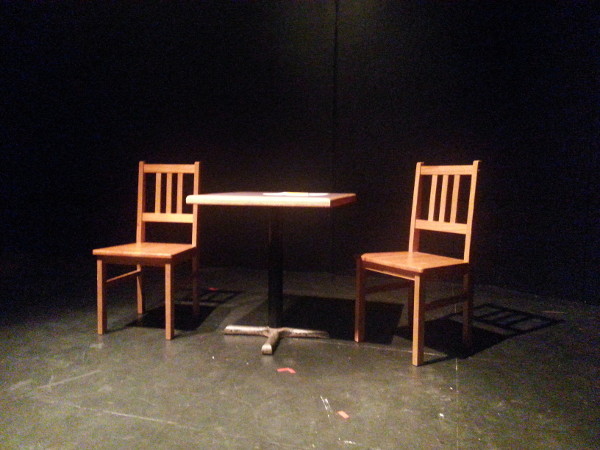 A table and two chairs are all this set needs
This is the third play in playwright John Bandler's science-fiction trilogy, centred around a messianic scientist who does not appear in this act but whose legacy casts a long shadow over the events depicted.
If you haven't already seen 59 Minutes in the Maxwell Suite and That The Multitude May Live, I highly recommend you read the director's notes from the program guide before the play begins.
I didn't read the notes until after the play was over (mea culpa), so I spent most of the hour trying desperately to figure out what was going on.
Here's a quick summary: the story takes place in a future of fully immersive communications technology and designer genetics, where a billionaire genius named Luton Maxwell has dedicated himself to neutralizing the threat of a theocracy named the Kingdom of God.
Maxwell "patched" a famous opera singer named Naomi Verne (Brenna Rae MacNaughton, who played Verne in the second play) to have enhanced cognitive abilities, and she went on to become the President of the Domain of American Nations, using Maxwell's technologies to ensure the happiness and productivity of its people.
Verne and Maxwell had a remarkable daughter, Tamina (Genevieve Jack), who inherited her father's customized DNA and wrote an opera at age five.
Now we come to the third play: Verne finds herself in some kind of technology deprivation chamber, cut off from the outside world and subjected to a Kafkaesque trial under a mysterious Court for crimes that she must herself identify.
We meet the Facilitator (Steve O'Brien, who also appeared in the first two plays), an agent of the Court who tries to guide Verne to an understanding of why she is on trial and what the Court expects of her.
We also meet Valdis (Andrea Adcock), a member of the high Council of the Kingdom of God, who reveals a devastating secret about Tamina and offers Verne a horrifying bargain to avoid all-out holy war between the Kingdom and the Domain.
MacNaughton transitions powerfully from haughty outrage to desperation, while Adcock plays her part with enigmatic coolness and O'Brien brings mystery and gravity to his role as Court emissary. Jack is unnerving as a querulous young child imbued with the abilities of an adult, gifts that bring a new meaning to the term "daddy's girl".
For a science-fiction story, this play was decidedly low-tech. It was smart to set the events inside an unadorned chamber designed to block technology. Aside from a few subtle, well-used sound effects and a lot of sciencey jargon, the story unfolded mainly though dialogue and flashback, with just a little bit of exposition.
Post a Comment
You must be logged in to comment.