Fringe 2016 Review: boKa
By Mackenzie Kristjon Jenkyns
Published July 21, 2016
Playwright: Kathleen Aubert
Director: Kathleen Aubert
Cast: Kathleen Aubert
Show Type: Comedy, Physical Theatre
Audience: General
Running Time: 60 minutes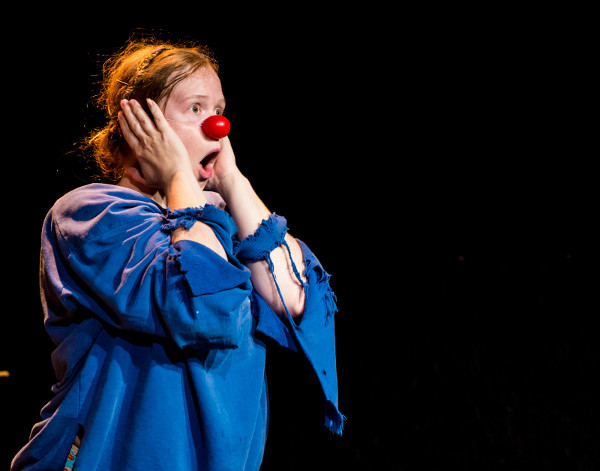 Kathleen Aubert
Being fortunate enough to attend the preview of the Fringe Festival, I had already had occasion to meet this friendly clown boKa as she twisted over me in the crowd. "Excuse me!" she giggled in a high-pitched and childlike voice. Colour me intrigued!
On Monday, I popped by Theatre Aquarius to see what the hype was all about, and I was not disappointed. I would definitely rank this production as one of the more intriguing shows I've seen at the Fringe over the years I have attended.
Kathleen's clown character boKa delightfully entertains our audience as she tries to define her own identity by filling out an official form in which she has to decide if she speaks English or French, has a name, is male or female, and so on.
Her props - all kinds of dolls, an evil guard, lots of jackets hanging on hooks - were all used to great effect, even if they were all completely confusing to the initial eye. "What's THIS?" I kept thinking.
Having grown up around circus clowns, I would quickly point out that she's not that kind of clown. There are no balloons and no whiteface.
I sat down with Kathleen to inquire as to some of the inspiration she had for developing this character and production.
The first thing I must point out is that I almost did not recognize her without her clown nose and raggedy ann costume. I found out that she often has been a normal actor and portrayed all kinds of characters in Canada and as far away as Australia.
Kathleen explained to me that her history as an actor eventually took her to a clown workshop that opened up her mind to the possibilities that clowning affords.
She also explained about some emotional clown performances she had seen in Montreal. This made sense as there are a lot of emotional undercurrents in her performance, which is sometimes hilarious, sometimes very sad.
Her character boKa evolved naturally through experimenting with the form. She described it as a very organic process. Even the shirt she wears that inspired her name was an actual "comfort sweatshirt" that she used to wear lazing around the house.
I asked her if she would ever do other clown characters and she laughed. "Each person has one true clown character within them."
Fair enough, I said. I'm not expecting Jay-Z to suddenly become Flava Flav.
Her production engages the audience and causes people in subtle ways to consider identity politics and funny things about people, which was her intent.
This production debuted at the Montreal Fringe in 2015 and the sequel premiered also at the Montreal Fringe this year. In b2, she makes a new friend. Hopefully we get to see that one next year at the Fringe here in Hamilton!
Post a Comment
You must be logged in to comment.