Fringe 2016 Review: El Diablo of the Cards
By Mackenzie Kristjon Jenkyns
Published July 25, 2016
Playwright: Ewerton Martins
Director: Ewerton Martins
Cast: Sean Ewerton Martins
Winner of this year's Spirit of the Fringe Award, Ewerton Martins proved to be a very reliable Devil of the Cards. For his inaugural visit to Canada from Brazil, it would be fair to describe it as a rousing success.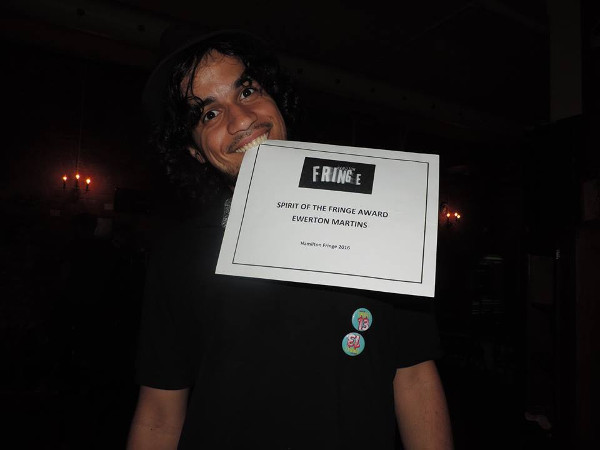 Ewarton Martins
At Theatre Aquarius, audience members were treated to a 45 minute magic show focused on cards and comedy. Unlike most shows, the audience was on the stage closely assembled around a table to watch the mystifying action unfold.
I was fortunate enough to be seated directly beside him with my son (who was completely enthralled from beginning to end). We started off with Hayley Pace from Teeny Tiny Music introducing our magician once, twice, maybe three times with increasing crowd response.
With the wide array of tricks, I found it absolutely mesmerizing and mystifying. Seated behind him, I had a great view of his hands and was constantly looking for palming and anything that might give away how these mysterious acts were done. Needless to say, I was at a total loss.
When I sat down with our clown/magician a few days later, I was treated to a private show that featured many of the same kinds of tricks.
I mentioned to him that there was a theory/rumour going around that his brain was made of cards and this was why there was a steady flow of cards through his mouth. Naturally a whole deck seemed to spill out of his mouth.
Ewerton turned out to be a very personable fellow and explained that he had heard of Hamilton and decided to apply having never been to Canada before.
Interestingly, he claimed to be somewhat of an outsider in the magic "scene" in Brazil. Apparently when he was younger, he applied to become a member of a magical society there and was declined as they seemed to think that his sleight of hand was not good enough. I really had a hard time believing this!
He asked me to think of a card. I said, "The Queen of Spades."
He said, "Take a look in that card box there."
Out pops the Queen of Spades.
"Welcome to my world!" he cackled.
It was then that I realized that this was El Diablo's world and we were just living in it. Hopefully we will see him again in Canada perhaps with a bigger show.
Post a Comment
You must be logged in to comment.