Fringe 2016 Review: Fringe Interview: Kate McArthur
By Mackenzie Kristjon Jenkyns
Published July 25, 2016
It's somewhat of a rare occasion for an actor at the Fringe Festival to be in multiple productions but this year, Kate McArthur appeared in her own short, Ashes to Ashes, and also in the famous Sarah Kane's 4.48 Psychosis. After I spoke with her, a number of people I ran into around town told me their favourite play was 4.48 Psychosis.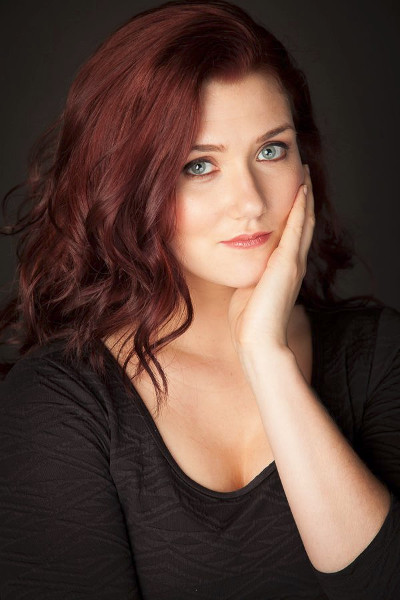 Kate McArthur
During the Fringe, Kate and I sat down for a chat to discuss these two plays.
Mac: So tell me about yourself.
Kate: I went to the University of Windsor for a Bachelor of Fine Arts in Acting. I'm from Burlington, and a lot of my adolescent formative years in developing my acting ability actually occurred in Hamilton. I did several shows at Hamilton Urban Theatre Association ...so a lot of Shakespeare in the Park! I ran their Shakespeare and Drama Camp there one summer, I did a show with HTI (Hamilton Theatre Inc.).
Mac: So HTI (at which 4.48 Psychosis was showing) was a little like coming home.
Kate: Yeah I walked in and Matt Moore was there. He had cast me in Jekyll & Hyde when I was eighteen.
Mac: Oh. So which one were you?
Kate: (laughs) One of the prostitutes. No name. Prostitute 1, I believe. (laughs)
Mac: Why did you pick Windsor?
Kate: Windsor has an amazing program. It's Top Three in Canada in a very depressed location. I can say that because my dad is from Windsor and it's where my parents met. It's the little acting jewel in Ontario's armpit.
I had the option to go to Toronto to do that kind of thing but I wanted to go somewhere more isolated so I could develop my acting abilities away from the constant networking of a place like Toronto. As such, I didn't get caught up in the whole "image" thing and really focused on the work.
The professors at Windsor did so much for the students and really cared.
Mac: Tell me about 4.48 Psychosis.
Kate: Sean O'Brien who is the director for 4.48 just finished his MFA at East 15 in London. He was the year below me in university and I had spoken to him last year and we agreed to work together for a fringe festival right when he graduated.
He had stage-managed a performance of 4.48 previously and didn't enjoy what was done with it. As such, we decided to take this ensemble piece with three actors.
(Kate shows me the script...)
People afterwards were surprised at how we made anything out of it as it's a series of what comes off as potentially dialogue without characters and free-form poetry. Stream-of-consciousness free-form poetry.
The characters we created are a split one-person (thought, emotion, and body) on top of a few other characters we manifested. A lot of it seems cryptic and like it might be haphazard but it's not. She researched everything. The little references and easter eggs, the straight out plagiarism: "last in a long line of literary kleptomaniacs -a time honoured tradition".
Note: For those who are not aware, this piece is a meditation on clinical depression, a condition that plagued Sarah Kane. She killed herself before the play was ever staged. Also of interest is that it played in Hamilton in 2011 with a different company.
Mac: Tell me about Ashes to Ashes.
Kate: My final project at university was a twenty-minute character study. The first incarnation was entirely different. We spent the last three years going back and forth re-writing this.
Mac: What inspired you to tackle this rather heavy subject matter?
Kate: I took in my third year of university a course on Women and the Bible. I was raised Roman Catholic and kind of fell out from the church. I was cast as the Virgin Mary every year for the Easter and Christmas plays right up until grade eight when I dyed my hair blue and then all of a sudden I was cast as Mary Magdalene and I realized that something was not right. The blue would match the costume so well... (trails off). Kidding!
At any rate, I find the mythology of the Catholic Church fascinating. I was originally going to do my character study on Boudicca the Celtic Queen when the Romans took over the Brits. (I still might do something on her.) Due to a variety of factors, I eventually settled on Lilith.
I wasn't trained as a playwright and.. for this incarnation, we re-imagined it in a way so as to examine the humanity within the divinity because you have these strong characters that are of divine origin. Around a year and a half ago, I did my yoga teacher training as I've always connected with Hinduism very strongly and its manifestations of the gods and how the gods themselves as in any polytheistic religion, the gods tend to be flawed. As such, although the characters (ed. Note: Lilith, Cain, Satan) are all of divine origin, I wanted to explore their humanity.
You can read Mackenzie's review of Ashes to Ashes.
Post a Comment
You must be logged in to comment.