Pigface
By Julian Nicholson
Published July 26, 2018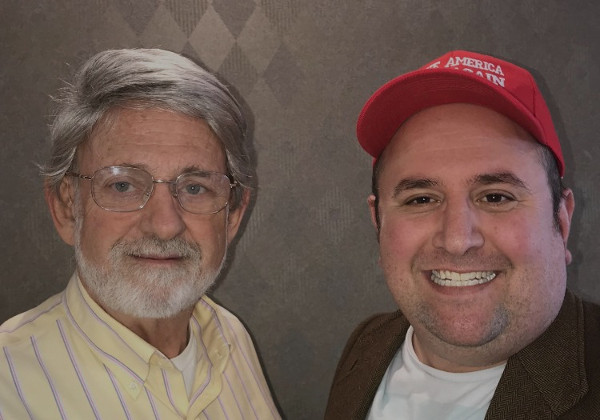 Pigface
Playwright/Director: Paul Merrifield
Cast: John Palmer, Brent Haugh, Greg Penny
Show Type: Comedy
Audience: Parental Guidance
Running Time: 60 minutes
Pigface is written and directed by Paul Merrifield, a comedian from London, and is in no way connected to the industrial music supergroup. It features John Palmer as Noam Chomsky, Brent Haugh as Rush Limbaugh, and Greg Penny as a waiter.
The play is a political satire that imagines The two main characters meeting at a hotel at the instigation of Chomsky's granddaughter and Limbaugh's daughter. The hope of the two woman is that the two men will find some kind of common ground between their two radically different political philosophies.
The show starts with Brent Haugh as Doug Ford at a press conference. He takes questions from the audience and responds with canned answers whatever the question. It's a clever bit, but is utterly unconnected to any other part of the show and gives the impression of being filler.
The start of the play itself shows the two characters in isolation: Chomsky stage right, listening to and commenting on Limbaugh on stage left. The action then shifts to and remains at a dining room table centre stage, set in a hotel room. A waiter appears and disappears randomly, offering occasional meaningful insight to the discussion.
The writing feels like dueling quotes. One side takes a position, then the other. There is some actual conversation, usually centred around their offspring, but the political discussion is the equivalent of reading a twitter exchange.
The performances were also problematic for me. Rush Limbaugh was an on/off switch permanently stuck at on. There was no differentiation between his radio voice and his conversational voice.
Chomsky was permanently perfectly pedantic. There were a couple of moments where a character shone through, but mostly, and probably intentionally, he was the perpetual voice of liberal reason.
A great deal of the play was spent with one character standing up from the table, making a statement, sitting down, and then the other character doing the same. I never felt they were actually engaging each other.
Part of the problem is the layout of the table and chairs. Instead of having the chairs face each other, the sit at either end of the table facing out to the audience, denying the actors a chance to truly talk to each other.
I really wanted to like this play. I love political humour and satire, and I was looking forward to an hour or so of it. The concept of the play is great, but the characters need to be humanized. They need to have actual conversations across a table with each other. We need to see how much they love their family members. There is a good play in there, but as it stands, I cannot recommend this production.
Post a Comment
You must be logged in to comment.