How I Became Canadian
By Ryan McGreal
Published July 30, 2018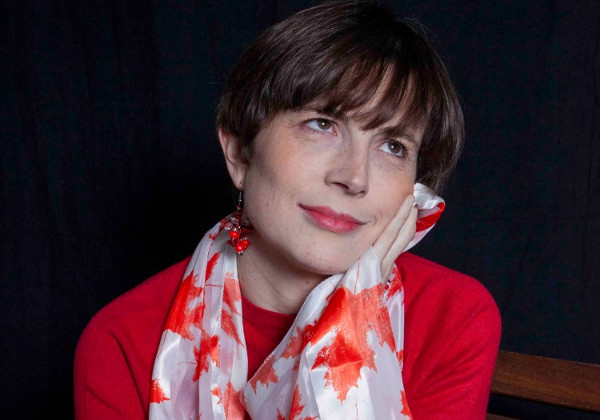 How I Became Canadian
Cast: Iris Gardet-Hadengue
Playwright: Iris Gardet-Hadengue
Director: Anne Marie Scheffler
Show Type: Comedy
Audience: All Ages
Running Time: 55 minutes
In How I Became Canadian, Iris Gardet-Hadengue takes a light-hearted look at her experiences moving to Canada and discovering the realities of living here. Her one-person show employs narration, dialogue among various characters and several charmingly corny songs - including some skillful audience engagement while singing the National Anthem.
The plot structure is a bit convoluted, with most of the play taking place within nested flashbacks. Iris is at the airport returning to Canada from a trip to Paris, and the Customs agent is challenging her claim to be Canadian. She makes a flashback to her conversation with her three Parisian friends the previous night, in which they asked her about living in Canada and questioned whether she is losing her French culture.
That conversation, in turn, makes numerous flashbacks to her prior experiences with such Canadiana as paddling and portaging a canoe, shovelling snow in lieu of a gym membership, and battling squirrels and other urban wildlife.
The show moved at a steady clip and made economical use of minimal props and set pieces, and the scene transitions were generally smooth, with well-timed audio cues and effective use of lighting to orient the audience within the nested flashback structure.
Iris' good nature, enthusiasm and charm are infectious, and the audience responded positively to her humorous anecdotes and expressive physicality. But maple syrup and snow shovels can only take you so far. To be honest, I went in hoping for some deeper insights into Canadian culture from a newcomer who has chosen to move here.
As a first-generation Canadian child of immigrant parents, I'm always interested in the perspectives of people with a bit of cultural and psychological distance, who can see past Canadians' blind spots on national identity. I would encourage Iris to dig a little deeper. One of the funnier moments was her discovery of play-dates and her clever life-hack to maximize their value.
Post a Comment
You must be logged in to comment.