A Time of Future Tales
By Brian Morton
Published July 21, 2019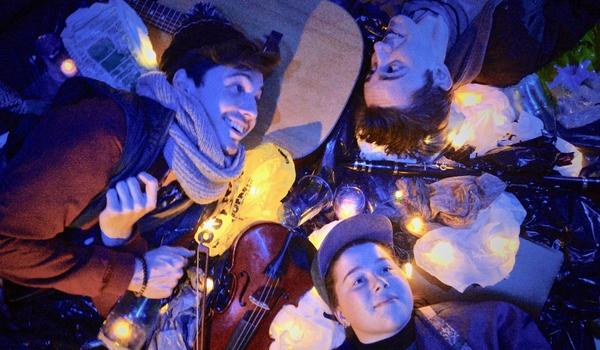 Cast: Noah Beemer, Meghan Caine, Liam Crober-Best, Eudes La Roche-Francoeur, Alexa Macdougall, Katie Martin, Russel Niessen, Tevra Plamondon, Braeden Soltys, and Elise Wilson
Creator: Eudes La Roche-Francoeur
Director: Macayla Paris
Musical Director: Juliette Jones
Show Type: Musical
Audience: All Ages
Running Time: 60 minutes
Ten actors populate this theatrical speculation of an "end of the world" house party, which is plenty of mouths to feed in the midst of a climate change disaster. This is a time when walking outside in the daylight is potentially lethal, and so, holed up in small space, we discover that adults and several children are hosting a house party to create a sense of community, out of the darkness that surrounds them.
Created by Sheridan graduate Eudes La Roche-Francoeur, and featuring the artful direction of Macayla Paris, this new musical features a dozen or so original songs that riff on "the end of the world, as we know it".
Surprisingly, given the typical restrictions of a Fringe theatre show with limited tech set up time and access to technical support, I am pleased to report that the music in this clever production is remarkably well sung and arranged, with some stunningly beautiful harmonies.
Using but a single microphone on a stand and featuring a pirate-hatted master of ceremonies with a Fender Telecaster electric guitar, the music has a distinctly "RENT" like vibe. It is wonderful that enough electricity has survived the apocalypse to power the small amplifier that most of the songs in this play depend on.
Other musical instrumentation - including clarinet, fiddle, melodeon and percussion on various boxes and crates - gives this production an impressive palette of sounds to choose from. Musical director Juliette Jones has done a wonderful job exploiting the fine yet very different voices in the play.
While there may not be much of a story here, the moral implications of this production are quite profound. This bleak wasteland is the ultimate destination that the climate change deniers are leading us toward, a world in which the basic survival of the human race is at stake.
It is a cautionary tale that deserves to be seen by a wider audience.
Sadly, there was no program available for me to individually identify some of the extraordinary individual performances in this strong ensemble of actors. That is a pity, as the weaknesses of a few of the performers were more than balanced by the strength of voice of others. This is an ensemble that captures and holds the attention of the audience.
I found "A Time of Future Tales" to be a thoughtful piece of theatre that attempts to have it both ways. It is a commercial musical property, fully grounded in its circumstances, that should easily garner an audience. It also has a strong and important message to share.
I hope that the play gets developed further into a full length piece of theatre and finds its audience here at the Hamilton Fringe.
Post a Comment
You must be logged in to comment.