Monster
By Bryan Boodhoo
Published July 24, 2019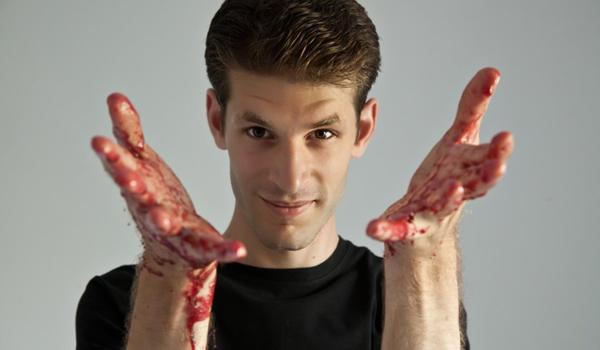 Director: Sean Aileen Mcclelland
Playwright: Daniel Macivor
General Manager: Chelsea Wilson
Cast: Colin Bruce Anthes
Show Type: Theatre
Audience: Mature
Running Time: 75 minutes
This is the second year in a row that Hamilton Fringe has been blessed with a Daniel McIvor one-person show (this one with long-time collaborator Daniel Brooks). Monster, which was nominated for a Governor General's award in 2000, has a very similar feel to the show "House". So if you liked House, you'll probably like Monster, and if you didn't like House, well, there are a lot of similarities. A lot. If you missed Jon Paterson performance of House last year, you can see read my review to see what you missed.
This one-person show, performed by Colin Bruce Anthes, is high-energy, multi-charactered and a little spastic. Most of the show takes place in one spot in the centre of the stage, which is called for in the script. From this singular pivot, Anthes explodes into about a dozen characters, and quickly changes between them at lightening pace. Although this should be confusing, Anthes easily changes his voice and mannerism to take us a long for a ride. Anthes is very good, and (fingers crossed) will continue get better and better.
The lighting and music are creatively used to break up the fact that the audience is listening to one person talking, usually very quickly, for 75 minutes.
The jokes are funny but quirky. The stories are sad, confessional and sometimes filled with gore and obsession. At points, this play will make you reel in your chair, but in the end, the performance shows us quite vividly how the weight of societal expectations can turns us all into monsters, some more than others.
At the end of last year's Fringe, I asked who will pick up the gauntlet to preserve Canadian theatre, and that means not just sending forth new works into the world but also reviving the ones that come from our tradition. Anes, director Sean Aileen McClelland and general manager Chelsea Wilson have done that. For that I am grateful. Perhaps next year we will see a revival of another important piece of Canadian theatre, perhaps one by a woman or a person of colour? We'll see. In the meantime, don't miss the gifts on offer at Fringe - and this play is among them.
Post a Comment
You must be logged in to comment.