Eisenberger: Transit Needs New Investment, Area Rating too Divisive to Change
By Ryan McGreal
Published March 29, 2007
(This blog entry has been updated)
Mayor Fred Eisenberger defended his vote in favour of the transit increase in an email to Raise the Hammer.
Calling the decision "not an easy issue", Eisenberger pointed out that Hamilton has among the lowest transit fares in Canada and that the city has underinvested in transit for years.
I firmly believe that in order to bring transit to the next level in Hamilton, we need to invest. Part of that investment will come from this reasonable fare increase, part from gas tax revenues, and in the future, part will come from provincial and federal infrastructure money so that we can finally create a rapid transit system worthy of our city.
He acknowledged that fare prices are correlated with ridership, but argued that the staff report predicting a 550,000 drop was "calculated in isolation of other factors."
He claimed that the combination of service increases and a growing population will offset some or all of the reduction in ridership. "[O]ur transit officials stated that the short-term impact on ridership will be substantially less and could end up being zero."
The following charts, provided by the HSR, plot the correlation between transit ridership against fare prices; and transit ridership against service hours. Eisenberger pointed out the ridership correlates positively against both.
HSR Ridership v. Fare Prices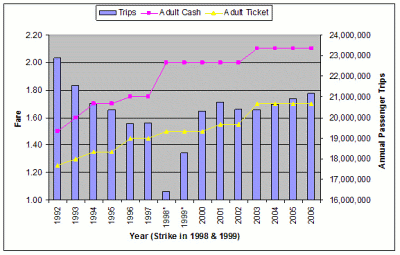 HSR Ridership v. Fare Prices, 1992-2006 (Source: HSR). Click on the Image to view larger in a popup window
HSR Ridership v. Service Hours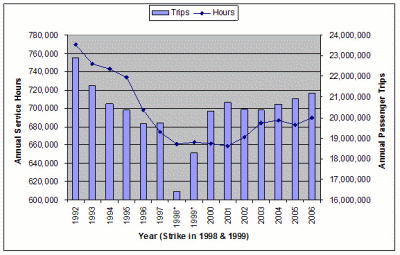 HSR Ridership v. Service Hours, 1992-2006 (Source: HSR). Click on the Image to view larger in a popup window
Eisenberger also argued that city staff in social services "are preparing a program that will help mitigate the fare increase through a system based on the 'ability to pay'."
He cited the approval for installing bike racks on the buses and the creation of a rapid transit office, concluding that "Hamilton is laying the ground work for more investment in the years to come."
I asked the mayor if he would support eliminating area rating, in which in which residents contribute different rates toward transit based on where in the city they live (some ratepayers contribute nothing).
He replied that he "views the area rating system as a very divisive issue" and does not favour "opening that debate at this time."
I also pointed out that roads and traffic spending has grown much more quickly than transit spending since 2000 and asked the Mayor whether he supports investing less in roads and more in transit.
He replid that he supports the Transportation Master Plan, which "places a much greater emphasis on transit than in the past and identifies corridors for a bus rapid transit system."
He also noted he does not support building new roads, but supports spending money to maintain existing roads. "[P]rioritizing investment in parts of the road network that act as major transit corridors is a way to provide transit benefits from the roads budget."
However, according to a recent analysis by Citizens at City Hall, the Transportation Master Plan still allocates most of the dollars to road expansion and modification, including an "access facility" between the Red Hill Expressway and the airport.
The plan calls for doubling spending on bus purchases from the current $10 million a year to an average of $20 million a year, while road spending is projected to climb from $40 million to up to $70 million a year.
Update: This article originally quoted from Paul Shaker, who works in the Mayor's office. In fact, Shaker was forwarding the Mayor's comments. Raise the Hammer regrets the error. -Ed.
Post a Comment
You must be logged in to comment.