MEC's Burlington Location
By Sean Burak
Published June 27, 2007
(This blog entry was first published on the Skyscraper page)
I had very extensive talks with the MEC spokespeople back when the mecinhamilton thing was just starting. I totally understand where they are coming from financially.
But no matter what, it just makes no sense that they are locating in the middle of a highway/big box/strip mall/suburban nightmare, and they have the gall to claim that it is "centrally located and readily accessible", and "located in an area of the city that's experiencing regrowth".
It is literally surrounded by highway right of ways which will never be developed and low density retail/housing which, let's be honest, is never going to be torn down to make way for mixed use buildings.
Anyone who isn't a hardcore "greenie" is going to drive to this MEC location. Even access to GO is pathetic. To get from the Burlington GO to this location on foot, it will go something like this:
Exit train, go through northbound tunnel (so far so good)
Walk 250 metres just to get to the edge of the parking lot
Walk 300 metres Eastbound (THE WRONG WAY!) along a dedicated GO station driveway
Walk 750 metres back West along plains to Brant, going over an overpass and passing only two major "attractions" - Burlington Hyundai on the left and a strip mall on the right.
Turn North on Brant and walk 150 metres to MEC.
For those not counting, that's almost 1.5 kilometres of walking, and the only things you pass are light industrial and one strip mall plaza.
Compare that to anywhere in downtown Hamilton, where you'd be walking distance to the GO, Greyhound AND the downtown HSR "hub" (Gore Park/MacNab "turnaround"), not to mention lots of high density housing - and on this walk, you'd pass lots of retail and amazing architecture instead of parking lots and cloverleaf ramps.
Hell, I don't care what city they move to, as long as they at least try to make their location accessible by alternative transportation.
Have they ever tried to cycle on Brant or Plains? It's a nightmare of automobile-scale development.
Here's a visual comparison: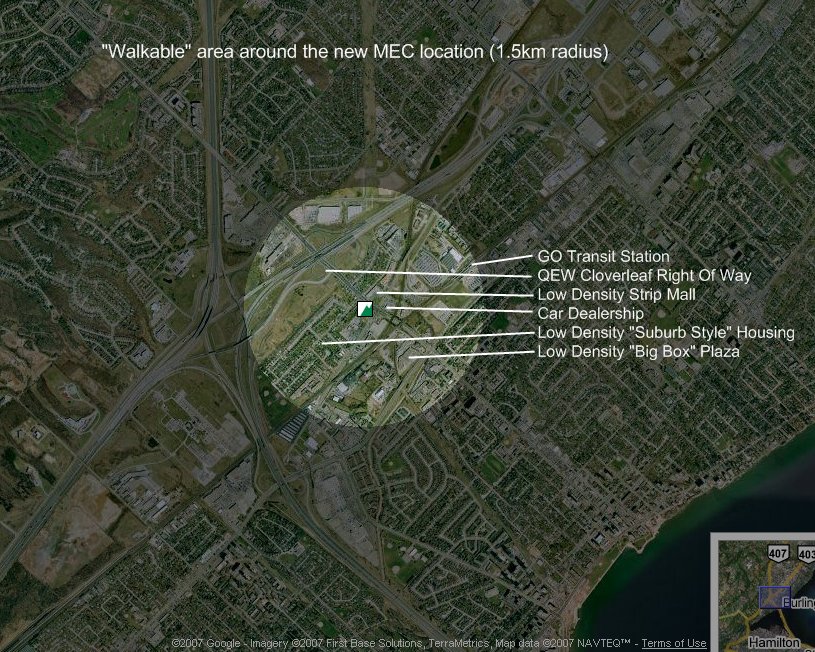 Walkable area around the new MEC location (1.5 km radius) - Click to view full size in a new window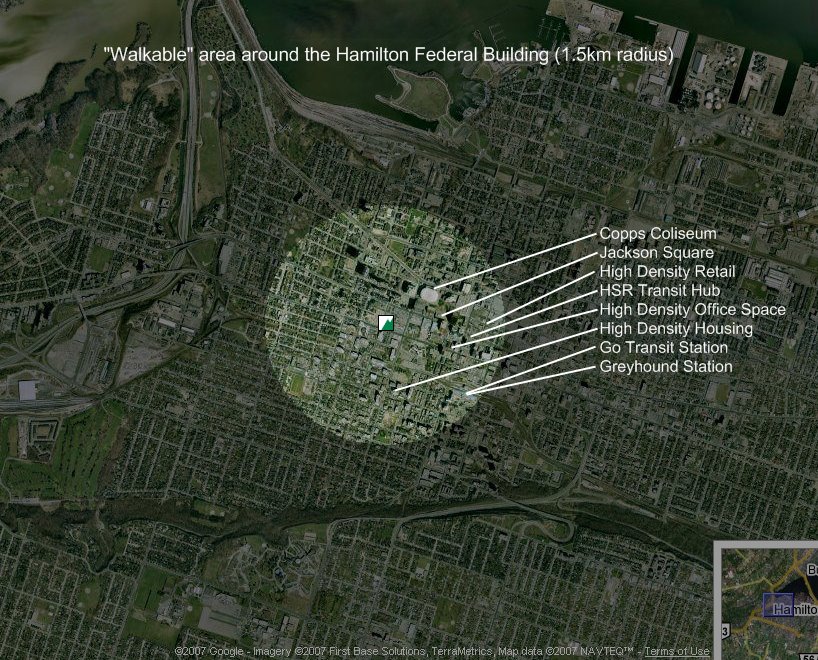 Walkable area around the Hamilton Federal Building (1.5 km radius) - Click to view full size in a new window
I admit I have a very heavy bias toward Hamilton, but from the sounds of it, they tried to find land in Burlington/Oakville that was suitable, and they couldn't; so they settled.
I know that they have bills to pay, and I know that their new building is going to be really cool (LEEDS and all), but in the end, all of that is going to go down the tubes when every customer visits them by way of single occupancy vehicle.
Post a Comment
You must be logged in to comment.