Hamilton Civic League Gears Up for Election
From the Hamilton Civic League, we hope there's a record number of voters this fall.
By Meredith Broughton
Published October 07, 2010
It's been a busy year for the Hamilton Civic League. Originally formed after a presentation by the Guelph Civic League last year, the non-partisan group is finding their niche and Hamilton-specific focus with Hamilton's October 25th election coming up fast.
Right now, with citywide turnout ranging from 26 to 43 percent, the Hamilton Civic League believes we can do better - and must do better - in encouraging everyone to vote.
This is especially important among the groups least likely to vote: young people, low-income people, citizens newer to Canada, and renters.
The past year, the fledgling organization has gained focus, beginning the year with a series of monthly forums. As the election drew nearer, focus has shifted to two initiatives - voter awareness and a ward-by-ward survey of voter priorities and values.
I spoke with a grad student at McMaster a few days ago who had no idea he could vote in Hamilton, despite living here for the past four years. Now that he knows he can vote, he's thrilled to make his voice heard come election day.
The Civic League aims to answer those questions - Can I vote? Why vote? Where do I vote? How do I vote? And especially in races like the 20-candidate lineup in Ward 2, it's also important to know who's running, and what information they've put out.
Voter Awareness Campaign
While signs for specific candidates and issues take up a lot of space in the time leading up to the election, awareness of the importance of voting itself can get lost between the mixed messages.
The Civic League received an incredible response from the media in their willingness to promote voter awareness, Play Advertising designed bus and newspaper ads to run in the weeks leading up to the election, and in the next three weeks the following initiatives are running: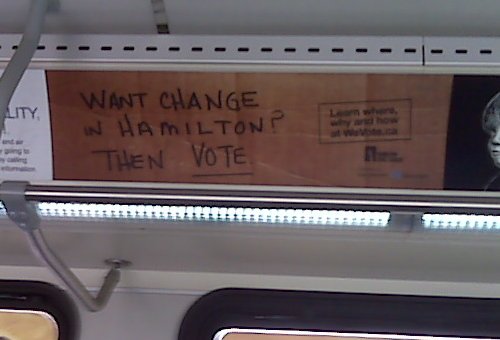 HCL election bus ad
We have ads on every HSR bus to promote voting in the next election, and a couple of exterior bus ads have been donated as well.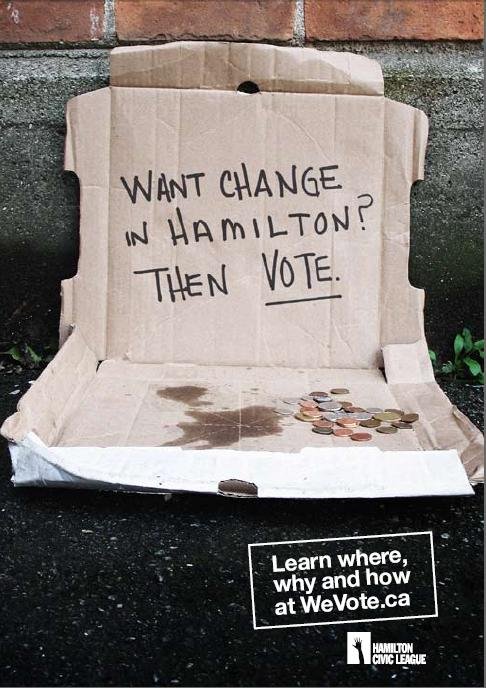 HCL Poster: Want Change?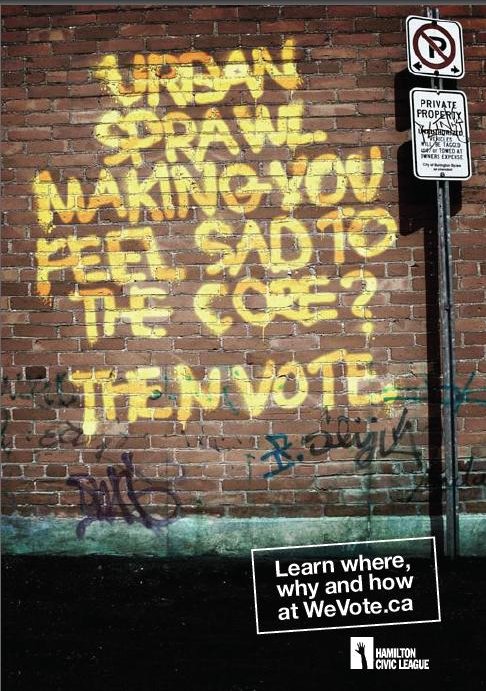 HCL Poster: Urban Sprawl
Papers such as the Spectator, the Hamilton News (which runs papers such as the Mountain News and Stoney Creek News), the Silhouette (McMaster), and View Magazine are carrying these ads.
On the TV side, Cable 14 has been running weekly election spots to promote informed voting. Each takes the format of a short discussion with two people - one from the Hamilton Civic League and invited representatives from the groups the Civic League is working with to increase voter participation among target groups (young voters, poverty groups, recent immigrants and renters).
Poster Campaign

HCL Poster: Can't Find a Job?
Posters on some of the issues that come up repeatedly in city politics have been made into downloadable posters, as well as smaller graphics for use on Facebook. Many more issues could be made into posters.
If there's another slogan you'd like to see, let us know.
Elementary School Primers
Several teachers are interested in offering 1-hour primers at schools of how to vote. This is especially important in encouraging newcomers to Canada to vote, and it helps build a bridge between different age groups while increasing understanding of the voting process. MacNab Street is the first school to take advantage of this opportunity.
From past elections, Youth Vote has many great materials they've provided for this to happen, and we're happy to extend this to as many schools as possible. If you would like a presentation at your school, your child's school, or a school where you teach, contact us.
Voter Survey Results and Candidate Surveys
While they've been a long time coming, all survey results should be online within the week. A ward-by-ward survey on voter values has been administered by volunteers in each ward, gathering enough responses for valid data in multiple areas.
In accordance with the careful design of the study and advice by overseeing statisticians, only wards with a large enough number of surveys (sample size) to be accurate will have results shown.
We endeavour for this to be an accurate look at what voters think on issues, ward-by-ward, so in addition to other features of the survey design, a large enough sample size returned is a prerequisite for the validity of the data.
(Unfortunately, there were not enough volunteers this time around to get that information within all wards. Hopefully next time more volunteer groups will be assured of the nonpartisan nature of the league and less wary of participating in these surveys).
As well, the same surveys have been circulated to all council and mayoral candidates, and physical copies are being returned. As they are returned and processed, they will be up on the website within the week (I just saw a stack of envelopes returned on Monday, and they're being processed as I write this!)
Other resources - a primer on how to vote and candidate information - are also going up on the website, but we've been incredibly thrilled to see the same type of thing going up from many other sources.
Cast Your Vote
On October 25, make your voice heard. Find out what you need to bring, what ward you live in and where to go, and who the candidates are.
On October 25, cast your vote.
From the Hamilton Civic League, we hope there's a record number of voters this fall. At the same time, we know this is a good first run for our organization, but the Civic League can do even better to improve this number in elections to come.
Until there's 100% voter turnout, the Civic League will have a job to do! With better focus, more information, and lots learned from this election, the HCL looks forward to ten times the engagement, effort, and results in the next election!
In the meantime, I hear a provincial election may be coming up soon...
Post a Comment
You must be logged in to comment.