Unanswered Questions on Downtown McMaster, School Board Plan
Our Councillors and Trustees owe us some answers on a staggeringly expensive proposal that will demolish an iconic building and ferry the school board out of the downtown core.
By Dan Jelly
Published January 27, 2012
this article has been updated
If all goes according to the current McMaster/HWDSB plan for downtown, by this time in 2015 the following will have happened:
The Board of Education building at 100 Main Street West, currently in use, will have been demolished.

The building at the former Crestwood school site, also currently in use, will be gone.

The Hamilton Wentworth District School Board will have moved their entire headquarters twice, finally settling in a new building well outside of downtown.

The City's Public Health department will have moved twice.

The Right House will have lost its main tenant (Public Health).

Our downtown will have increased amounts of office and retail space, of which there are currently ample surpluses.

Those seeking the Board's services who rely on public transit will be faced with a longer and potentially more costly trip.

The City will be stuck holding a 30 year, above-market lease, without which the whole project would reportedly not be viable.
After giving the land at 100 Main West to the board in the 1960s so they would stay downtown, by contributing $20 million to this project we will effectively be buying it back at a giant premium and giving it to McMaster. That's not precisely how they'll say it's happening, but the net result is the same.
Stings a little, doesn't it?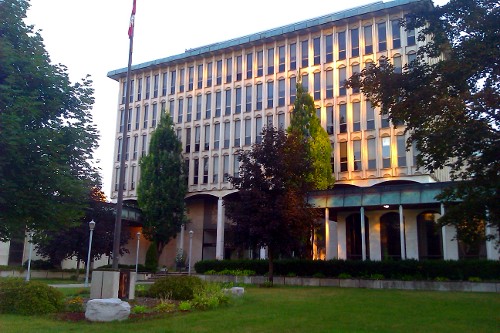 Board of Education Building, 100 Main Street West (RTH file photo)
To be fair, it's not all bad news. McMaster will have a shiny new downtown campus and the Board of Education will be tucked away in a residential neighbourhood, safe from the big bad downtown of the City they're employed to serve. The City's Public Health department will finally be consolidated under one roof and apparently benefitting from some level of synergy with McMaster.
That's just about where the good news ends.
It's time to start asking some questions. You may have your own, but here are mine:
Why is the City so intent on getting a downtown McMaster campus built that they're willing to just let the Board's 300 employees leave?

Why is the Board so eager to leave the downtown in the first place?

How is tearing down a beautiful building the best possible solution when ample building space already exists behind it?

Why is a plan with so many clear disadvantages the best our University, our Board of Education and our City leaders can come up with?

If McMaster needs a tenant and the Board of Ed needs a new home, why can't the Board just partner with Mac and leave the City out of it?

How can we be sure a downtown health campus will have any real economic benefit? Has anyone actually considered this, or are we basing this $80+ million dollar project on a giant assumption?
Our Councillors and Trustees owe us some answers. The full cost of this project, in terms of capital, built assets and long-term operating commitments is staggering and we have no way of quantifying the benefit.
In January of 2009, at the Mayor's economic summit, Former McMaster President Dr. Peter George encouraged Council to "Be bold" when considering this and other projects like it.
I would urge them to take his advice and not blindly accept what is being put forward. It's time to be bold and fight for a better deal for taxpayers and save the Board of Ed building in the process. We can do better.
---
Update: This article has been updated to correct a reference to the Board of Education building at 150 Main Street. The address is 100 Main Street. RTH regrets the error and acknowledges reader "CaptainKirk" for pointing out the error in a comment. You can jump to the changed paragraph.
Post a Comment
You must be logged in to comment.