Scant Heritage Protection in Gore Plan
The back of 18-22 King Street East is not the only thing getting ripped off in this so-called preservation victory.
By Ryan McGreal
Published January 16, 2013
this article has been updated
The more details emerge about yesterday's deal between the City and Wilson Blanchard, the less there is to get excited about. Ward 2 Councillor Jason Farr presented a compromise solution via a motion [PDF] at yesterday's planning committee meeting that would see the 1840 building at 18-22 King Street East preserved, while the buildings at 24 and 28 King East are demolished.

24 and 28 King Street East, left, will be demolished under a new deal that may preserve the facade of 18-22, right (RTH file photo)
Wilson Blanchard, which owns the buildings as well as other properties on that block, submitted a demolition permit request to the city in December to demolish 18-28. Under this new deal, they will withdraw that demolition permit from applying to 18-22. Wilson Blanchard also agreed that 18-22 may be added to the city's register of historic buildings of interest.
At yesterday's meeting, Councillor Brad Clark asked for clarification on whether the building will be designated (around the 41 minute mark on the video). Councillor Farr, who brokered the deal, replied:
Once the permit has been revoked - that demolition permit for 18-22 King Street East - that those addresses now be placed on the municipal registry of property of culture and heritage value or interest. So [Wilson Blanchard is] taking it out and allowing for it to be added to the buildings of interest list.
No Legal Protection
The problem with that list is that it has no force of law. Under the Municipal Heritage Act, a property owner must ask permission to demolish a building that has been designated under Part IV of the Act, and the City has the power to deny the request.
Merely adding a building to the register of properties of interest does not designate it under Part IV of the Act.
In short, the City has agreed to let Wilson Blanchard demolish 24 and 28 King East in exchange for a non-binding promise to preserve 18-22. There is absolutely nothing to stop Wilson Blanchard from reapplying for a demolition permit for 18-22 in the future, and the City will have no power to refuse the permit.
Worse still, Wilson Blanchard VP David Blanchard was quoted in CBC Hamilton yesterday saying he plans to "rip the back half off the buildings" and only keep the front half.
The company still needs to do an engineering study to determine whether and how best to do this and incorporate the facade of 18-22 into a proposed new development on the block. In the meantime, the demolition of 24 and 28 King East can proceed at the owner's discretion.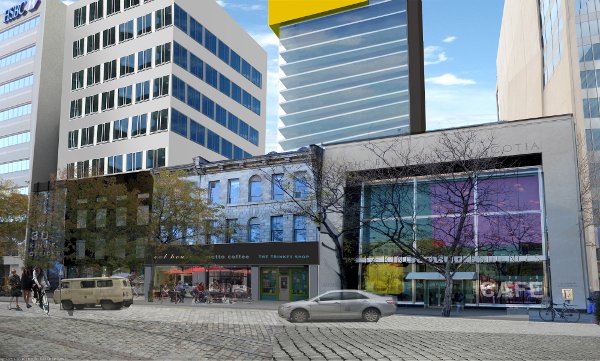 Rendering by David Premi Architects Inc. of a restored 18-22 King Street East facade as part of a proposed new development (Image Credit: Wilson Blanchard)
Pyrrhic Victory
Councillor Farr is presenting this as some kind of victory, but Ward 1 Councillor Brian McHattie, who sits on the Heritage Committee and has long been an advocate for heritage preservation, is less sanguine. McHattie decried the City's lack of interest in heritage preservation after the permit was issued, saying there is "a war on heritage buildings" at Council.
After yesterday's decision at planning committee, in which the councillors defeated a motion to add 800 downtown buildings to the City's registry of buildings of historic interest, a despairing McHattie told CBC News, "At this point in time, I have no hope that cultural heritage has a future in Hamilton."
McHattie was instrumental in saving the Lister Building after Council voted to approve a demolition permit request. At the time, McHattie appealed to the Ontario Minister of Heritage to intervene and broker a solution.
This time around, a citizen campaign was launched calling on Ontario Minister Michael Chan to designate the building, but a recent article in the Globe and Mail reports that Minister Chan considers this a local matter.
Update: edited to clarify that Councillor McHattie's frustration was related to a defeated motion to add 800 buildings to the heritage registry. You can jump to the changed paragraph.
Post a Comment
You must be logged in to comment.