Bold Plans for James Street Baptist Church
The Toronto-based buyer is committed to preserving the building's heritage and marrying it with high quality modern design to create a valuable space that enriches the community.
By Ryan McGreal
Published February 08, 2013
Last summer, James Street Baptist Church on James Street South went for sale, listed for $1.1 million. Now the building is sold and the new owner is partnering with Hamilton firm McCallum Sather Architects to redevelop the property.

Sold sign in front of James Street Baptist Church
The redevelopment plan is in the earliest stages and few details are available, but MSA principal Drew Hauser agreed to an interview with RTH to discuss the project.
The good news is that the buyer, a Toronto-based developer, is passionate about architecture and specifically bought the building to leverage its heritage value.
The Gothic Revival-style church was designed by Joseph Connolly and built in 1882, and it has a heritage designation under the Ontario Heritage Act for its gorgeous rough hammer-dressed stone exterior, stained glass, pink granite arcade columns and other architectural features.
Unlike some developers, the buyer regards the building's heritage as a source of value rather than a burden.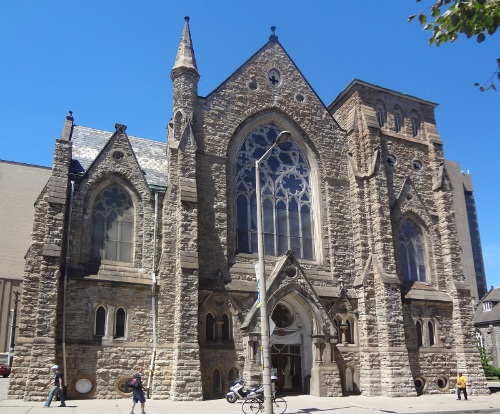 James Street Baptist Church (RTH file photo)
The Church retained a structural engineer to assess the building before listing it. With the cooperation of Maggie Steele, the real estate agent selling the building, the buyer met with the engineer and the same team is now working on a solution.
Hauser was very positive about the experience. "We went to the property a few times, and Maggie Steele helped us assemble the information. It was really nice working With Maggie - she's great."
Committed to Heritage
Hauser, who is an intern with the Canadian Association of Heritage Professionals, is confident that all the partners on this project are fully committed to the heritage value of the building. "The client did not buy the property to tear the building down - absolutely not. They could buy property anywhere and develop it. They bought it with the intent of using this special part of Hamilton's cultural urban fabric."
The buyer does not yet wish to be identified, but Hauser said, "They pride themselves on adaptive reuse of heritage buildings. It's part of how they like to identify themselves."
The biggest challenge is that the building has a number of structural issues, some of them major - including the north exterior wall, which is structurally unsound and may need to be replaced.
"Clearly there are problems. The structural engineer the church hired is the one we're working with, and they have a lot of experience working with heritage buildings on adaptive reuse."
The owner does not intend to demolish the building, but dealing with the structural issues is expected to entail making "bold changes to the site."
Hauser stressed that the planning is still in its earliest stages, but his goal is that the final plan "will make this even more of a landmark in Hamilton and set a possible precedent in how we can deal with heritage structures in the city."
Old and New
He envisions a solution that combines the old with the new. "There definitely will be very modern components to differentiate from the heritage and what we're building today."
Even where parts of the building envelope need to be replaced, Hauser maintains, the owner wants to save and incorporate portions into the design. "We architecturally - and the client as well - are interested in saving as many fragments as we can and incorporating them in however we would be redeveloping the north wall."
The goal is "positive layering" in a highly valuable space that "would definitely be some combination of commercial, residential (more than likely condo) and potentially hotel. We're looking at many different strategies right now."
Some other community organizations have already approached the team about using the space as a venue for various uses. It's still early days, but Hauser's approach is, "Maybe we can layer that into the project and really look at the space differently."
The site "comes with huge challenges," but the buyer took it on because "it's such a unique building. They want to work with the bones that are there and make it sustainable, so we have this part of our history in Hamilton or another 100 years."
Working With the City
The development team will have to work closely with the City of Hamilton to put a workable plan together and get all the approvals that will be needed. "This will truly be a test on how open they are for business."
So far, their interactions have been encouraging. "Our initial meetings with the city have been fantastic." Hauser gave special praise to Ed VanderWindt, the recently-appointed director of building services and chief building official in the planning and economic development department. "He's amazing - a real class act."
Still, the project has some serious hurdles to jump. The redevelopment plan has to satisfy heritage preservation requirements, and the building will have to accommodate all the usual requirements.
"Parking is always a challenge. We also need to make sure we achieve density. If we don't achieve enough density on the site, it will be challenging to develop it. You need to be able to have density" so the investment can pay for itself.
Hauser understands some people still see density as a dirty word. He believes the solution comes from "good quality design and planning.
"I personally would have a hard time supporting density unless the project is showing design strength and enhancing our urban environment."
Again, so far so good with City staff. "The city's been very receptive - not just economic development but other departments too. People have been patient and take the time to help." Hauser also makes sure he arrives at City Hall ready to go through the process and make any necessary changes.
Sustainable Heritage Preservation
Hauser is committed to heritage preservation but believes that the best way to protect heritage is to come up with a workable plan that is financially sustainable. That means the building must be designed to pay for itself over time.
He stresses the importance of a business plan that will cover the operational and maintenance costs. "If there's not a good business plan you sink a lot of money into it to fix it, but what happens next? Are you just paying operating costs to maintain it?"
It can sometimes be easier to get capital dollars to restore a building, "but the maintenance dollars are just as expensive and they go on and on. So figuring out how to work with these places is crucial."
For Hauser, heritage preservation sometimes means "we need to make big bold changes that can create a fantastic space - combining heritage with recent architecture that shows great design."
Working with heritage also entails "updating the building to meet current building standards and current technology infrastructure so the building remains relevant."
He mentioned Auchmar as a site that needs to become relevant to Hamilton again. "I love Auchmar and want to see it remain a part of Hamilton, but somehow we need to come up with a plan to make it relevant and an exciting place to go to, not just once a year on a field trip."
He also hopes the solution will be able to maintain some of the building's grounds. "Imagine Dundurn Castle if it had townhouses all around it."
Local Architectural Expertise
For the past three years, Hauser has been the chair of the Hamilton-Burlington Society of Architects. "It's been exciting to watch as we have consistently grown and had more participation. A voice has started to emerge there - we're all busy. It's great that these projects are starting to go ahead."
He noted that Rick Lintack, another Hamilton architect, has been hired to design one of the planned towers being built by Darko Vranich. "More and more, small and medium-sized firms are picking up projects and being given the freedom to explore and value design."
This is part of a broader shift. "Normally developers would go out of town, but now that knowledge and expertise is happening in Hamilton, which will enable us to compete with firms across Ontario and beyond."
Other Projects
He's also working on a redevelopment project connected to the Tivoli on James North. That project is being led by Dominic Diamante, a local developer who has mostly done work in Kitchener-Waterloo. "It's a swan song project for him. He really wants to see the site become something great."
Another project is Harry Stinson's Hamilton Grand, which is in for preliminary review. As recently as this past December, the building was planned as a six-storey that could go as high as 15. Right now the plan going to the City is for a 10 storey development.

Property at Main and John where the Hamilton Grand will be located (RTH file photo)
The building will add much-needed high quality density. "They're investment properties. It will work like rentals but managed rentals - continental breakfast with your room. It's great for an interning doctor or a young professional who wants to be downtown but is in transition or isn't ready to own."
Hauser noted that the building is not being constructed on the cheap. "I was very proud of Harry because he's using good quality materials for the base and the rest is masonry. It's very traditional looking but fits the local vernacular of the neighbourhood, with the nearby courthouse and other buildings."
He added, "I like the quality of good materials. We don't want to build it out of foam."
This is a recurring theme in the interview: Hauser believes that people are willing to pay for value. He noted that Newman's Menswear on King Street East has seen a significant improvement in business since its owner, Aaron Newman, decided to renovate it a couple of years ago. "He wanted to move, but I said you're a destination already - why don't you keep what you've had for the past three generations and reinvest it?"
The investment is paying off. "His sales have gone up considerably since his renovation. He's picked up new clothing lines that wouldn't sell to him when the store looked less cutting edge."
Building Momentum
Hauser owns an old bank at the corner of Barton and Westinghouse. Currently the building is all residential, but he is changing the ground floor back to commercial. "Everyone's telling me I'm crazy, but I've got these young entrepreneurs who want to open an indie coffee shop to attract local customers and artists."
Investing in Barton Street seems crazy, but it seemed crazy to invest in James North a few years ago or Locke Street a decade ago. But things are changing, and the change seems to be accelerating.
"People talk about that 'momentum' in the city, and there is that momentum here. We've hired five new people in the last year - pretty good for an architecture firm. We're over 20 people now."
Another change is that it's getting easier to attract qualified candidates. "It used to be difficult to find people who actually wanted to move here, and we're finding that people want to move here now - there's been a shift. We get people emailing or phoning us from places like Richmond Hill and Toronto, and they want to move here. They want to be part of the culture they see here."
Post a Comment
You must be logged in to comment.