Yes We Cannon - Bike Lanes 2015
We can connect our neighbourhoods, our shopping destinations and our transit hubs. Most importantly, we can leave a legacy of health, safety and community vibrancy for decades to come. The time is now!
By Justin Jones
Published May 10, 2013
A lot of digital ink has been dedicated on this website to the various dysfunctions of Cannon Street, yet precious little has been done to try to ease the situation.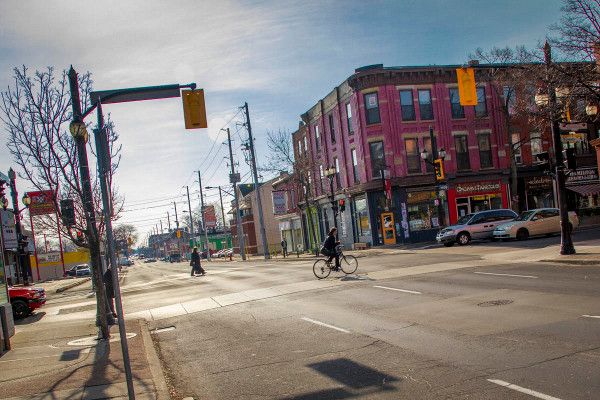 Cannon Street at James (Image Credit: Mike Goodwin)
Unless the citizens of our great city stand up and demand better, Cannon Street will remain terribly over-built, only existing to transport car and truck traffic as fast as possible.
This is what Yes We Cannon is all about - giving the people a voice to demand that Hamilton City Council take dramatic steps to improve cyclist and pedestrian safety in the lower city and to make sure we have safe, functional streets for everyone.
The mission: create a bi-directional bike lane, running the full length of Cannon Street, by 2015.
If this happened, Cannon Street would become the centrepiece of our active transportation network, and a focal point of our city to be showcased to the hundreds of thousands of visitors we will host for the 2015 Pan Am games.
There are a number of important reasons why Cannon Street is prime to be converted into a street with bike lanes. They can be summed up by answering three important questions: Why Bike Lanes, Why Cannon, and Why Now?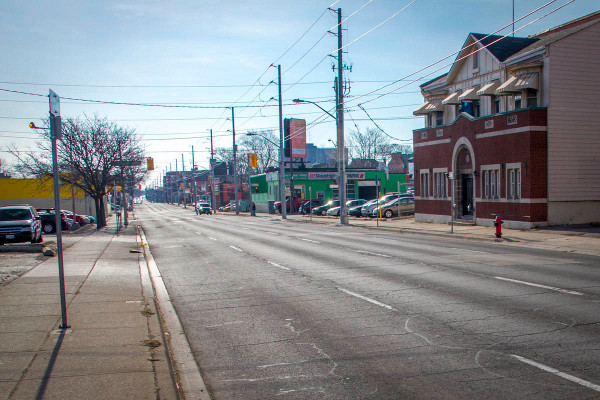 Spare lane capacity on Cannon (Image Credit: Mike Goodwin)
Why Bike Lanes?
First, Cannon Street is identified as a priority for Bike Lanes in the City of Hamilton's Shifting Gears - Cycling Master Plan (2009).
Bike Lanes on Cannon Street are identified as Priorities numbers 20, 30, 45 and 55 in the Plan, so City Council have already committed to installing Bike Lanes on Cannon Street. It's time that we hold Council accountable for these promises to make the lower city safer for all road users.
Second, a cycling trip is only as safe as the least safe part of the journey. Currently there is no safe cycling infrastructure to get from east to west in the North End.
More to the point, there is no possible way to get from the Pan Am Stadium to the site of the new James Street North GO Station without riding on King Street, Cannon Street, Barton Street or Burlington Street.
Riding on King, Cannon and Burlington right now is a very frightening exercise, with vehicles whizzing by you at speeds upwards of 70 km/hour, and riding on Barton subjects you to very heavy traffic, tight lanes and many car doors opening in your path.
Finally, the North end of Hamilton is tremendously under-served by active transportation infrastructure. While Hamilton has made some tremendous strides in improving the bikeability of areas in the west end of the city and on the mountain, there exists a significant gap in the cycling network in wards 2, 3 and 4.
In fact, from Watson in the East to Victoria Street in the West (a distance of nearly 5 km) and from Lawrence Ave all the way to Burlington Street (a distance of almost 3 km), there is not a single piece of safe cycling infrastructure.
Working with the population map produced by Raise ihe Hammer, we see that in this area of over 16 square kilometers, there are 50,000 residents without access to safe active transportation infrastructure.
Considering that these residents are all contained within the Code Red neighbourhoods, the impetus for action becomes even stronger.
Not all people can drive. For children, the elderly and persons with disabilities, the option to hop in a car and drive to their destination does not exist. For others, the costs of owning a car may simply be too high.
We need to ensure that these populations have access to safe, effective transportation infrastructure, and that means making the streets work for them as well.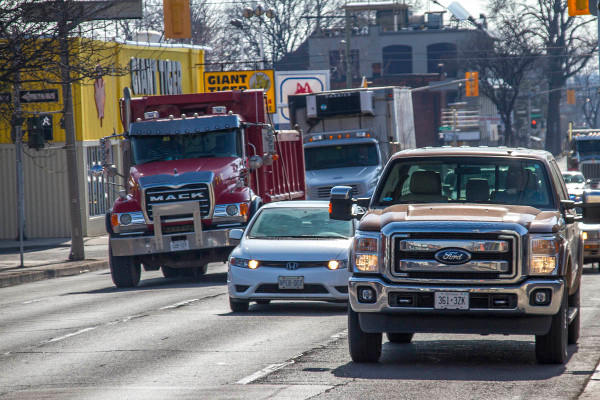 Clusters of high-speed traffic on Cannon (Image Credit: Mike Goodwin)
Why Cannon Street?
One of the most compelling arguments to be made for adding bike lanes onto Cannon Street is the lack of alternate routes to move East to West across the lower city via active transportation. Because of the way the roads in the North and East end of Hamilton are constructed, there are no continuous side streets taking you from East to West or vice-versa.
In fact, if you were to try to ride from Ottawa and Main to James and Barton, there is no route you could take that would keep you off of King, Cannon, Barton or Burlington.
These streets are clearly not designed for cyclists, and unless you are a very confident and experienced cyclist, those road conditions are likely to deter you from even attempting the trip.
Furthermore, by giving bikers few safe options we are also putting drivers at risk, creating a dangerous situation for both bike and car. Cannon is centrally located between two large, fast moving streets (the King/Main pairing and Burlington Street), making it an ideal candidate for conversion since the nearby streets would easily be able to accommodate the excess traffic generated by calming Cannon.
Equally important to the "Why Cannon?" question is the fact that Cannon has already been identified in Hamilton's Shifting Gears Cycling Master Plan as a route destined for bike lanes. Cannon street can serve as a central spine to the city's cycling network in the North end of the city, and should be prioritized to give access to the hundreds of new cyclists, young and old, that are getting on the road in this area every year.
Finally, Cannon street is ideally located to connect people to the places that they will want to go within Hamilton via active transportation.
By installing bike lanes along Cannon, the city has a unique opportunity to connect two thriving business and arts communities (Ottawa and James Streets), a major sporting destination (the Pan Am Stadium), a major transit hub (The James Street North Go Station) and four active, engaged neighbourhoods via a safe, effective active transportation route.
This opportunity is too valuable to our city to miss, and we must urge our politicians to make this a priority.
Why Now?
This is where the rubber really hits the road. With the construction of the Pan Am Stadium and the construction of the James Street North GO station, Hamilton has really never been in a better position to showcase itself to the region and the world.
Making Cannon Street a cycling destination route would speak volumes to our dedication to provide safe space for all road users. Here are the reasons why we must not wait any longer to make these important changes.
First, construction crews will already be on the ground redoing sections of Cannon Street in advance of the Pan Am games in 2015. With these crews on the ground, we have the opportunity to do the work that the city has already identified as a priority by installing bike lanes.
Second, our city is going to play host to thirty-two soccer games during the Pan Am Games. This is going to bring hundreds of thousands of visitors into our city over the span of ten days. We need a way to get those people from the James Street North GO Station to the Pan Am stadium, and providing them with a safe, direct cycling route along Cannon Street would be an excellent way to showcase our city to all these visitors.
Third, Hamilton City Council has approved a Bike Share program to be deployed in Hamilton. By installing bike lanes along Cannon Street, we can develop an amazing network for these Bike Share bikes to get from the downtown and the James Street North GO station to the Pan Am Stadium, to Ottawa Street and to other areas in the East end of our city.
Perhaps most important, the costs of inaction are growing every single year. People are no longer choosing where to locate their family based on how fast they can get away from their homes in their cars. People are looking for walkable, bikeable, connected neighbourhoods to locate their families, open new businesses and spend their time and money.
There are great strides being made in many parts of Hamilton to make them more connected and more accommodating to active transportation, but the lower city, and especially the North and East ends, have been neglected on this front, with our council continuing to prioritize rapid automobile movement over the development of safe, connected communities.
The time to reverse this trend is now. We can keep traffic moving through the lower city without Cannon street being a freeway. We can create a safe space for cyclists and pedestrians along Cannon Street. We can connect our neighbourhoods, our shopping destinations and our transit hubs. Most importantly, we can leave a legacy of health, safety and community vibrancy for decades to come. The time is now!
Yes We Cannon!
Join the movement at yeswecannon.ca, and spread the word on Facebook and Twitter @BikeCannon2015 and hashtag #YesWeCannon.
Post a Comment
You must be logged in to comment.