Lessons From Ottawa for a More Bikeable Hamilton
Following Ottawa's lead, we can take five simple steps that will make Hamilton a more bikeable and liveable city.
By Justin Jones
Published May 24, 2013
I was fortunate enough to pay a visit to our nation's capital recently on a work trip - and I was absolutely blown away by how great Ottawa is for cycling. The really amazing thing, to my mind, was how many of the things they had done were so simple and so applicable to our fair city. So first, let's break down some of the things that Hamilton is doing to improve cycling in this city.
1) We're installing new infrastructure at a pretty decent pace. We're moving forward on completing our network of cycling infrastructure much faster than many of our neighbouring municipalities, and, to that end, faster than most jurisdictions in the province.
2) We have great pathways and trails. Much like in Ottawa, we have access to some great waterfront trails, trails that run on old rail lines, and other places where recreational and, to a lesser extent, commuter cycling is beautiful and thoroughly enjoyable.
3) We've installed some amazing cycling infrastructure lately. The protected bike and pedestrian lanes on the bridges over King and Main Street, the contra-flow bike lanes on both those streets and the terribly under-utilized bike box at Aberdeen and Studholme are all world-class pieces of cycling infrastructure.
Some, like the contra-flow lanes and the bike box, could use more signage, visibility and education about how they work, but they are still an important start.
Now on to the areas where we could really learn from Ottawa's example. When I was in Ottawa, I saw hundreds of cyclists riding around safely and legally. I only saw one person riding on the sidewalk, saw most cyclists stop at stop signs, and never once heard a car horn honked at a cyclist.
This kind of cycling culture - one where cyclists respect the rules of the road because they are given the space and respect they deserve while they're on them - doesn't just magically appear. It takes safe infrastructure, education for cyclists and drivers and the will to change a culture from one focused on using streets to move cars to one focused on using streets to move people.
So let's talk about how Ottawa has changed that conversation, and how we in Hamilton could learn from their example by incorporating these five simple changes.
1) Build it and they will come
Laurier Street in Ottawa is amazing. I almost fell over when I first saw it, walking away from the stench of corruption emanating from Parliament Hill. The bright green markings on the pavement delineate the bike lane where it passes through the intersection, providing visibility for the bike lane in the areas where the lane is not protected.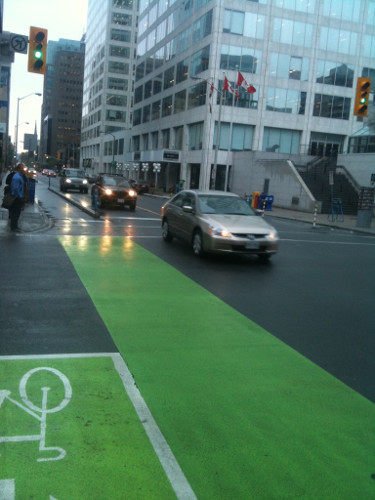 Intersection paint delineates the bike lane where it passes through the intersection
The protection for cyclists on Laurier is simple - just concrete blocks, no more than 4 inches high, with blue posts intermittently along their length, providing additional visibility.
If a car really wanted to get over the barrier, it would be no harder than mounting the curb, but that small protective measure is so significant in making cyclists feel safer. And when the route feels safer, more people use it.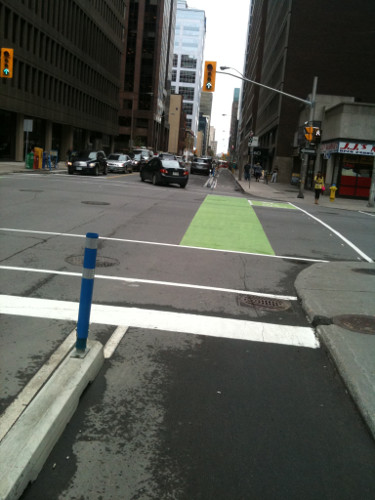 Protected bike lane
When you do that, you move beyond cyclists like me - who will ride basically anywhere in any traffic conditions - and open the streets up to less confident cyclists, to parents with trailers towing their kids, to seniors who ride at a nice leisurely pace.
It's an amazing phenomenon and, as I've learned through the Yes We Cannon campaign, it will happen here in Hamilton as well once safe infrastructure is built.
Of the over 200 statements that we've already sent to council, many of the signatories indicate that they would like to cycle more, but current road and infrastructure conditions do not make them feel safe or respected on the roads.
If we change this, I am confident that we will see an explosion in the number of cyclists we see on the roads in Hamilton, which also means less cars on the road, which means less traffic for drivers to deal with as well. It's a win-win scenario.
2) Build it where the people are and where they want to go
I really do commend Hamilton for the great steps they've taken towards making the city better for cyclists. A lot of new infrastructure has been built and more is on the way. The other side of the coin when it comes to infrastructure development, however, is putting bike infrastructure where people want to go.
Yes, side streets are nice to ride down when you're out for a leisurely ride, but if you want to bike to school, to work, to the grocery store and so on, you don't want to have to take a labyrinthine route through residential streets and four-way stops. You want to get to your destination quickly and efficiently.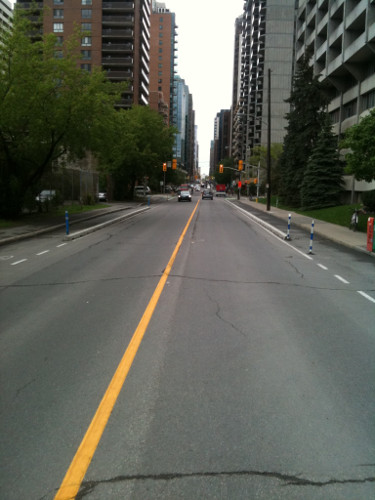 Laurier Street takes people east to west across Ottawa in safety and comfort - it would be amazing to have a similar route here in Hamilton!
So while bike lanes in Binbrook might be great for those long weekend rides, for commuter cyclists downtown they really don't mean much. This is why I feel that Cannon is such a perfect street to be converted into a cycling spine - because it connects people quickly, effectively and directly to where they want to go.
In Ottawa the number of straight-line routes across the city is amazing - and the cycling modal share clearly illustrates the impact of those routes on cycling uptake.
3) It's the little things that make a BIG impact
I'm going to go back to Laurier again, because it's amazing. While riding along Laurier, I saw the sign below, and had to stop to get a picture of it.

Yield sign for cyclists
Why did I have to stop? Because that one little sign represents a true commitment to keeping drivers aware of cyclists and keeping cyclists safe. It's a reminder to drivers that cyclists are there, and it also provides cyclists a little bit of assurance that they're being watched for.
The dreaded "right hook" - where a car makes a right hand turn immediately in front of you - is one of the scariest, and potentially deadliest, moments in a cyclists two-wheeled life.
Just that little reminder to cyclists and drivers to look out for one another - and to drivers to give cyclists the respect that they deserve on the roads - sends an unmistakeable message that, in Ottawa, cyclists are welcomed and respected.
4) Bike racks, bike racks, bike racks!
In Hamilton, where we have an absolute glut of surface parking for cars, finding a place to lock your bike is often a daunting prospect. More often than not, I've locked my bike to parking meters, fences, road signs and even the occasional tree (although I REALLY hate doing that) simply because there is nowhere else to lock your bike. In Ottawa, on the other hand, I saw so many of these...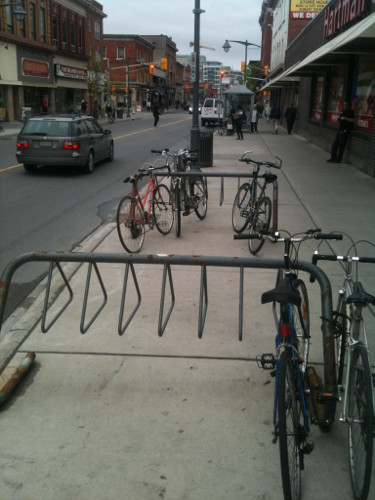 Big bike rack
And these...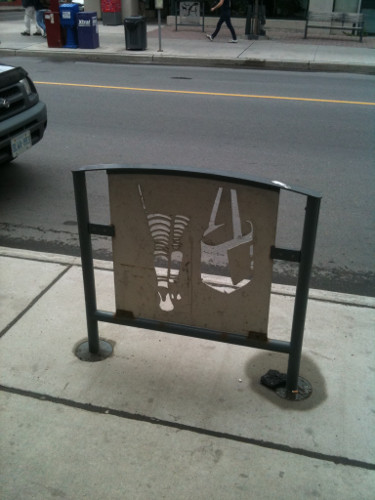 Art rack, empty

Art rack, full
...that it made my head spin.
The top image is a practical, low-cost, high capacity rack. I saw them on almost every corner of Bank Street and all over the downtown.
The lower image is a great example of how a Bike Rack can be a part of the streetscape - how it can incorporate art and practicality and provide people with a visible reminder that bikes matter.
As important as the practical aspects of bike parking are - people aren't going to ride their bikes around if there's nowhere safe and secure to lock them up, the same as you wouldn't park your car somewhere if you weren't allowed to lock it or remove the keys from the ignition - the messaging it sends is equally important.
Slapping up the odd low-cost, low-capacity bike rack sends a loud and clear message: cyclists are an afterthought. Not installing them at all sends an even stronger message: we didn't even consider cyclists.
By installing abundant bike racks all over the downtown, Ottawa has sent a different message to cyclists. They have told cyclists that they want them on their roads, in their neighbourhoods and in their shops. They've said that the security of one's bike - one's mode of transportation - is no less important than the security of a car.
This is one area where Hamilton can make significant progress without spending a ton of money - we need to start providing cyclists a place to park their vehicle the same as we provide them for drivers.
5) Bike Share - get on it
I love Bike Share. Love every single aspect of it. I think that the BIXI system, which they have in Ottawa, is amazing - those bikes are fun, practical and comfortable and provide occasional cyclists, people without the space to store a bike and tourists a great opportunity to have access to a bike. But in Ottawa, it's not the only game in town.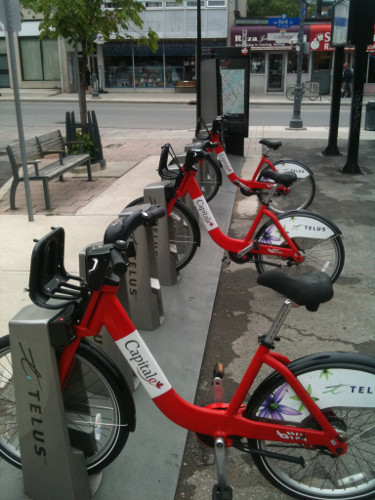 Ottawa BIXI
Right Bike is also spread out across some of the neighbourhoods in Ottawa, providing members with the chance to use a nice, practical cruiser bike whenever they need one. It's a great example of a smaller-scale, community based bike share, and while it might not work for all areas of Hamilton, it's certainly proving to be a successful model across other cities.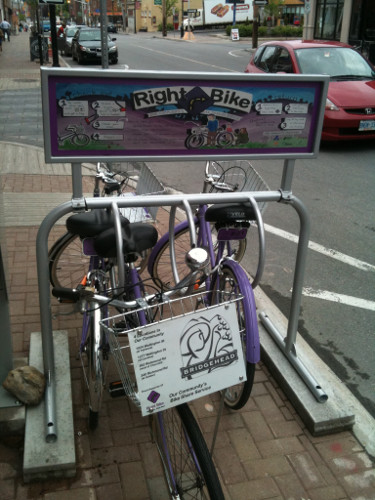 Ottawa Right Bike
Bike Share opens up the world of cycling to those who aren't sure if they want to commit to buying their own bike and to those who are just getting back into riding a bike. It's a great way to build a cycling culture in the City, and I'm so excited that council has approved it.
So now that it's been approved to go out for tender, let's get it done and really step up our game.
Start Taking Steps
I admit that there are going to be challenges as we strive to become a more bikeable city. We've been so focused on cars for so long that it is going to take a real effort to make a significant change.
But if we really want to achieve our vision of a healthier, more prosperous Hamilton and if we truly want to be "the best place in Canada to raise a child", we have to start taking steps to make our city work for everyone.
These are five very affordable, very doable things that could be implemented in Hamilton by next year to make our city more cycle-friendly. (Of course, I still think that the most significant improvement we could make is putting Bike Lanes on Cannon Street.)
All that we need is the political will to make it clear to drivers and cyclists alike that Hamilton is a city where cyclists are considered, respected and welcomed. Let's get things moving in the right direction!
Post a Comment
You must be logged in to comment.