Neighbourhood Greenways for Hamilton
The future of bike infrastructure is protected lanes on main streets, supported by neighbourhood greenways through the hearts of quiet, residential neighbourhoods.
By Jason Leach
Published June 06, 2013
If you're looking for any cycling inspiration, here it is:
It's hard to overstate the importance of the Portland Bureau of Transportation's neighbourhood greenway program. The combination of considerable expertise in, and dedication to, neighborhood traffic safety from veteran staffers and engineers, and the $1 million (or so) annual budget thanks to Mayor Sam Adams, has resulted in a burgeoning and connected network of neighborhood greenways (a.k.a. their previous name of bike boulevards) that just keep getting better and better.
According to the City of Portland, Neighbourhood greenways are mainly residential streets with relatively low vehicular traffic volumes where "bicycles, pedestrians and neighbours are given priority".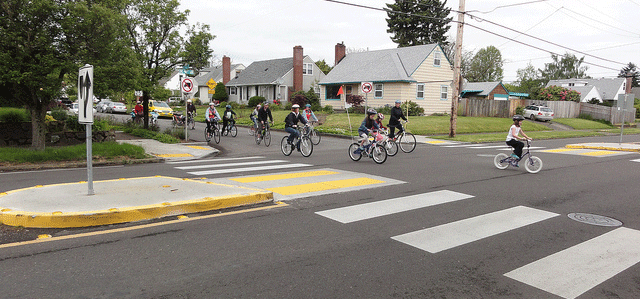 Neighbourhood greenway in Portland (Image Credit: City of Portland)
Also called "bike boulevards", greenways give priority to bikes above cars. The routes are marked with signage, bicycle stencils and sharrows, speed bumps and diverters discourage cut-through driving, and crossings are designed to let pedestrians and cyclists coexist safely.
Portland has learned that greenways are really effective at getting more people riding on bikes - particularly women and children, who are unlikely to ride on more dangerous streets, even with painted bike lanes.
On busy streets, separated bike lanes are great, but on quieter neighbourhood streets, greenways have been hugely successful at attracting new cyclists.
Portland has been busy building an extensive network of greenways and is on track to have a greenway within 0.8 kilometres of 80 percent of residents by 2015.

Portland greenway map (Image Credit: City of Portland)
Naturally, Streetfilms has a great video on Portland's greenways:
It's a beautiful positive feedback loop: bicycle friendly routes encourage more cyclists, which provides more "eyes on the street" to make the street safer, which encourages more people to try cycling. In addition to getting more people on bikes, greenways are safer for all users, even drivers.
Proposed Greenways in Hamilton
I've been in talks with Councillor Brian McHattie and alternative transportation manager Daryl Bender about bringing these greenways to Hamilton.
One early suggestion I've made is Magill, Pearl, HAAA Park and Kent Street in Ward 1. I use this route to get from my place to the rail trail. It's just begging to be a calmer neighbourhood greenway and it connects so many neighbourhoods and destinations.
Another one is Hunt/Head/Napier from Hwy 403 to Bay Street.
Another suggestion is Cumberland Avenue, a potentially friendly east-west route running southeast of downtown. But my favourite suggestion is Dunsmure: a huge, long street between King and Main for much of the central/east end of the City.
We met at City Hall a number of months ago with some representatives from the Strathcona Community Council, and everyone loved the idea.
The future of bike infrastructure is protected lanes on main streets, supported by neighbourhood greenways through the hearts of quiet, residential neighbourhoods.
Supposedly, protected two-way bike lanes on Hunter, two-way bike lanes on Locke and bike lanes on Charlton/Herkimer are coming this year. That's encouraging and will be a big boost if and when it happens.
However, we need to keep adjusting our bike plan based on what we learn about best practices from other cities.
Hamilton's original Shifting Gears bike plan from the 1990s had bike boulevards - which we now call greenways - in it. Portland went ahead and started a major experiment while Hamilton took a pass and lost 20 years of progress.
Now we have a chance to learn from Portland's experience and catch up quickly - if we have the vision and leadership to do it.
with files from Ryan McGreal
Post a Comment
You must be logged in to comment.