MacNab Conversion an Opportunity for Better Walkability
The City should incorporate street trees and zebra crossings in its two-way conversion of MacNab Street.
By Jason Leach
Published June 10, 2013
There are lots of good discussion and momentum happening right now around town, and I've been really keen on the Cannon ideas that are gaining steam.
RTH published an article last Friday about the City taking more interest in crosswalks, and I got thinking about the upcoming two-way conversion on MacNab Street between Cannon and Burlington.
I was at the market on the weekend and walked on MacNab and Vine up to Cannon. The pedestrian traffic coming to and from the other side of Cannon was remarkable: entire families and their kids on bikes, elderly folks, lots of walkers and so on.
I observed the sidewalks and the crosswalks and noticed that it wouldn't take much to turn MacNab and Vine into really attractive streets to walk.
I was pleasantly surprised to find that much like Cannon, the sidewalks on MacNab are wide enough to plant trees without interfering with the pedestrian flow. Here is a current view:
Notice the extra-wide sidewalks? King Street in Westdale has the same design and recently did this to them:
Notice the regularly-spaced trees on the portion of sidewalk closest to the curb? This leaves pedestrian flow on the typically-wide sidewalk.
MacNab could easily do this from York to Cannon. What a difference it would make to add a great tree canopy to that street!
The other thing I noticed was the crosswalks. I'd like to see an all-way stop sign at Vine/Park and Vine/MacNab. We should also get public works to install the bold zebra crosswalks at both of these crosswalks, along with Cannon/MacNab and Cannon/James.
The RTH piece I started with above shows the new zebra crossings in Westdale at Sterling and Forsyth, right by the entrance to McMaster.

Zebra crossings at Sterling and Forsyth (Image Credit: City of Hamilton)
And of course we all know about the new zebra crossings at Herkimer and Locke:

Zebra crossings at Herkimer and Locke (Image Credit: Jason Leach)
There should be no problem convincing the Public Works department of the need for this crosswalk treatment on these blocks:
The pedestrian traffic definitely warrants it. Making the streets more accommodating will ony increase that traffic.

So far, the only new crosswalks painted have been in affluent west end neighbourhoods. The perception exists that the City is not giving equitable treatment to more vulnerable neighbourhoods.
Of course, the intersection of James and Cannon is a no-brainer for zebra crossings. There are huge pedestrian volumes there, where walkable James Street North interacts with a dangerous freeway.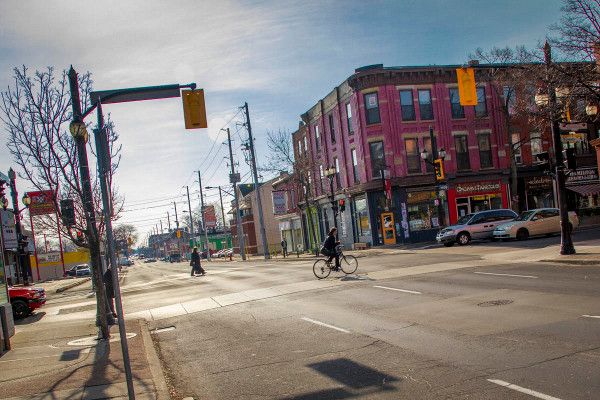 Cannon and James (Image Credit: Mike Goodwin)
A stable, vibrant residential neighbourhood north of Cannon uses Park and MacNab to come downtown everyday. Adding in zebra crosswalks and planting trees on these few blocks just north of the market would show a lot to folks who are passionate about urban revitalization.
The city said it cost them $6,000 to do the zebra crosswalks and bumpouts on Locke. With curb parking on both sides of MacNab, I think we should get the same treatment at Vine and Cannon intersections.
For only $12,000, surely we can do this, and sooner than later.
Even the tree planting idea isn't overly expensive. Rip up a square every so often and open it up for new trees like in Westdale. I guarantee you would see even more pedestrian and cycling activity heading north and south on MacNab with these changes along with it being two-way.
Post a Comment
You must be logged in to comment.