Toward a Complete Streets Policy for Hamilton
An inspiring policy event on complete streets in Hamilton calls on all of us to become advocates for safe, walkable, cyclable, equitable streets that serve everyone.
By Maria Topalovic
Published June 28, 2013
In 2010, I was completing my Master's research [PDF] on complete streets, with a focus on revitalizing the built environment for improved public health. During that time, it seemed like complete streets was an unknown concept in Hamilton. However, in 2012, the Hamilton Transportation Summit explored complete streets as its central theme and since then, the buzz about complete streets has continued to grow in Hamilton.
It's now 2013 and from an implementation perspective, not a whole lot has changed in Hamilton since I started my research in 2010, although supportive policies and programs do exist:
Urban Official Plan (still to be approved) references complete streets and complete communities
Transportation Master Plan (TMP) (which is up for review this year)
Transit Oriented Development guidelines
Pedestrian Mobility Master Plan (finally going to public works committee on August 15)
Smart Commute & Open Streets
Light Rail Transit (LRT)
However, in recent months, some of the new support for complete streets in the city is slowly starting to show, including: the Rapid Ready report, which mentions a Complete Streets Strategy for Hamilton; attempts to better connect the cycling network including the two-way bike lane on King Street over Hwy 403 and the link between Chedoke/Aberdeen and Fortinos in the West; a bus only lane on King Street to be trialed; two-way conversions are being studied with the community; and a bike share system is being put to tender this summer! So what has really changed? The community is starting to speak up!
Complete Streets Policy Event
On Wednesday, June 26, the Social Planning Research Council of Hamilton (SPRC) hosted a Complete Streets Policy event at the Freeway Coffee House. Having spent close to a year of my life researching complete streets and what a policy could mean for Hamilton, I had to attend!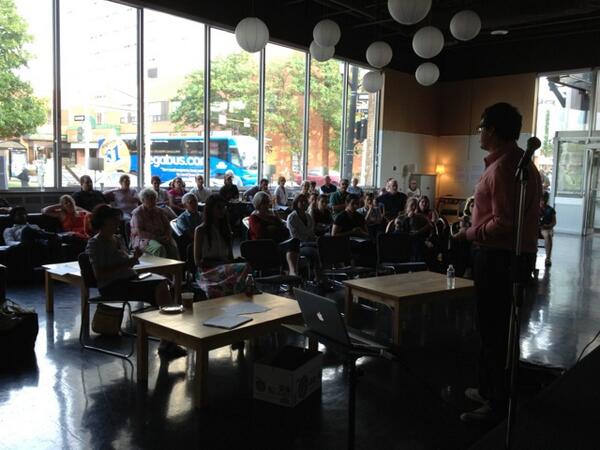 Justin Jones speaking at the Complete Streets Policy Event (Image Credit: Sara Mayo)
Sara Mayo from the SPRC introduced the evening and explained the concept of complete streets. (For more information, check out: Complete Streets Memphis video; List of Policy Elements from Complete Streets for Canada; Complete Streets Guidelines from North Carolina, Boston, Chicago, and Edmonton.)
Mayo drafted the complete streets policy that was presented and is seeking feedback from the public before it is endorsed and presented to Council, in the hopes that Council will have staff follow up on the recommendations.
Competing Priorities
Steve Molloy, Project Manager - Transportation Master Plan Implementation, was the next presenter for the evening. After the initial excitement of having a draft policy presented to us, Mollow described some of the tensions that exist around the concept of complete streets in the city:
Lower vs. upper city and local neighbourhoods vs. commuters
Provincial legislation vs. municipal action
Air quality vs. chronic disease vs. injury prevention
Motorists vs. pedestrians vs. cyclists
I don't disagree with him, as I think these are realities that any city will continue to face. Although we can't gain support overnight, these tensions shouldn't stall progress.
The point is that complete streets are safe for all users and in many ways help to relieve these tensions through a clear policy and design process applied equally to all street reconstruction projects. Can we as a community really disagree on its importance?
We need streets that provide modal choice - streets that are complete, safe, and equal. We shouldn't expect any less from our community. Come to think of it, we never should have let our streets be built any other way. Molloy presented the current work that is being done to support complete streets, as I described in the introduction, which really is important in itself. We have already made progress and we need to capitalize on the supporting strategies that do exist.
He made it clear that even if we don't see a separate complete streets policy, we will see the review of the TMP focus on complete streets. This follows the lead of other cities, including Calgary and Waterloo.
While this is important work, the City will have to ensure that these new and existing policies and plans actually get implemented. A major criticism of the current TMP is that some recommendations have gone un-implemented; hopefully our new TMP will address implementation issues more formally.
Better Advocacy
Closing out the evening was a very engaging and passionate active transportation advocate - Justin Jones, from Share the Road and Yes We Cannon fame, who focused on how to become a better advocate for complete streets.
Cities have spent years prioritizing streets based on one mode of transit; whereas complete streets provides a vision for a community where everyone can have a choice and can move around safely.
"We built ourselves into this, we can build ourselves out," Justin repeated many times. I completely agree with him.
Justin discussed a variety of myths associated with complete streets and focused on how to respond to those myths...here is a summary of a few of the myths that can help you become a stronger advocate for complete streets!
Myth #1: People won't get out of their cars. As Justin put it, it's the law of induced demand; people choose to drive because it is easy. 50% of trips in Hamilton are less than 5 km and 30% are less than 2km, which means there is a large potential market for active short trips in the City. Give people a choice through complete streets so they can safely walk, cycle, drive, take transit, etc, and they will, because it will be easier and more convenient, just like the car is now.
Myth #2: Complete streets slows traffic. Justin had an interesting point regarding this myth. Think of great cities with vibrant downtowns like Paris and New York. What do they have in common? People visit their downtowns as a destination, not as a place to drive through. Even smaller cities have this in common with these Great Cities - think of Uptown Waterloo, Downtown Kitchener, Port Credit in Mississauga, Downtown Burlington and many more! Do you drive through these places or do you go there as destinations?
I'm also reminded of the Green Light for Midtown Project in New York, which was established to improve mobility and safety problems. Complete street features were implemented throughout many streets, and even sections of Broadway Avenue were closed to car traffic to create pedestrian plazas. These changes improved traffic flow, decreased injuries, and increased pedestrian traffic since people could choose to walk safely.
Myth #3: Complete streets cost more money. Although retrofitting to a complete street has slightly higher costs in some cases, its maintenance costs are lower when compared to incomplete streets. When developing a new street, it costs less to build a complete one. In addition, the walkability of a neighbourhood raises property values, so it is evident that complete streets can provide economic value.
Make Your Voice Heard
The main takeaway I had from Justin's presentation was that we can't stop talking about complete streets and we must make our concerns known. Too often the concerns heard by council seem to be negative complaints (e.g. the "this is going to slow down traffic" complaint).
When you are a supporter, you don't 'complain' enough. So start complaining. Tell your councillor about your concerns over our inequitable streets that are designed for only one mode of transport.
Remember, not everyone has or can afford a personal vehicle, has the ability to drive, or (gasp) may not want to drive - so why do we build our streets to support one mode?
Do you want safe streets that provide multi-modal options to support all users? Do you want streets that can allow all users to follow the rules of the road safely? Do you want to live in a healthier, more liveable and more complete community with higher property values and more successful small businesses? I know I do.
Make your voice heard - become an advocate for complete streets.
Post a Comment
You must be logged in to comment.