Does the Downtown Hamilton Secondary Plan Matter?
Allowing such a gross departure from the Plan as the Gore streetwall demolition will discourage investors (and others) from trusting Hamilton to abide by its own planning directions, in terms of both downtown redevelopment and other initiatives.
By Sean Burak
Published July 06, 2013
The Downtown Hamilton Secondary Plan [PDF] has the following stated objectives:
Retain and enhance the historic fabric of Downtown Hamilton.

Ensure that new development respects and reflects the design of surrounding heritage buildings.

Conserve and enhance the Gore as the primary landscaped open space and concentration of heritage buildings in Downtown Hamilton.

Create new programs and planning mechanisms for ensuring a higher standard of urban design in Downtown Hamilton.

Ensure that public improvement projects are undertaken within an overall design and implementation program that respects these objectives
Downtown Councillor Jason Farr, Heritage Committee chair Councillor Brian McHattie and City urban renewal and planning staff had an unannounced private meeting with property developer David Blanchard to work out a "deal" where he entirely demolishes two Gore Park buildings and demolishes the back two-thirds of the remaining ones.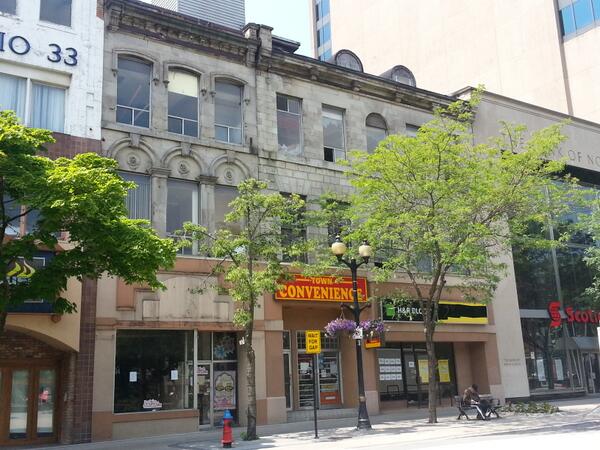 18-22 King Street East (RTH file photo)
It appears that they were not acting in accordance with the Downtown Plan.
When council voted to approve the deal, how many of the above five objectives were guiding their decision?
When council votes in the opposite direction of the mandates set forth in our planning documents, are they acting in the interests of the voters who have entrusted them with their voting power?
This is not just about art and architecture.
When I purchased a building in Downtown Hamilton, It was with the expectation that the master plan would be followed and that my business would be part of a trajectory of development in the core that leaves vacant lots and silver-bullet solutions (which never materialize) in the past.
How am I expected to operate my business in an environment where I must fear at any moment that the neighbouring buildings may be torn down? How can I be expected to maintain property standards on my building when the absentee speculators continue to let their holdings rot, and are rewarded by the city with tax breaks and demolition permits?
If we can't protect the buildings along the most important business stretch in Hamilton, how can I trust my city to protect the "less important" ones that surround me?
If council lets these buildings come down, how will they handle future demolition permits along the core? Will the precedent be set, creating more vacant lots every year?

24 and 28 King Street East (RTH file photo)
One of the principles of the Downtown Secondary Plan states:
A desire for quick and simple solutions often nurtures "big project" responses to Downtown decline. In fact, experience across North America suggests that Downtown revitalization most often results from a collection of seemingly modest actions by individuals, small businesses and community organizations.
How many lots do we need to clear in the core before these miracle developers swoop in and build their condo towers and department stores? Blanchard envisions retail and condos on that block - but we can barely get the current condo proposals off the ground here - so who is the mysterious angel investor he has waiting in the wings?
Are we trusting the decisions of the viability of heritage buildings to those who have restored them in the past? Engineers and architects? Or do we make these enormous decisoins based on the feelings of laymen? According to the Spectator, "Blanchard felt it was not economically feasible to redevelop 24 and 28 King, and Councillor Jason Farr says - after touring them - that he agreed."
What is our manager of downtown renewal doing to renew the downtown? Apparently he thinks that his own job is no longer necessary: "Glen Norton, Hamilton's manager of downtown renewal, says the city no longer needs to bang the drum of downtown living because the demand is happening on its own."
Council can still halt this unnecessary destruction by filing an intent to designate. This sends a message to the developer that they will be expected to give consideration to heritage aspects. It does not legally bind them to follow through with designation.
Blanchard refuses to sell the buildings, and is in a hurry to tear them down before historical designation gets in his way. This is 100 percent avoidable and is at the hands of Hamilton council.
Here is a photo of the interior courtyard of the buildings that are at risk to come down starting this coming Monday. These buildings are standing after more than a hundred years, and will continue to stand under the direction of a proper caretaker.

Interior Courtyard
An offer to purchase the buildings was presented to Blanchard last week, and the response was that they aren't for sale: they want the whole block and that this is part of a 20 year long plan to assemble properties. That is the very definition of property speculation, and the 20 years of languish while Wilson-Blanchard "assembles" the block has cost us enough already.
Councillor Farr is quoted in the Spec saying, "It's never a happy day when you have some history disappear." But the power to prevent this from happening is in Farr's hands, if he and his Council colleagues choose to use it!
Postscript by Kieran Dickson
Fundamentally, the decision to allow demolition is totally inconsistent with the Downtown Secondary Plan. Sean Burak has identified the Plan's objectives, but I commend a reading of the Plan in its entirety [PDF] for an appreciation of how the pending demolition is not only contrary to the Plan, but will make further progress towards the objectives much more difficult.
The decision to allow demolition came about in a way that effectively excluded discourse on whether this demolition was consistent with the Downtown Secondary Plan. Rather than having staff input regarding consistency with the Plan, and an opportunity for the public (including key stakeholders) to discuss and debate this, the deal with the owner came about as a result of a private meeting.
The proposal was then withheld from the public until it was before the committee that adopted it.
Because the meeting was in private, it is not known whether the brokers of the deal were unaware of the Downtown Hamilton Secondary Plan or decided that the Plan should not be followed. It is inconceivable that the agreement was made within the framework of the Plan.
It is not too late to deal with the proposal of demolition properly, through a full process of staff review and public engagement. Both Council and the responsible Minister - Michael Chan, Ontario Minister of Tourism, Culture and Sport - are able to effectively stay demolition of the buildings through the tools available under the Ontario Heritage Act.
Addressing another of Sean's points, I concur that dealing with this matter in a way that turns a blind eye to the Downtown Secondary Plan is most unfair to those who have invested time and energy in redeveloping our core in a way that is consistent with the Plan.
Allowing the owner of these buildings to demolish part of the Gore's most important heritage asset, its streetwall, will significantly affect the investments of those who have banked on the vision of this district as our primary landscaped open space and concentration of heritage buildings.
Allowing such a gross departure from the Plan will also discourage investors (and others) from trusting Hamilton to abide by its own planning directions, in terms of both downtown redevelopment and other initiatives.
Post a Comment
You must be logged in to comment.