Stop Trading Our City's Future for Napkin Sketches
We can't afford a vacant lot at our most important corner, on our civic square. This affects every Hamiltonian.
By Sean Burak
Published July 08, 2013
This is what it has come to? The Gore Promenade this week will take place just steps away from the destruction of the soul of the Gore itself?

Fencing has gone up around the King Street East streetwall south of Gore Park (Image Credit: Sean Burak)
Through City Council's unwillingness to use the tools given to them by the Heritage Act, and refusal of the province to intervene, some of Canada's oldest buildings are to disappear - never to incubate another business again.
Last year, I wrote an article for Hamilton Magazine, exploring several development styles in downtown Hamilton. As part of that article, I interviewed David Blanchard.
I urge you to listen to this interview:
It is clear by his own words, they do not have a plan for that parcel. In a downtown with scores of vacant lots waiting for a saviour developer, how can any single councillor allow this - or any - demolition to occur, even if we set aside heritage values?
This is happening today. There is no time left to waffle. We can't afford a vacant lot at our most important corner, on our civic square. This affects every Hamiltonian.
Here is the "rendering" of the "proposal" for which we are allowing the destruction of Gore Park.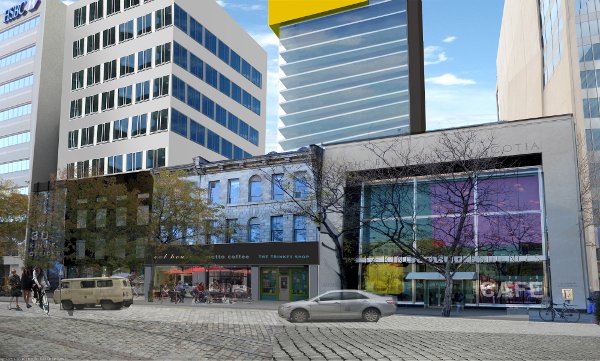 Rendering by David Premi Architects Inc. of a restored 18-22 King Street East facade as part of a proposed new development (Image Credit: Wilson Blanchard)
The image speaks for itself: this is not a plan. It's a back-of-a-napkin sketch.
The demolition must be stopped, even if temporarily - until an actual plan is presented, with building permits, financing and tenants.
Can we please stop trading our city's future for napkin sketches?
Interview Transcript
Sean Burak (SB): I was wondering if you have a couple of minutes to talk.
David Blanchard (DB): We don't have a real solid plan there, so...
SB: I'm just doing more of a general comparison of not only developments that are underway but ideas for the downtown, development in downtown Hamilton and why people are doing it - what their motivations are. I won't need anything specific, I just thought you might want to weigh in on gore park,that corner and that block and I thought it might be nice to chat with you.
DB: Sure, ask away.
SB: First of all I'm curious about what your motivation is for that specific block - why did you choose it? I imagine it's been a long process of collecting properties. What sparked that? Why downtown Hamilton?
DB: I've worked down there for over 30 years and I managed some of these buildings we own and bought them off of bigger companies over time. Other companies started to assemble and then they didn't want to do it and then we bought them out.
SB: So the initial acquisitions weren't necessarily with this big picture in mind, it just sort of came together over time?
DB: Yeah it came together. The first thing we bought was the Hong Kong Bank building. The problem with that was there was no parking. And we bought the parking lots behind, and, you know, this and that. And basically got the whole block over a few years except for two buildings.
SB: And those two... they won't be part of this development?
DB: Well we would talk with the Bank of Nova Scotia and possibly make it part of it, I mean it's up to them if they want to sell it or not - we don't need them but if they want to move, or change what they're doing, we would be interested in putting that into the package.
SB: What about timeframes - I know that you don't have a full plan laid out yet but do you have a wishful timeframe for when you'd like to see construction begin or occupancy?
DB: Well I don't even know if I'm gonna get -- you know they're going to give me trouble maybe demolishing some of that stuff. I'm not optimistic that we'll have construction let alone demolition within a long time. I mean the only reason we are doing anything now is because the interest rates are low and because those buildings have had it. They've just had it. And there's no sense spending any more money on them. They really are done.
SB: So it's basically a good time now to try and secure the financing so that when you're ready to go...
DB: Well it would be a good time to get rid of them because they are just gonna -- we can't rent them and they'll become an eyesore. So it's better to just get rid of them.
SB: So that answers my next question - why make announcements now when there's no real plan in place, but I guess the main concern is the ongoing cost of those existing buildings?
DB: Well we bought them to redevelop and the buildings are shot so if we take them down and work away at planning that's not going to be a problem because when we finally do get a plan and a tenant and financing we'll be able to go forward quickly. So why not?
SB: When you look at downtown Hamilton there's a lot of empty places where there used to be buildings, some of them nice, some of them were, i'm sure, shitholes. But do you have any concerns that if you take these buildings down (even if they are not necessarily contributing to the fabric of gore park in their current incarnation) some would say a streetwall is better than an empty lot. Do you worry about the empty lot being a long term thing? Say they come down and it takes ten years from there...
DB: No I don't want it to be ten years. I want it to be sooner than later. The economic times are such that with low interest rates like this, it makes it more reasonable to build. And I don't know if it's ever going to be this low again.
SB: And is it easier to sell to investors if you have vacant land assembled rather than land that requires demolition permits?
DB: Yeah that helps too.
SB: Another question I have is about the facing onto Gore Park. If the plan as proposed goes forward, those buildings come down and then something in its place (maybe not exactly what we saw in the renderings) goes up, how do you see that space interacting with Gore Park?
DB: We want it to work really well. We own three buildings (two big buildings and the little building on the corner across from the Hamilton Club) and all that land and the Hong Kong Bank and the Union Gas Building so we have a vested interest to make this thing really work. So we want it to enhance those properties and provide something that is missing down there. Potentially a grocery store or a target or... whatever, I don't know.
SB: Like an anchor tenant that acts as a draw?
DB: Yeah.
SB: If you picture a lot of the places that are starting to see a renaissance in downtown Hamilton, they tend to not be the megablock projects. They tend to be little pockets where the narrow century-old style of building (maybe not necessarily the old buildings themselves but the style where it's broken up into 14, 16 or 20 foot chunks) that are easy for smaller businesses to open in. Do you see a potential for that kind of development to replace those buildings? Or are you thinking that it has to be a single "large magnet" type of tenant.
DB: It has to be a large tenant because those small tenants can't afford the kind of rent that is going to have to be charged for a brand new building like that.
SB: So to cover the development costs of something at that scale you need someone who takes a large floor plan.
DB: You need a major tenant, yeah. If you had 600 little wee guys in there it just wouldn't work.
SB: From a management standpoint too I imagine...
DB: Yeah, I mean I'd rather get one cheque for 250,000 a month or something than 50, 70, 80, 200 cheques, you know?
SB: Of course. Well that gives me some perspective. I appreciate your time, thanks very much.
DB: OK Great. Bye
Post a Comment
You must be logged in to comment.