Hamilton's James Street North: A Hidden Gem
James Street North is a Jane Jacobs urban village with a diversity of buildings, activities and people and its mixture of local pubs, clubs, cafes, bistros and shops.
By Richard White
Published July 09, 2013
As a former Hamiltonian, I have watched with interest Hamilton struggle to cling on to its status as one of the top 10 cities in Canada. Like Pittsburg, Buffalo and other cities in the North American Rust Belt, Hamilton has had to reinvent itself.
It is no longer the "ambitious city" (a former moniker)! Similarly its status as a "steeltown" has long disappeared with its now more diversified employment base.
James Street, one of the oldest streets in Canada, has a history that dates back to the early 1800s. It was home to Hamilton's first department store (The Right House, 1893) and first skyscraper (Pigott Building, 1929, 18 floors).
Lister Block, the first indoor mall in Canada, was built in 1886, burned down in 1923, was rebuilt in 1924, and in 2011 was restored to its early 20th century charm.
Super Block
James Street is also home to Lloyd D Jackson Square, a mega downtown indoor mall built in 1972. It includes a public square on top that never really worked. The mall was part of a major downtown renewal project that includes a theatre, civic art gallery, convention centre, arena, central library and farmers' market - basically everything an urban planners and developers at the time thought was needed to revitalize the Downtown.
The thought was that downtowns needed an downtown indoor shopping mall to compete with the suburban malls. Calgary built TD Square in 1977, Edmonton built, its City Centre Place in 1974 and Winnipeg built Portage Place in 1987.
Forty years later, Hamilton's downtown, not unlike Winnipeg's and Edmonton's, still struggles to become the vibrant live, work and play places they were in the '50s. Lesson - Urban vitality is an art, not a science!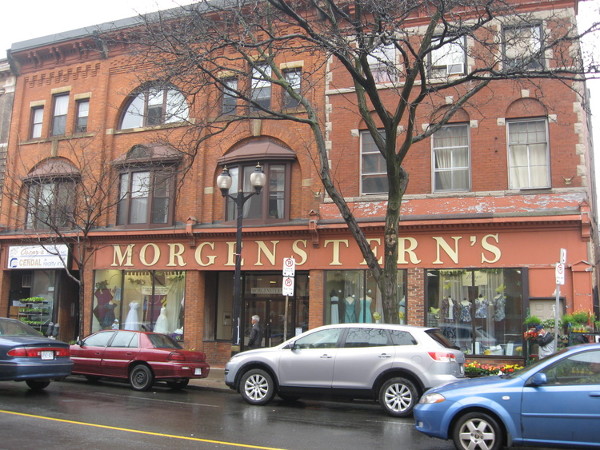 Morgenstern's is not truly a department store. Just one floor, mostly clothing. There is an entire section of first holly communion dresses and lots of party/graduation dresses that are right out of the '60s maybe '50s. We are always surprised it is still there when we visit.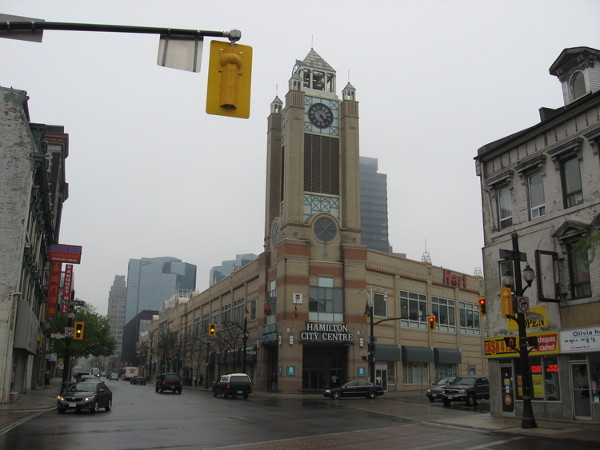 Hamilton City Centre/Jackson Square shopping mall looking south from James Street north. Once downtown was home to several department stores, today there are none.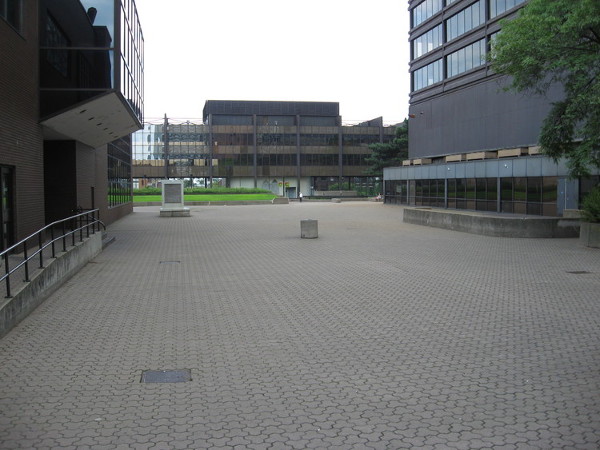 The barren bleak public plaza that was created on top of the Jackson Square shopping mall above street level. Public plazas must be at street level or at least visible from the street to be welcoming. Plazas need animated shops and restaurants opening up onto it with patios. The buildings here turn their back on the plaza and have no interaction. What were they thinking?
Hidden Gem North of Super Block
However, an area just north of the "super block," once called "Little Portugal" now branded as James Street North (JSN) that is becoming very attractive to indie artists in many different disciplines from across southern Ontario.
JSN, a seven-block district, extending from Wilson to Murray Street, consists of early 20th century, low-rise brick buildings that are ideal for low rent street level retail, restaurants and cafes with studios and apartments above.
The street retains its historical authenticity architecturally and culturally with several Portugal-based restaurants, pubs and shops in operation.
JSN is a Jane Jacobs urban village with a diversity of buildings, activities and people and its mixture of local pubs, clubs, cafes, bistros and shops. There is no Tim Horton's, Starbucks or Lululemon. What there is is a new energy with the opening of the Art Gallery of Hamilton Shop and Annex, as well as CBC Hamilton studios.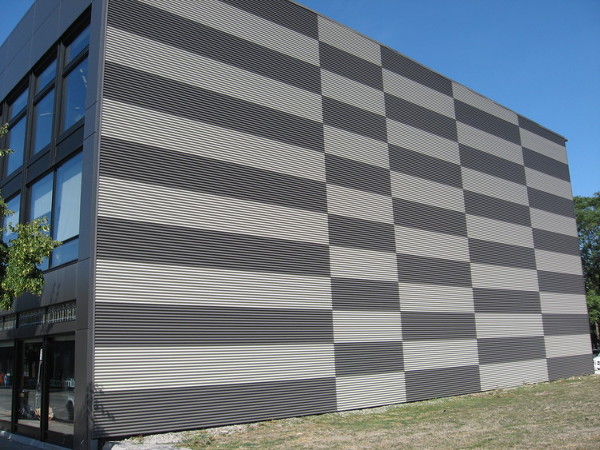 The CBC Hamilton and Art Gallery of Hamilton Art Annex is the gateway to the James Street North Arts District. This is the only contemporary urban design element in the entire district.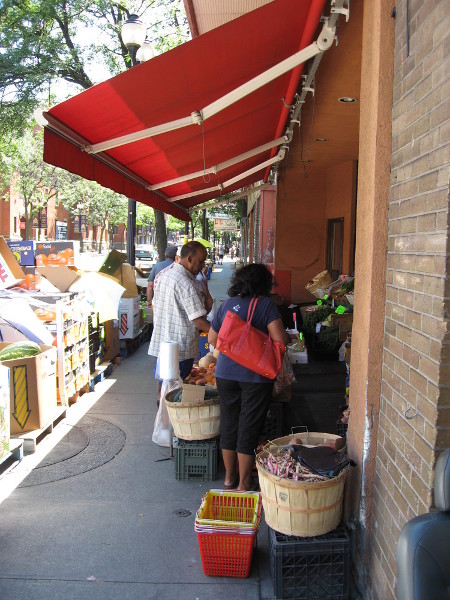 James Street North streetscape is one of narrow sidewalks with lots of small shops. Doesn't take many people to generate a vibrant ambience.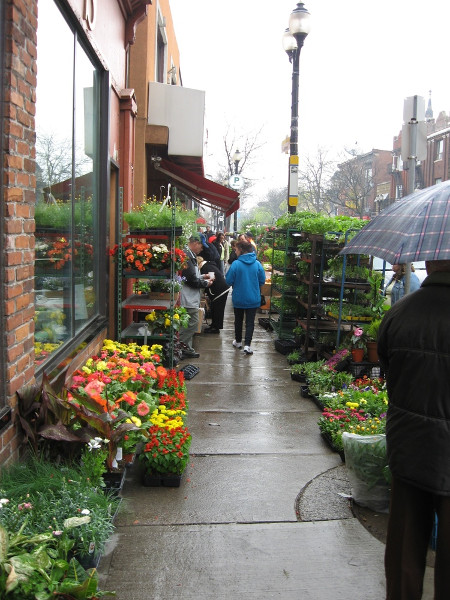 This could be in Portugal, but it is downtown Hamilton's James Street North. This is just blocks away from Hamilton's downtown Farmers' Market one of the largest and oldest in Canada.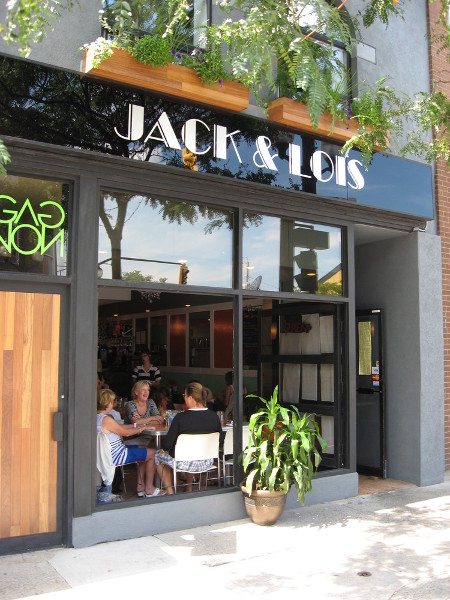 New independent restaurants are starting to populate the streets. These are small intimate spaces that encourage human interactions.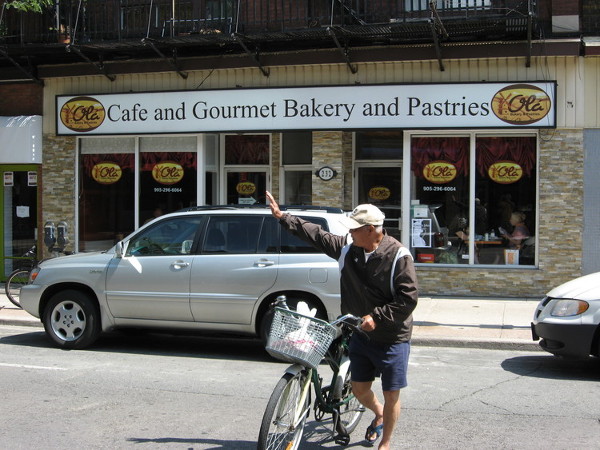 Ola Cafe is just one of the many Portuguese shops that adds an authenticity to JSN's sense of place. You can't create this with urban redevelopment it takes decades to create character like this.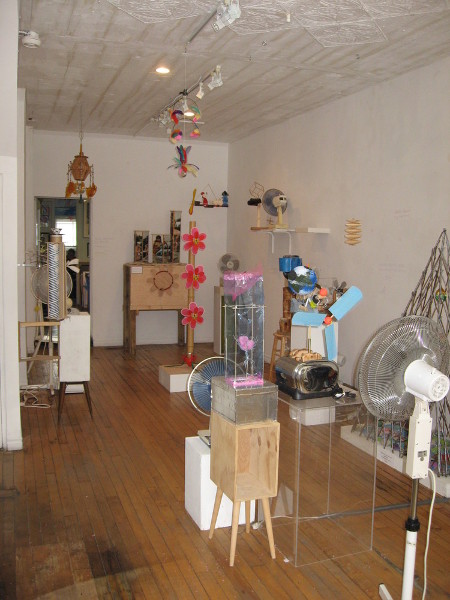 An art exhibition in one of the many bohemian art galleries, mostly artists' cooperatives vs commercial galleries. Meet the artist not the owner!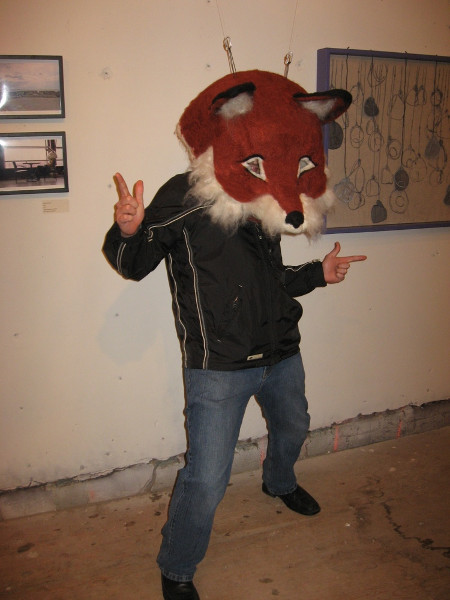 There is a playfulness and spontaneity in the galleries. This mask/head was taken off the wall and an impromptu performance happened.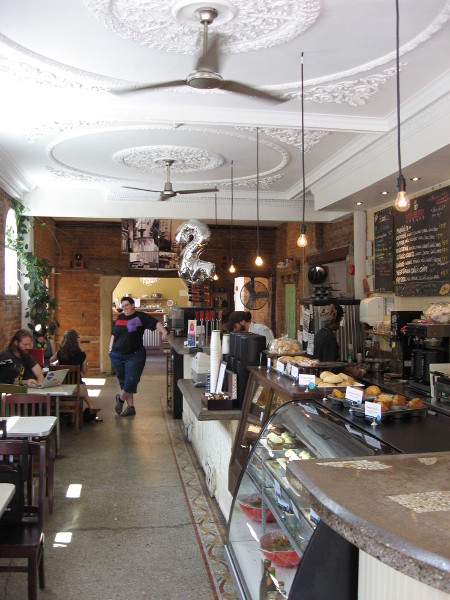 Mom and pop cafe, no Tim's, Starbucks or Second Cup in sight.
Supercrawl
Initiated in 2009, Supercrawl built on the popularity of JSN second Friday art crawls. It has quickly grown from a one-day street festival into a major two-day arts festival attracting 80,000 people in 2012.
The 2013 event on September 13 and 14th will expand yet again to include waterfront concerts at Pier 8 at the end of James Street on the waterfront.
Supercrawl organizers have announced that this year's free musical acts will include Said The Whale, Chelsea Light Moving (with Thurston Moore of Sonic Youth), Young Rival, Joel Plaskett Emergency, Steve Strongman, Yo La Tengo, Sandro Perri, the Hamilton Philharmonic Orchestra and 2009 Polaris Prize winners F*ed UP.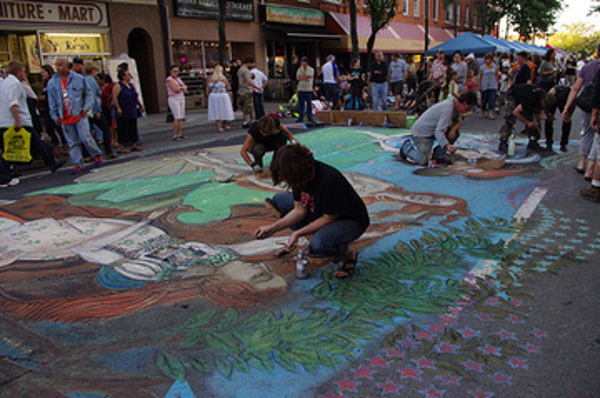 Artists and patrons enjoying themselves at one of the monthly Art Crawls along James Street North.
Exploring/Flaneuring
If you are in the Hamilton area and are interested in art and architecture, don't just drive by. Drive into the Downtown and check out James Street North. Take a walk back in time. JSN should be on the radar of anyone who is into urban exploring, art, architecture and flaneuring.
Below are just a few teasers.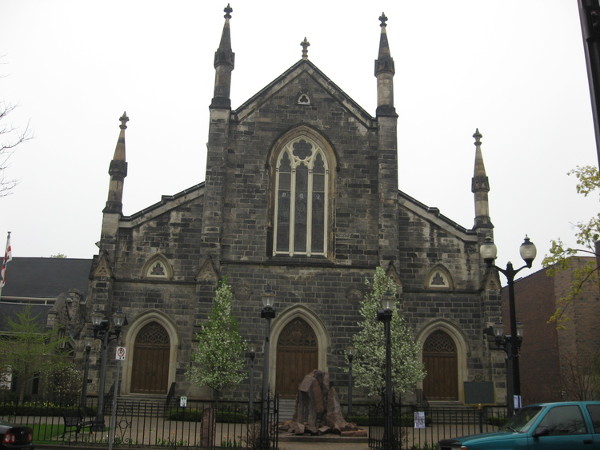 Downtown Hamilton has several elegant early 20th century churches.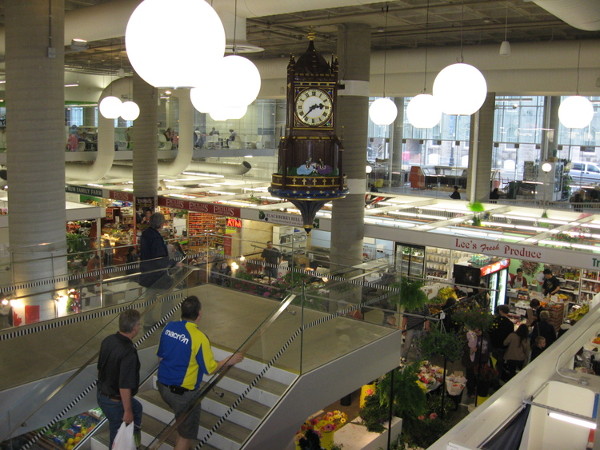 Hamilton's Farmers' Market is a foodies mecca. The clock is from the old Hamilton Birk's Building

Downtown is full of exquisite buildings in various states of aging. There is a wonderful urban patina that creates a unique sense of place. This is not your pretty restored historic district.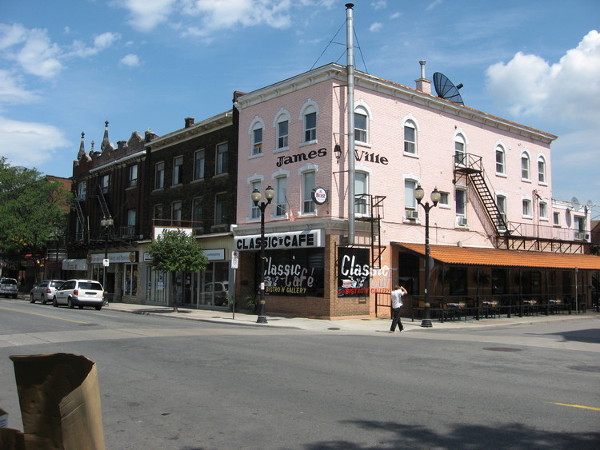 James Street North architecture collage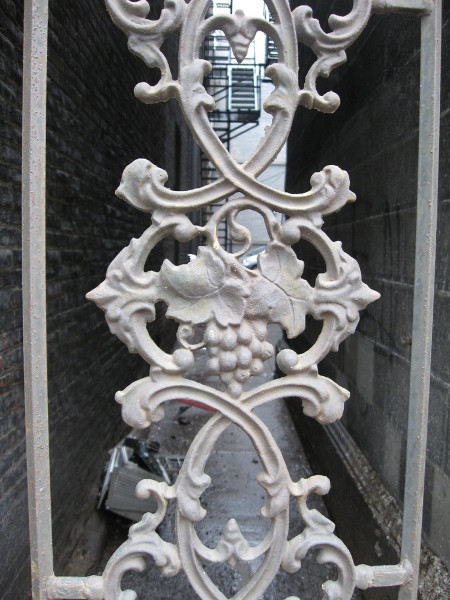 Hidden amongst the architecture and urban patina are some wonderful ornamental elements from the past which enrich the streetscape. Decorative and ornamental elements have been lost in the age of minimalism.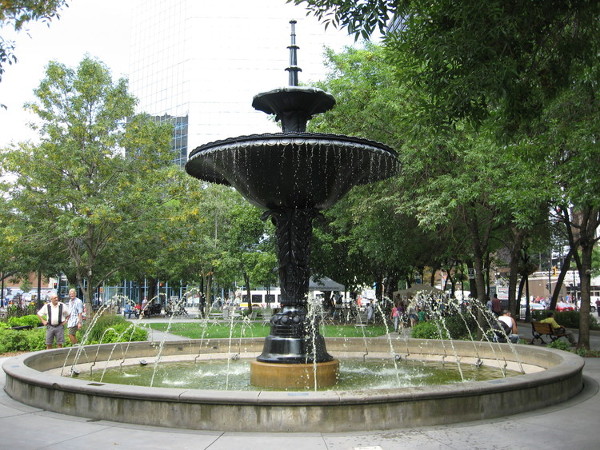 Fountain in Gore Park is a throwback to age of urban ornamentation and decoration.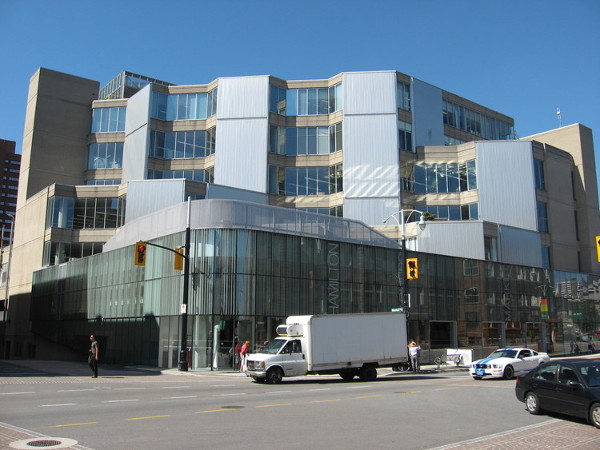 Hamilton's Central Library and Farmers' Market are a key component of the city's 40 year struggle with downtown urban renewal experiments.
This article was first published on Everyday Tourist and is republished with permission.
Post a Comment
You must be logged in to comment.