Hamilton's Bike Parking Gaps: An Opportunity for Change
Hamilton is ripe for an expansion of our current infrastructure, and several examples already in place could serve as a launching point for future implementation.
By Dave Heidebrecht
Published October 03, 2013
Thank you, Hamilton! In fewer than two weeks since I launched an online project to address Hamilton's bike parking deficit, I've heard from dozens of people on Twitter and had great feedback on Raise The Hammer. Most recently, the project was covered by CBC Hamilton.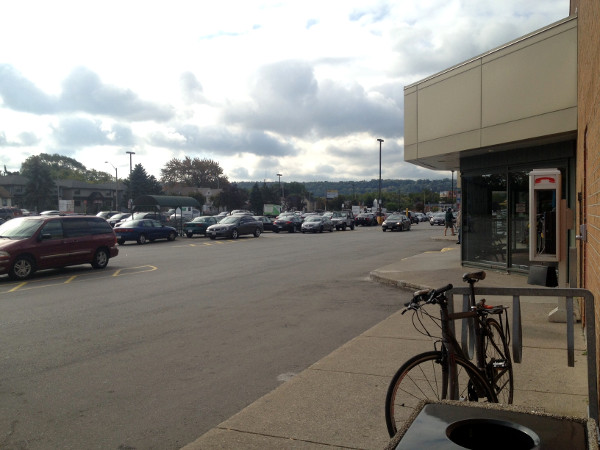 The Dundurn Fortinos. One small rack for bikes, hundreds of spots for cars.
Based on the simple premise that Hamilton needs more bike parking infrastructure, which came to me in response to an out-of-touch report recommending the need for more car parking in the core), I asked fellow cyclists and non-cyclists alike to use the #BikeParkHamOnt hashtag to let me know about places throughout the city that could use better bike parking.
While my first blog post on the issue gave some background on the idea and some of the benefits that such infrastructure improvement could bring, this post is dedicated to highlighting some of the great feedback that I've heard throughout the first two weeks.
After highlighting some of the deficits that have been sent to me, I'll look ahead to next steps I'm taking to follow up with others who are working on this issue throughout the city.
An Idea Waiting for a Spark
While I hoped I'd get some good feedback in response to my query, I've been blown away - not only by the number of responses, but also the depth of engagement and conversation that has taken place. Based on some of the ideas highlighted below, it seems such simple and cost-effective change (relative to other high-cost infrastructure) is well overdue.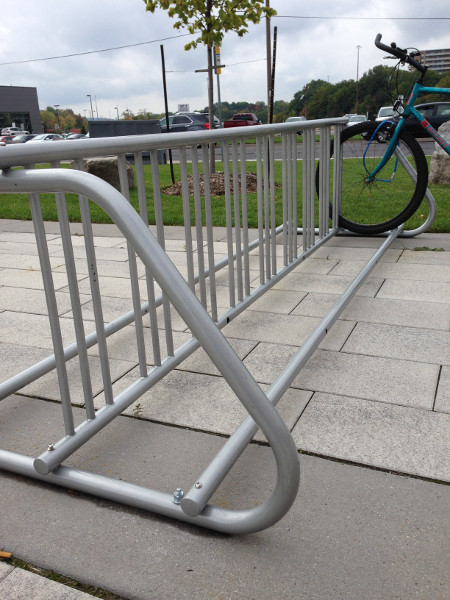 Current bike racks at McMaster Innovation Park, where response has noted the need for "looped" racks that provide more security (Photo Credit: Basmah Ahmed).
Key deficits in Hamilton's bike parking infrastructure include:
James Street South: While the YMCA has some bike parking, the remainder of the street is lacking. Augusta Street (just off James) was a major point of discussion, as dozens of bikes often end up chained to fences or parking posts.

An on-street bike corral similar to that on John St. was suggested as a high-visibility option, and at least one business is already on board to rally others in support of the idea.

King William & Hamilton International Village: Multiple responses highlighted a variety of areas throughout this core business and restaurant district, including the Central Police Station and outside local shops and cafes.

Grocery Stores: While multiple Fortinos in the west end of the city were noted multiple times for lack of space and frequent overflow, other destinations including Nations, Metro, and No-Frills were also an issue.

Locke Street South: A bold everywhere was the unanimous response from those who often have to walk a block to find a post in an area full of thriving shops and restaurants. Again, a bike corral (or two or three) in a highly visible and central location might be a great fit.

Gore Park and Jackson Square: In the heart of downtown, there were calls for not only more parking, but more secure parking. Fear of theft is a central issue not only in the core, but throughout the city. Future rack designs, increased (and publicized) secure parking facilities, and location placement would be crucial in addressing these issues.

James Street North: More parking for bikes at busier locations such as Cannon St. and as far North as the Harbour Diner.

Hamilton City Hall: A structure at the front of City Hall was suggested as a potential means of displaying a genuine commitment to active transportation.

Parks and Plazas: Both Beasley Park and Gage Park were noted as places that could use better infrastructure, while plazas such as the one at Queen and Main and the Centre on Barton were also areas in need.

McMaster Innovation Park (MIP): While there are some parking racks already in place, one request noted that future racks could be designed to be more secure, allowing not only a wheel to lock but the bike frame itself. Engagement from MIP's own Twitter feed expressed interest in collaborating on future racks that would be open to such requests.

Ottawa St. Farmers Market: Although there are places to park along Ottawa St. itself, there are no spaces for visitors to the market. Again, a corral in this area might be an easy solution.

The Mountain: Almost everywhere it seems, though Concession St. and the area at Mud St. and Paramount were highlighted as specific trouble spots.
This is just a summary of the feedback I've received so far, and though I've attempted to highlight those areas that were specifically identified, a more detailed summary will be compiled in the coming weeks. With some more thought and discussion, it seems, many of these gaps could be easily addressed.
Leading By Example, Best Practices in Hamilton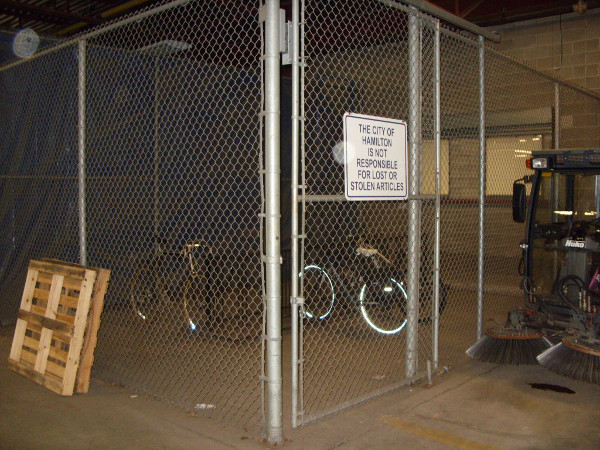 Secure bike parking facility built by the City of Hamilton (Photo Credit: Craig den Ouden)
As this conversation continues, there are some great examples right here in Hamilton (and beyond) that we could learn from and apply to next steps, including:
Existing Secure Bike Parking: The City of Hamilton already operates three secure bike storage locations in downtown parking lots (the City's website has more information): York Boulevard Parkade, City Hall, and the Hamilton Convention Centre. GO Transit also offers secure parking at the Hunter St. GO Station.

For only $50 a year, one can purchase a space in any of these locations. Feedback online noted that many people (including myself) were unaware of these locations and many suggested that better promotion and publicity would go a long way in raising awareness about this current infrastructure.

John Street Bike Corral: A result of lobbying by local bike shop Bikehounds, this corral is a perfect example of how the space that takes up one on-street parking spot could be used for bike parking. Highly visible and centrally located near shops and restaurants, this could be used in multiple locations across the city.

McMaster University & Mohawk College: Both of Hamilton's higher education institutions have developed comprehensive sustainability mandates, including dedicated investments in bike parking infrastructure. Using both bike corrals and secure storage locations, these institutions could be looked upon as knowledge hubs for future implementation strategies that should also include public relations and communications efforts.

Both institutions have made great inroads in recent years to better collaborate and connect with the Hamilton community. This could be another opportunity for such knowledge exchange.
As I've quickly learned, Hamilton is ripe for an expansion of our current infrastructure, and these examples above could serve as a launching point for future implementation. As they show us, the capacity to design, build, and maintain these spaces already exists within our city borders.
Moreover, we could also take from the work of other municipalities who are developing their own bike parking strategies. Already I've been sent links to a Request a Bicycle Rack page on the City of Edmonton's website, and also heard from a friend in Waterloo Region (one of the more forward-thinking municipalities in Canada) who shared an article published this week about Waterloo's own bike parking strategy.
The following Streetfilms video on the safety benefits of on-street bike parking was shared by a commenter on Raise The Hammer. Thanks Jason!
Building the Foundation for Change
So what's next? Guided by these examples (and the many more that I couldn't fit into this post) and based upon the energetic response to this project so far, I'm in the process of arranging some meetings with a variety of people and organizations that have already been doing some work on bike parking needs in Hamilton.
As often seems to be the case, there are already a number of people working on this very issue, and I hope that this growing conversation can eke out the political space needed to support some change in the coming months.
Ranging from local grassroots organizations, to research groups, and importantly to city employees and councillors, I'm looking forward to gathering a broad perspective on where we currently stand, while being part of a consensus-building exercise to see how we can best move this issue along.
I'll plan to share these outcomes in an update later in October or November, and will hope that the momentum gained so far can help catalyze the movement of the various pieces that are needed to start addressing the gaps noted above.
In the meantime, I encourage local business owners and community groups to start thinking about potential win-wins for your area, and as always, feel free to use the #BikeParkHamOnt hashtag or send me an email when an idea arises.
Thanks again to all of those who have contributed to this process, your feedback and ideas have made this project what it is. I look forward to sharing more updates soon.
First published on Dave's website
Post a Comment
You must be logged in to comment.