The Transportation Revolution is Coming
The car culture is a juggernaut, but we should all take comfort in the fact that in the background, several forces are working to our advantage.
By Matthew Sweet
Published November 18, 2013
The truest and most horrible claim made for modern transport is that it "annihilates space." It does. It annihilates one of the most glorious gifts we have been given. It is a vile inflation which lowers the value of distance, so that a modern boy travels a hundred miles with less sense of liberation and pilgrimage and adventure than his grandfather got from traveling ten. Of course if a man hates space and wants it to be annihilated, that is another matter. Why not creep into his coffin at once? There is little enough space there.

— C. S. Lewis
There is a general consensus among urban planners and policy makers, amateur and professional alike, that the driving force (pun intended) behind the way our cities are built and function has been the proliferation of private automobiles and the creation of the car culture.
There is an element of truth behind the myth of the automobile as freedom. Private automobiles did grant freedom to individuals and families to move out of the city into the suburbs, with large private lots, space from neighbours and the ability to commute on your own schedule longer distances than previously possible.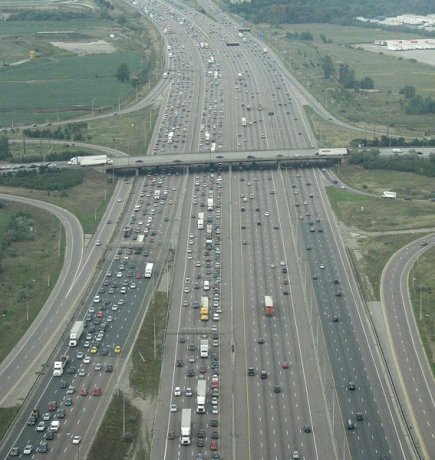 Commuting on Highway 401
In the process, the car culture was born. As the car culture became entrenched, other alternative transportation methods became marginalized, demonized and ostracized. The car culture soon became a key defining feature of individuals in North America.
Nowadays, people are defined by their primary mode of transportation, complete with appropriate labels: drivers, cyclists, pedestrians, bus riders, listed in no particular order after the first and most important. Automobile ownership and driving became key social signals and status symbols.
All of this was possible because of several factors that converged in post-World War 2 North America. However, as 2014 looms on the horizon, several of those factors are trending in such a way that the hegemony of driving and the private automobile are under threat.
In this new environment, walking, cycling and taking transit are slowly rising from their prematurely dug graves.
Cycling and walking in particular put the car culture on its head. Cycling and walking are by their nature slow, local and active; driving is by its nature fast, distant and passive.
You may argue the comparative speed of driving and cycling on local streets, but the car culture values freeways and "the open road" far more than it does local movement.
But what are the various trends that are closing in on the car culture?
Cheap Energy
The most critical is energy. The car culture emerged hand-in-hand with extremely cheap, easily accessible fossil fuels. That era is coming to an end.

Chart: Crude Oil Prices Since 1861, Nominal and Real
Conventional, easy oil has peaked (most peak oil theorists put the date in 2005). That peak coincided with the beginning of a period of price volatility in the cost of gasoline, most notably featuring spikes in 2005 and 2008.
The cost of gasoline greatly influences the amount of driving. In 2008 when energy prices rose, there was a noticeable shift towards active and public transportation. (However, not all of that shift can be attributed to energy prices, a point to which I will return below.)
Price volatility is likely to be a regular feature in energy and fossil fuels in the future, and that volatility will be key to future discussions on the resilience of our transportation systems.
Economics
Another trend working against the car culture is economics. By a variety of measures (recently reported in the Globe and Mail), economic inequality is worsening in Canada, as well as more famously in the United States. Working families are under increasing pressure while the rich continue to get richer.
Ironically, while financial institutions considered automobiles assets, in fact automobiles are massive liabilities. The average cost to operate an automobile is $8,000 per year. Automobile ownership is trending towards a luxury of the well-to-do.
Meanwhile, all levels of government are facing down huge infrastructure deficits, estimated at $150 million in Hamilton, $60 Billion in Ontario and $120 Billion nationally.
Roads constitute a significant portion of those deficits, making the current levels of driving financially unsustainable from an asset management perspective.
Demographics
Yet another trend is demographic. There is a growing body of evidence that suggests that North America has passed "peak car".

Chart: Estimated Vehicle Miles Driven on All Roads since 1970
This trend seems to be emerging a way that is not wholly dependent on the economic crisis of 2008. Something else is at work here.
Younger demographics are not obtaining their driver's licenses as early as previous generations. Money and time is being devoted to mobile devices and social networking, which are easier to use while walking or taking transit as opposed to driving.
Meanwhile, Baby Boomers are retiring, representing a huge cohort of the population which will gradually no longer be physically able to drive.
Public Health
The final trend which is moving in lockstep with the car culture but which will ultimately threaten it is growing public health crises.
Obesity and diabetes are running rampant in North America as physical activity has been engineered out of our lives by the car culture and other factors.
As public health agencies tune in to the value of battling obesity and diabetes by encouraging active transportation, planners and transportation professionals obtain a new and influential ally.
More Resilient Alternatives
All of these forces slowly advancing on the car culture suggest that driving is the least resilient form of transportation available. Driving is susceptible from a variety of fronts. The alternatives are more resilient each for their own reasons.
Moreover, by persisting in putting all of our transportation eggs in one basket, the transportation system itself lacks resilience. Providing greater equality of opportunity for people to use various forms of transportation improves resiliency.
Activists and community members advocating for more and better transportation options should look to these trends as tools for their arguments. Simply put, the revolution in transportation is coming because so many separate yet connected issues are converging to force the hand of decision makers and planners.
Like any revolution, this will not be a single event, but will rather be an unfolding process over a lengthy period of time. As it unfolds, several recurring themes will feature.
Plenty of attention will be paid to divisive arguments, labels and demonization. For advocates, such things should be treated as unwanted distractions. Rather, every effort should be made to bring more and more people into the fold.
Hate the Game, Not the Players
In the best tradition of social movements, don't hate the individuals but rather hate the system that produces them. To borrow from Dr. Cornel West, rather than hating slave holders, hate slavery; rather than hating oligarchs, hate oligarchy.
Similarly, don't hate drivers who are simply doing what the system and the design of cities tells them to do; hate the car culture and focus the critique there.
Make no mistake, alternative transportation is a social movement. It is a social justice issue. Equity in transportation means cities cannot favour automobile owners at the expense of the less financially able members of the community. For example, Code Red neighbourhoods in Hamilton should be areas of focus for active transportation initiatives as a public health issue.
Yet, transportation is rife with politics and power dynamics. The car culture has been in power for decades and will not go quietly into the night.
We have to be engaged and actively involved at all levels, whether it be commenting on plans, writing letters to newspapers, publishing blog posts, or simply showing up to vote for candidates who support a more resilient transportation system.
The car culture is a juggernaut. Advocates have a long and difficult road ahead, filled with some victories and many defeats, but we should all take comfort in the fact that in the background the forces outlined above are working to our advantage.
Post a Comment
You must be logged in to comment.