Hamilton Bike Share is No Bixi
Hamilton's new bike share program has no connection to Bixi. It is technologically more advanced and financially more sound than the Bixi model.
By Justin Jones
Published February 20, 2014
this article has been updated
With the impending arrival of Hamilton's Bike Share System, there has been an increasing amount of attention paid in Hamilton to bike share systems around the world. Unfortunately, whenever you talk about Bike Share now, the elephant in the room is the failure of Bixi, the Montreal-based company behind Bike Share programs in places like Montreal, New York, Chicago and London.
It's no secret that Bixi declared bankruptcy this year, and that the company leaves behind a legacy of debt that Montreal's residents are on the hook for - those are the facts that everyone loves to focus on. But the problem with the attention paid to Bixi's bankruptcy is that an increasing number of people conflate the failures of the parent company with the operations of the individual programs across the world.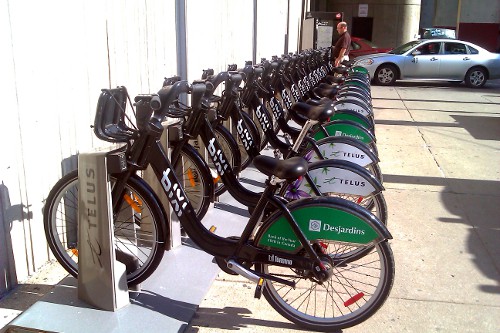 Toronto Bixi Bike Share station (RTH file photo)
Of course, it doesn't make matters any easier when the nearest Bike Share system to us is also called Bixi (Toronto), so when people hear that Bixi is bankrupt, they assume that the Toronto Bike Share model is a failure, so Hamilton's will be as well. This is where the facts simply don't line up.
So in the interest of clarity, I won't refer to Bixi (the parent company) as Bixi for the remainder of this article. I'll call them by their other name, Public Bike Share Corporation, or PBSC. When I talk about Bixi, I'll be referring to the Bike Share operations in Toronto, which still currently carries the Bixi brand, but won't for much longer.
PBSC Financial Problems
PBSC was bankrolled by the City of Montreal - it was really the biggest player in the exploding industry of Bike Share. The City invested in PBSC because PBSC was getting requests from all over the world to build, operate and maintain new bike share systems, and the City saw the opportunity to create jobs by building and operating these systems.
The problems arose in 2012, when PBSC got into a tiff with their software partners, 8D technologies. Up to that point, PBSC had been partnering with 8D to deliver the software solutions for their Bike Share systems. PBSC wanted to buy all of 8D's software to deliver future systems by themselves, and 8D declined.
PBSC then decided to replace 8D's software in all new systems with an internally created software, which was both expensive and buggy. Those bugs, the delays it caused and the cost of developing the software, coupled with a lawsuit brought by 8D, caused many of the problems from which PBSC is now suffering.
The Montreal Bixi system continues to be successful, enjoying high levels of ridership and solid sponsorship numbers, but it's hard to tell just how successful or financially viable it is because their operations are so intertwined with PBSC. The system will still operate in 2014, albeit under new management, with the hope that the system can become self sufficient.
Bixi Toronto
Bixi Toronto, on the other hand, is simply a system that was sold and operated by PBSC. Started with a $3.9 Million Capital Loan from the City, Bixi Toronto has experienced good ridership and sponsorship numbers since launching, but problems with PBSC caused the City to purchase all the assets (all the bikes and stations) from PBSC in order to shelter the Toronto Bixi operations from the financial troubles of PBSC.
Had this been done in the first place, with the City paying the capital costs - exactly like what is being done here in Hamilton - the system would have been able to expand and profit rather than always struggling to pay off the loan. That would have made the system even more financially viable.
Now that the City has assumed the capital costs of the Bixi system, Alta Bike Share will take over operations of the program. Alta has experience operating systems in Chicago and NYC, among other places, and will certainly do an excellent job of making Toronto's Bixi even better.
But enough about Bixi Toronto. Let's talk about Hamilton.
Social Bicycles
First off: Let's get one very plain and simple fact out there. Here in Hamilton, we aren't using a Bixi system. We aren't even using something that resembles a Bixi system.
The model of Bike Share that we are getting here in Hamilton is a newer, better, more flexible technology than PBSC relied on. Social Bicycles (SoBi) is using a much more cost-effective model to build a bike share system, and the result is that we won't suffer from the problems that have plagued some bike share systems across North America.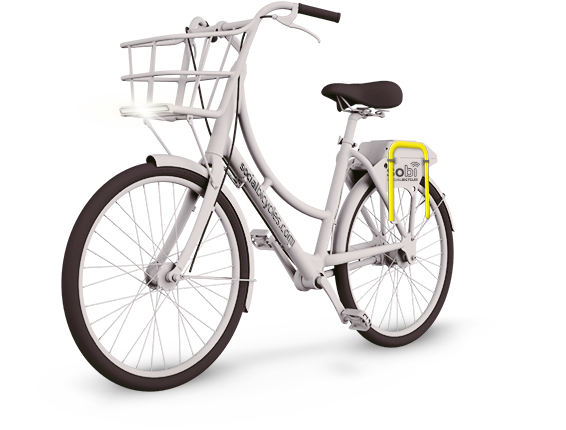 Social Bicycles bike (Image Credit: Social Bicycles)
They're not affiliated with PBSC, they don't buy anything from PBSC and their operating model is completely different from PBSC. So stop trying to conflate the two.
When it comes to operations, the primary problem faced by Bike Share systems, and Toronto is no exception, is making them too small. The most successful bike share systems in the world all share one thing in common - lots of bikes, all easily accessible, in a lot of places people want or need them.
In Toronto, that's not the case - a system of 1,000 bikes is not nearly enough for a city that size, with as many neighbourhoods and communities as Toronto contains.
Workable System
Here in Hamilton, we're going to have more than 750 bikes, which, when you consider that our capital costs are $1.6 Million versus Toronto's $3.9 Million for 1,000 bikes, you realize how much better a value this system is.

Proposed phase 1 map (Click the image to view fullsize)
The density of our system is going to make bikes accessible to thousands of Hamilton residents, and can provide valuable first- and last-mile options for people using transit, or can provide options for shorter trips throughout the lower city.
Is everyone going to use them? Of course not. But the work that has been done by City Staff and by SoBi to establish demographic data and determine that this system can work here in the City is based on findings from dozens of other jurisdictions, and, quite frankly, it's excellent work.
I have faith in that research, in the evidence from other jurisdictions that shows these models can work very well in a City like Hamilton, and in the experiences of cities like Minneapolis, Chatanooga, Denver and Hoboken that have shown very clearly that this can work and can enhance people's transportation options.
I'll close by saying that I think that this is also an incredible investment being made in the City of Hamilton by Metrolinx through its Quick Wins capital fund. For the capital cost of two buses, which we would then have to pay to staff and operate, we are getting a brand new form of public transportation.
We are getting anywhere between 8-12 new jobs in our city for a five-year period, we are investing in moving people in a healthy, efficient and environmentally friendly manner, and we are providing another attractive reason for the increasingly important 18-34 year old demographic, who are driving less than ever, to move to our City.
Bixi is Dead. Long Live Bike Share!
---
Update: updated to clarify that the capital cost is coming from the Metrolinx Quick Wins fund. You can jump to the changed paragraph.
Post a Comment
You must be logged in to comment.