Cannon Bike Lane Consultation Complaint Reflects Double Standard
Status quo projects costing millions of dollars pass unnoticed while small projects to promote active transportation are subjected to impossible levels of scrutiny.
By Nicholas Kevlahan
Published March 25, 2014
The claim by Spectator columnist Andrew Dreschel that the Cannon Street bike lanes are illegitimate because the City didn't do any "official" public engagement reveals a major double standard in how the City makes decisions.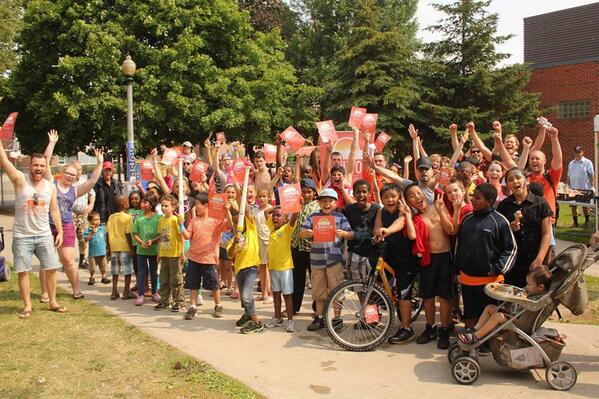 Support for Yes We Cannon in Beasley (Image Credit: Beasley Neighbourhood Association)
We are forced to confront the question: do we want our policy informed by genuine public engagement or do we prefer the sham version?
Everyone knows that the usual Public Information Centre (PIC) approach is ineffective. Hardly any members of the public attend, those who do are written off as "the usual suspects", and staff usually ignore whatever public comments they receive, opting to do more or less what they had already intended (because they don't believe the consultation was effective).
In contrast, the Yes We Cannon citizen campaign engaged thousands of Hamiltonians by going to where people are, reaching out to neighbourhood associations and engaging the public directly.
Double Standard
Initiatives with huge amounts of public consultation and grassroots engagement - like two-way conversion, bike lanes, light rail transit and so on - are sidelined and marginalized if they don't fit the default 'cars-first' approach to city planning.
One of the few public projects that had both extensive citizen engagement and broad public consultation - the city's light rail transit plan - is routinely undermined and dismissed by the same people who are outraged that staff didn't hold a PIC for the Cannon bike lanes. Yet that public consultation found overwhelming support for LRT from every part of the city!
Meanwhile, status quo capital projects costing millions of dollars to build, like the reconstruction of the Beckett Drive mountain access or the Kenilworth/King overpass, are approved and put into action with no consultation and certainly no grassroots citizen advocacy.
The planned Aerotropolis - a massive expansion of the urban boundary costing hundreds of millions of dollars to attract mostly low-density, low-value warehousing and logistics around the airport - is approved with barely any public consultation and indeed no way for the public to reject it.
When the City undertook its Growth-Related Integrated Development Strategy (GRIDS) land use planning process, six growth options were offered to the public for consideration and all six included the Aerotropolis, which will cost three orders of magnitude as much to build as the Cannon bike lane and saddle us with decades of unaffordable infrastructure lifecycle costs.
Just recently, Council voted in a closed in camera meeting to expand the Aerotropolis boundary further in contravention of a recent Ontario Municipal Board (OMB) ruling. Where was the outrage then?
We've also recently learned that Hamilton Mayor Bob Bratina has been championing the mid-peninsula highway, which the Province has studied extensively and determined it will be "a complete waste of money" in the words of Transport Minister Glen Murray.
Where was the broad public consultation on that multi-billion dollar project?
Impossibly High Bar
According to Dreschel's analysis, the councillors for Wards 2 and 3 are not allowed to vote based on their knowledge of and engagement with their constituents, and the support of the neighbourhood associations and business improvement areas can be ignored.
He accuses the ward councillors (and the engaged citizens who support Yes We Cannon) of having "an avowed interest" in the bike lane. Yet I don't remember him complaining that Councillors are allowed to exercise a unilateral veto on segments of the citywide cycling network that run through their wards for no other reason than that they believe their constituents don't want them.
I suppose Dreschel also opposes the participatory budget processes in Wards 1 and 2 because projects are adopted by direct votes of hundreds of residents, rather than have staff develop plans on their own, present them to a handful of people at a PIC and then implement them largely unchanged after dismissing the comments they receive.
It is rich for Dreschel to be concerned about public consultation now, after routinely dismissing those citizens who participate in PICs as 'the usual suspects' and assuming he already knows what ordinary people think.
This is a bike lane, for crying out loud, on a road with huge amounts of excess lane capacity, and the cost is being paid out of the special area rating funds from the affected wards, which councillors are free to spend as they wish on infrastructure. We're not talking about a waste incinerator!
So are we to conclude that multi-million dollar road projects for cars don't require any input, but relatively inexpensive infrastructure to work toward complete streets and livable communities in the inner city can never reach the impossibly high bar of demonstrated community support?
The City's Vision is "to be the best place in Canada to engage citizens". It's hard to think of a better example of engaged citizens than the Yes We Cannon campaign.
Likewise, it is hard to think of a more effective way of disengaging citizens and breeding apathy than to reject this campaign in favour of tokenism and the imagined opinions of those citizens who don't want to be engaged.
Related:
with files from Ryan McGreal
Post a Comment
You must be logged in to comment.