Recently Disappeared Street Art Raises Challenges, Possibilities
The Downtown BIA recently removed a reproduction of an Alfred Joyce painting on a utility box on King William. Is there some way to restore it?
By Eric McGuinness
Published August 05, 2014
Raise the Hammer publishes many articles that take a stand or rally support for civic action. This is merely meant to draw attention to a recently disappeared piece of downtown street art and invite discussion on the subject.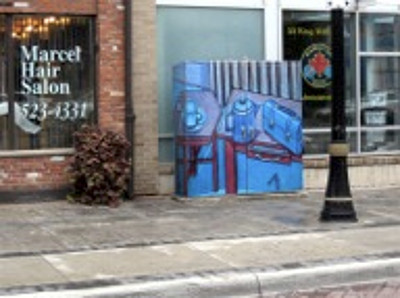 Reproduction of painting by Alfred Joyce on utility box, King William Street
The work is a reproduction of a painting by the late Alfred Joyce that for the last seven years was wrapped (like ads on buses) around a steel utility box on the north sidewalk on King William Street between Hughson and John streets.
It featured an old-fashioned coffee pot and steel lunch bucket on tables in Joyce's studio on the fourth floor of what it now known as the Empire Times building on the northeast corner of King William and Hughson.
An inscription on the side of the box said the picture represented Hamilton's no-nonsense working-class culture.
Credit for the project was given to the Downtown Hamilton Business Improvement Area, Arts Hamilton (now the Hamilton Arts Council) and the City of Hamilton.
Many thought it was a wonderful addition to the street, but I was surprised to learn from BIA executive director Kathy Drewitt that the installation in 2007 cost $2,500.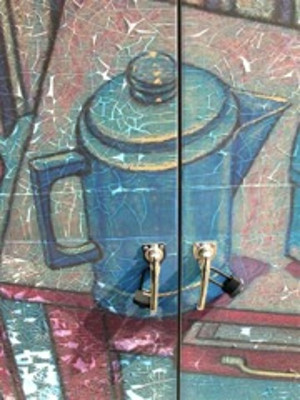 Deterioration of the painting earlier this summer
The original artwork is owned by Cees and Annerie van Gemerden, who allowed it to be reproduced. At the unveiling, the colours were bright and vibrant. Gradually they faded, the surface cracked and by this summer it was peeling off.
Rather than let the work decay further, the BIA had it removed, leaving the shiny steel surface of the box briefly bare before it attracted graffiti.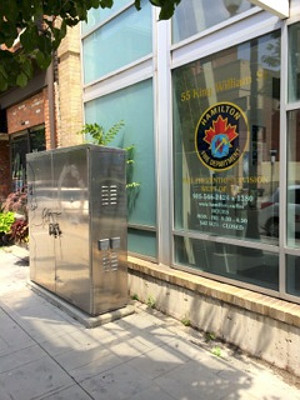 Bare box after art was recently removed
Google Alfred Joyce and you won't find much. What little I know comes from artist Gord Pullar, who once had a studio in the same building, and You Me Gallery owner Bryce Kanbara, who profiled Joyce for a 1950-1987 retrospective show of Joyce's work at Hamilton Artists' Inc. when the artist was 78.
Joyce didn't have a studio until, in his 70s, he rented the space downtown. But he'd shown his work over the years at the Art Gallery of Hamilton, the CNE, the Carnegie Gallery, Hamilton Place and the Inc.
Kathy Drewitt says she will approach the King William Art Walk Steering Committee to see if it can afford to replace the work.
I'd be happy to see it there again, but among the questions that occur to me:
How long will it remain in good condition and at what price per year?
Is such street art inevitably ephemeral?
Would it would be better on a longer-lasting panel, perhaps hung on a nearby wall.
How best do you disguise or beautify the otherwise ugly utility box?
More than a quarter-century has passed since that retrospective show of Joyce's work. Gord Pullar thinks it's time to assemble another exhibition. Is there a gallery or group interested and able?
I'm lucky to have been given a chalk pastel Joyce drawing of the east side of James South from King to Main before the current CIBC tower was built and adjacent buildings torn down. It would be interesting to see more of his work from that period.
Please comment or make suggestions.
Post a Comment
You must be logged in to comment.