Chasing Sydenham Creek Upstream from Cootes Drive
There's nothing like following a creek upstream through a traditional neighbourhood to make you fall in love with your city all over again.
By Ryan McGreal
Published March 20, 2015
One evening this week I found myself in downtown Dundas with an hour to kill, so I decided to wander around a bit.
Not really knowing where else to go, I started at the edge of downtown where King Street West turns into Cootes Drive. This is the spot where a pedestrian died last November after being struck by a car while crossing Cootes in front of the McDonald's between York Street and West Street.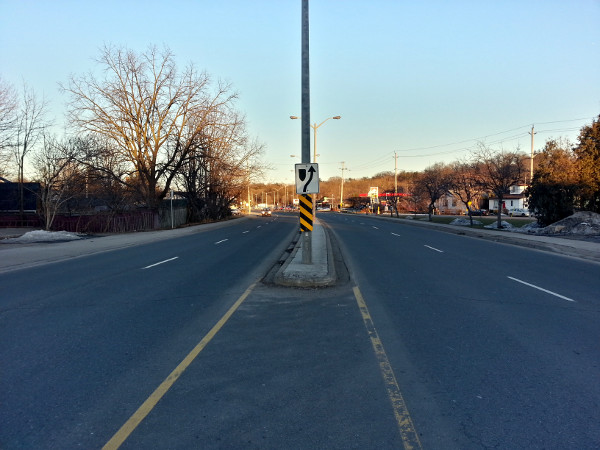 Cootes Drive looking east from West Street
When I wrote about the incident last year, I set aside the question of who was "at fault" for the collision and focused on the inherently problematic context in which an 80 km/h, four-lane divided highway transitions into a two-lane urban street over a couple of blocks.
Standing and walking around there really drove the point home for me. It's a mishmash of incompatible design elements. A divided highway feeds velocitized drivers operating fast automobiles into a dense, mixed, multi-modal environment with one lane in each direction, curbside parking and urban storefronts on both sides. The adjacent side streets are traditional prewar residential.
The transitional zone between West Street/King Street East and York Street/York Road includes the aforementioned fast food restaurant, a pizza shop, a coffee shop, a sub shop and a convenience store.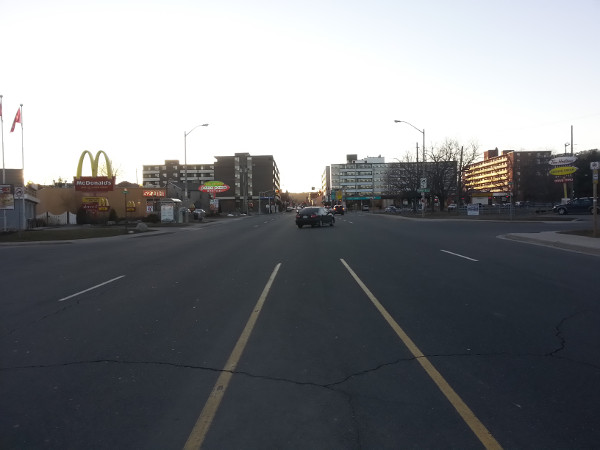 Cootes Drive looking west from West Street
In front of the plaza on the north side of Cootes between York Road and King Street East is the York Road Parkette, a cute little wedge of green space with shade trees, picnic tables, benches and a rectangular gazebo.
It also has a little creek running through it, which I hadn't really noticed before. What started out as an ominous pilgrimage to the site of a recent fatality was about to turn into a more uplifting adventure.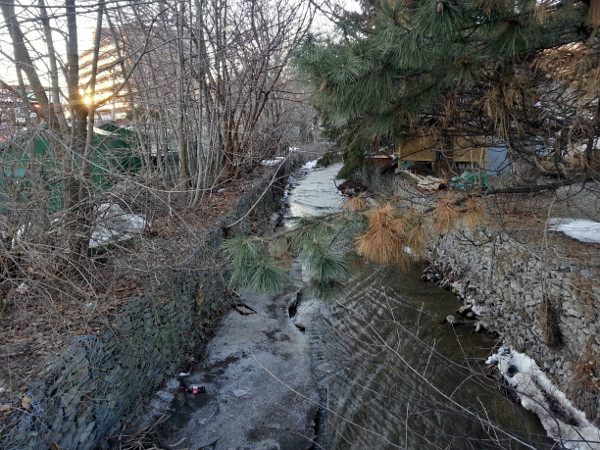 Sydenham Creek looking upstream from York Road
Held in place with gabion baskets, the little creek runs downtstream from northwest to southeast and disappears under Cootes at King Street East.
As far as I can tell, it's called Sydenham Creek. The Hamilton Conservation Authority has a 2009 Stewardship Action Plan [PDF] that describes the creek and its three catchment basins through which the creek flows from its headwaters just south of Highway 5 to its final destination in Cootes Paradise south of Dundas Street.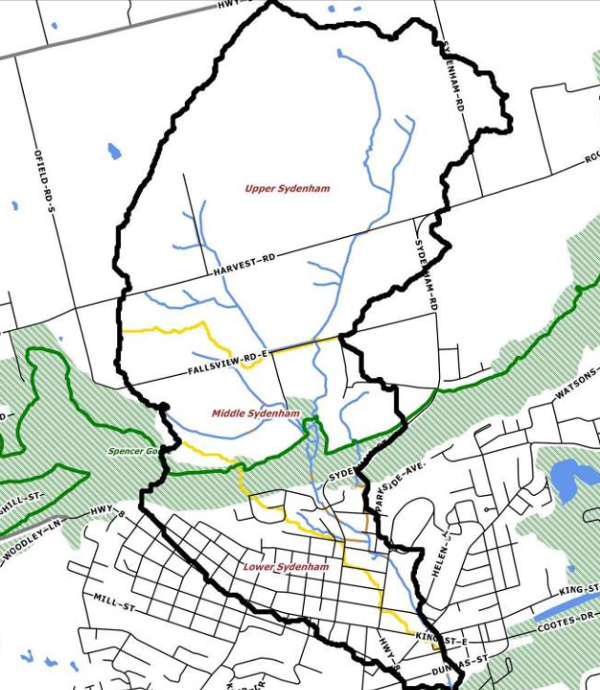 Sydenham Creek catchments (Image Credit: Hamilton Conservation Authority)
What really impressed me about the creek is that so much of it is daylighted rather than hidden underground in a drainage system. For the most part, the only places it goes underground are when it crosses streets through culverts.
I decided to follow it upstream to see how far it goes.
Upstream of York Road Parkette, it crosses York Road behind Dundas Centre Mall and then diagonally crosses Park Street East.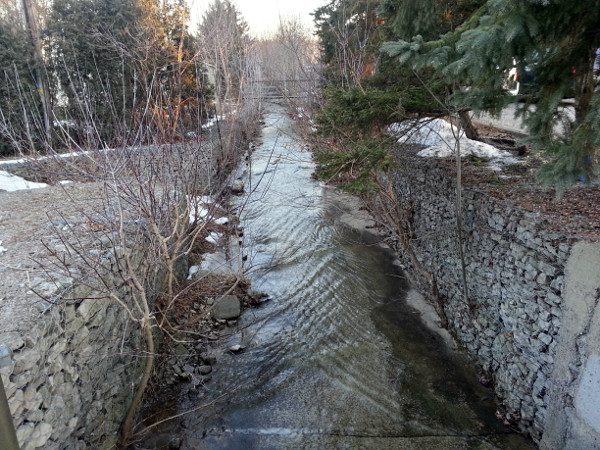 Sydenham Creek at Park Street East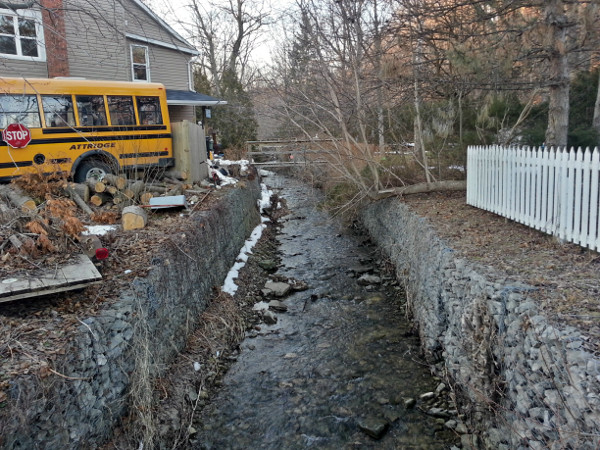 Sydenham Creek looking upstream from Park Street
I continued east on Park to Carriage Lane, which is a private lane with some infill townhouses on the west side. I could see the creek pass by just north of the houses but couldn't get close enough for a good photo.
I went back down to Park and then turned right onto Cross to head north. The creek crosses Cross a little south of Alma Street, at the entrance to Dundas Driving Park.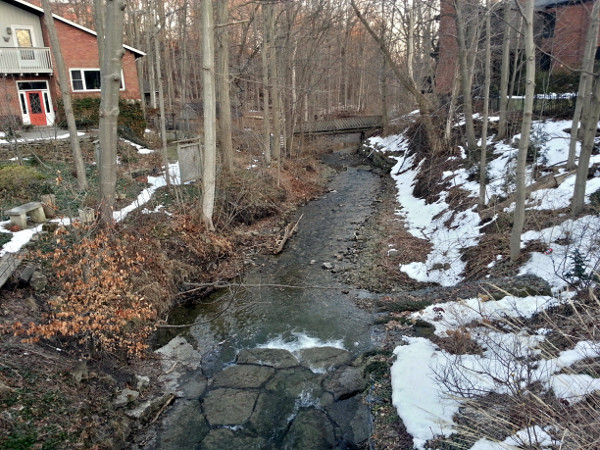 Sydenham Creek looking downstream from Cross Street
As you can see, the creek is more naturalized here without gabion baskets to hold the banks.
That said, the culvert on the west side of Cross is impressive: it actually runs underneath someone's driveway.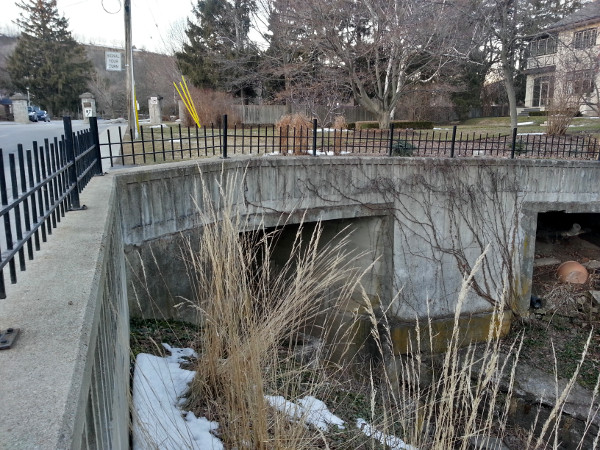 Sydenham Creek looking upstream under the culvert at Cross Street
East of Cross, the creek runs along the south side of Alma Street before crossing it and jogging northward.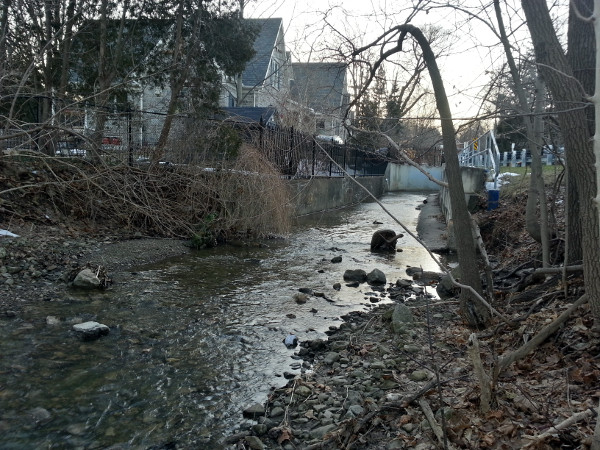 Sydenham Creek looking upstream along the south side of Alma Street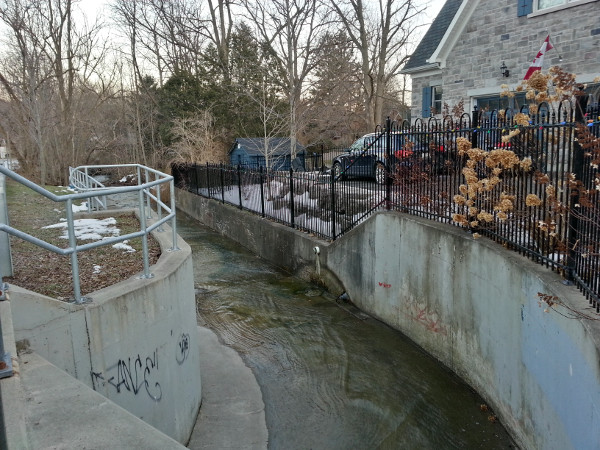 Sydenham Creek looking downstream from the culvert crossing Alma Street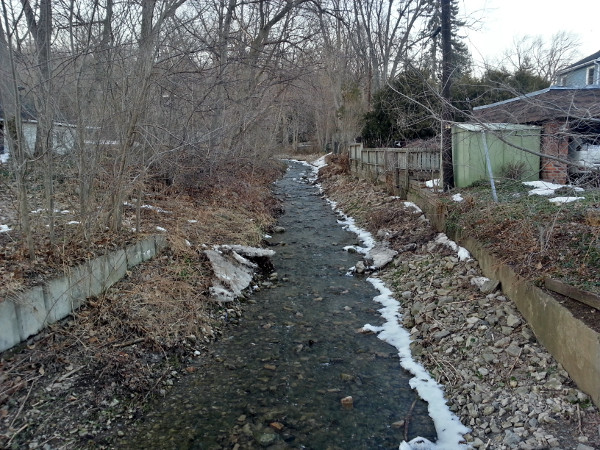 Sydenham Creek looking upstream from the north side of Alma Street
In retrospect, from looking at the map I could have headed up Parkside Avenue and turned left on Rolph Street to catch another glimpse of the creek. However, I ended up continuing along Alma to Sydenham Road, where the creek crosses just south of Cayley Street.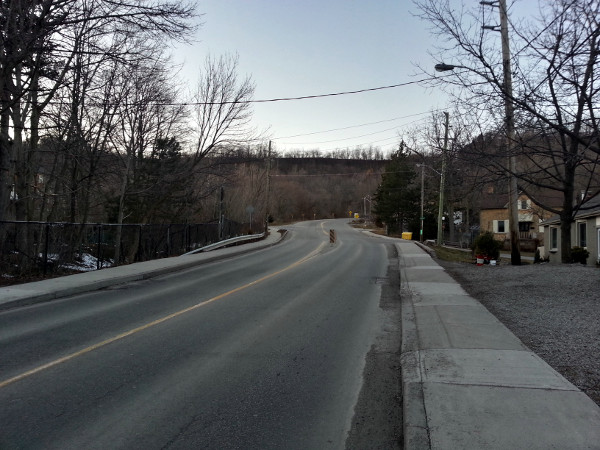 Sydenham Road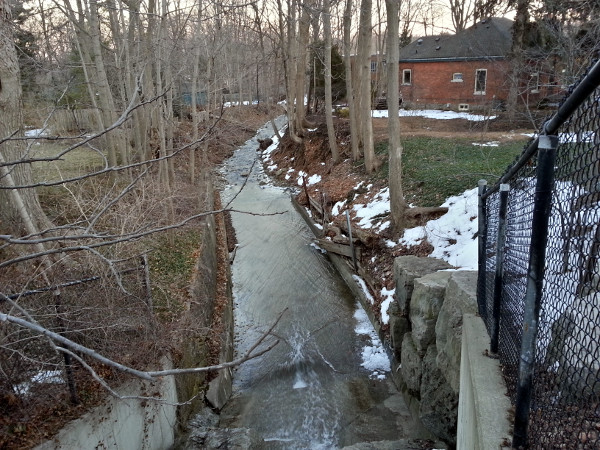 Sydenham Creek looking downstream from Sydenham Road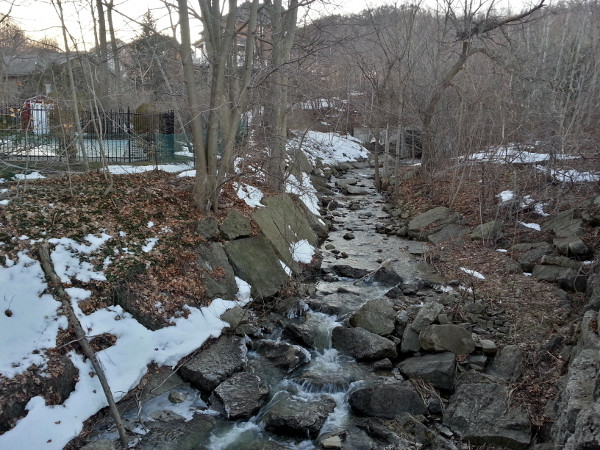 Sydenham Creek looking upstream from Sydenham Road
Onwards and upwards. I crossed Sydenham and walked up to Livingstone Drive, which the creek crosses just east of Sydenham.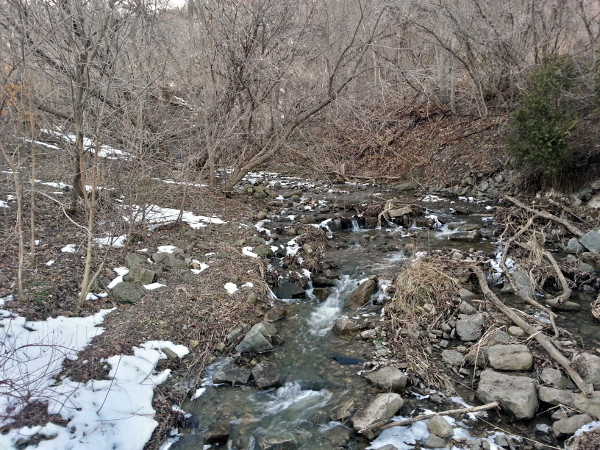 Sydenham Creek looking upstream from Livingstone Drive
From there I cut back to Sydenham and continued uphill. Just as Sydenham bends to the northeast, a walkway on the west side winds up to Sydenham Falls.
The trail includes a very cute wooden bridge across the creek. It allows for a fun view of the Falls, which run under the elevated railway bridge.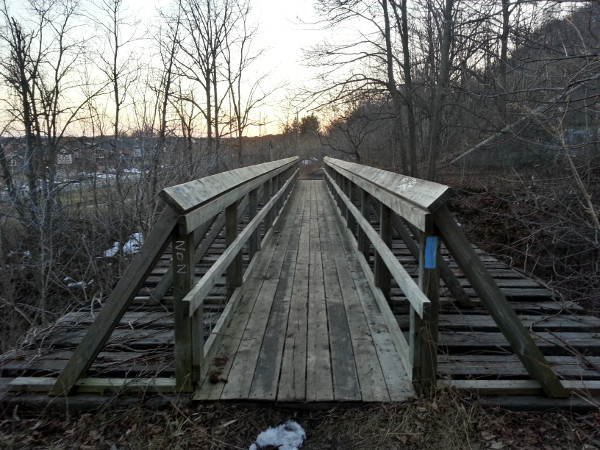 Wooden footbridge over Sydenham Creek just below Sydenham Falls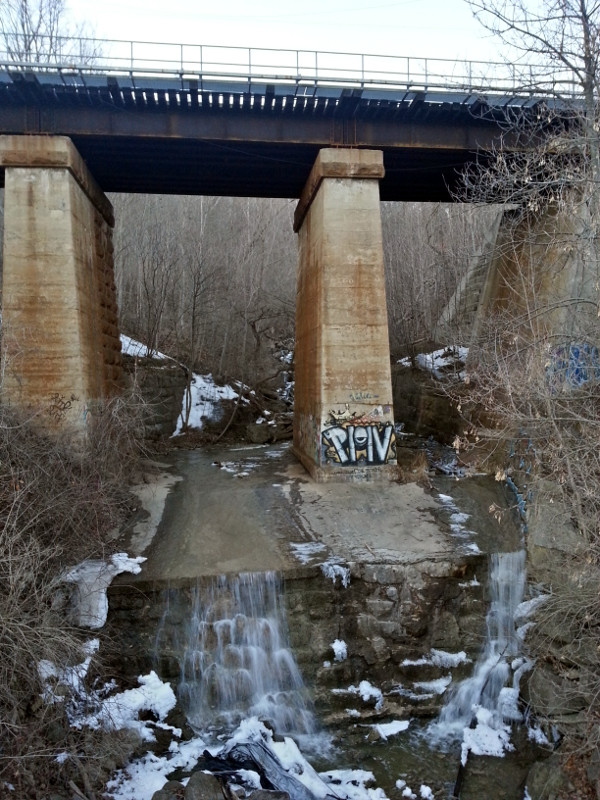 Sydenham Falls and rail bridge
I tried to get farther up to get a better view of the falls north of the rail bridge, but the path was still pretty icy and I wasn't really equipped for hiking. Also, I only had an hour to spare.
I'll definitely have to come back when the weather gets better and I have more time to explore farther upstream.
Here is a map from Google Maps of the creek path I followed from Cootes Drive, bottom right, to Sydenham Falls, top left: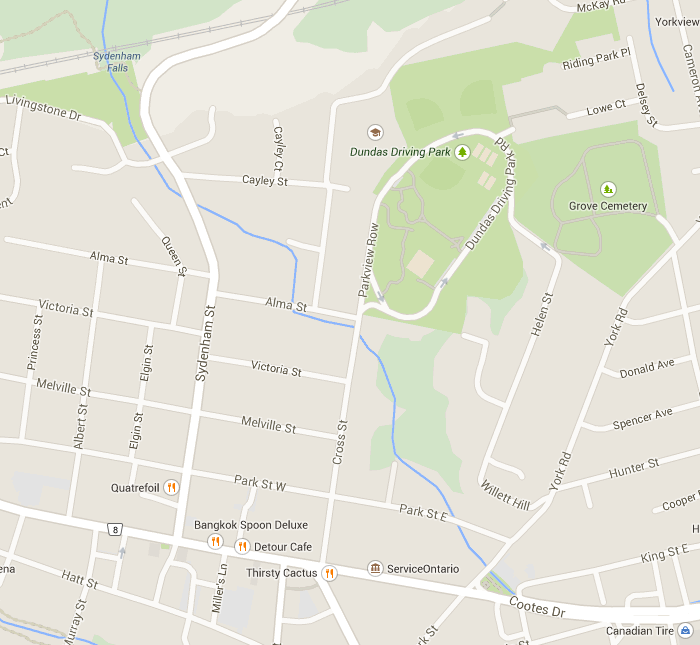 Blue line marks the creek route I followed from Cootes Drive, bottom right, to Sydenham Falls, top left (Image Credit: Google Maps)
According to the map, the trail I was on continues west to connect with the Bruce Trail. Along the way it joins a switchback to the Webster's Falls Side Trail, which links Dundas Peak, Webster's Falls, Tew Falls and Spencer Creek.
Reluctantly, I turned back and headed back down Sydenham.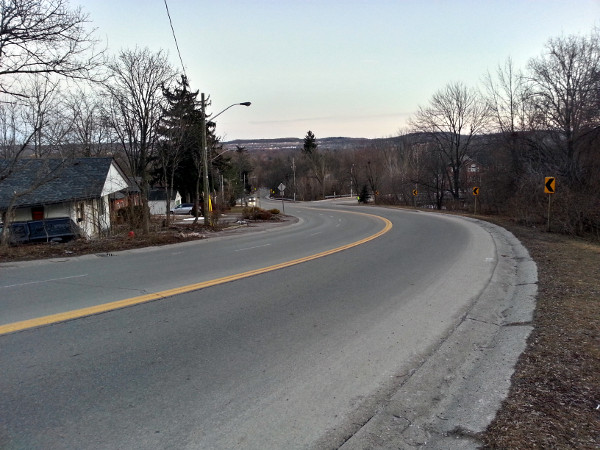 Looking down Sydenham Road from near the falls
I soon passed the lovely St. Augustine's School building.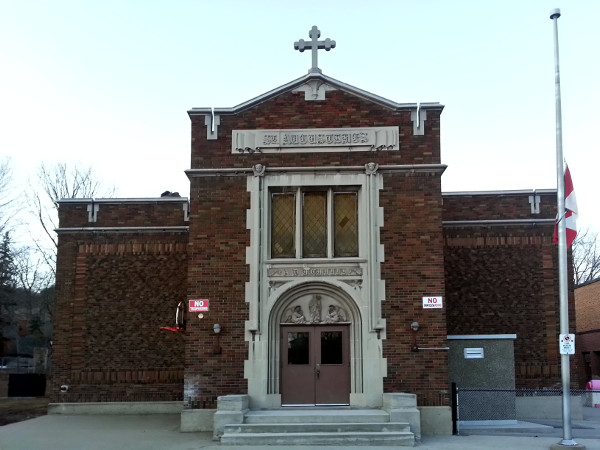 St Augustine's School
Of course, I couldn't leave without taking a moment to catch a photo of the all-way zebra crosswalk at Sydenham and Alma, outside the school. I imagine this intersection is pretty hair-raising during morning rush hour, when children are crossing to get to school and people in cars are zooming down Sydenham on their way to work. I don't envy that crossing guard.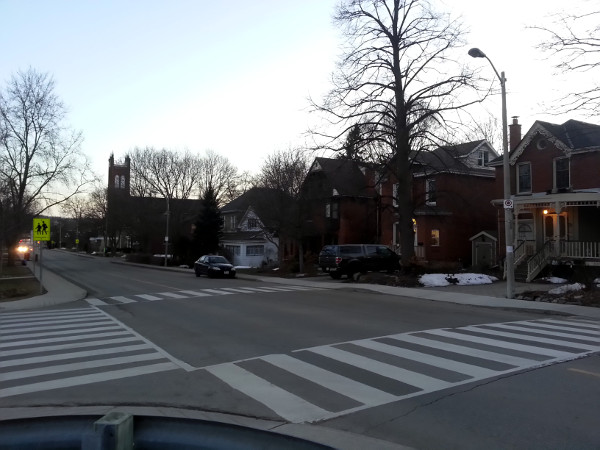 Zebra crosswalk, Sydenham and Alma
The past few months have been pretty discouraging. Between the bus lane vote, the LRT-killing transit strategy, the too-little-too-late Integrity Commissioner's report, the ongoing struggles to calm traffic and make safer space for walking and cycling, and the recent parade of cringe-inducing political comments, it has been a challenge to stay optimistic about this city's prospects under its current leadership.
Yet Hamilton really is an amazing city, filled with little wonders and unexpected treasures. As the deep freeze of February recedes into the past, it's vitally important to get out and keep exploring this endlessly explorable community.
There's nothing like following a creek upstream through a traditional neighbourhood into the Niagara Escarpment to make you fall in love with your city all over again.
Post a Comment
You must be logged in to comment.