Kongero Brings a Touch of Sweden to Hamilton
Kongero are a Swedish vocal group of four women who sing traditional-style Nordic music which they call 'Swedish Folkapella'.
By Mackenzie Kristjon Jenkyns
Published June 03, 2015
May 30, 2015 at 8pm. Hamilton Conservatory for the Arts. Presented by Matapa Music & Arts Organization as part of their World Music Series 2014/15. www.kongero.se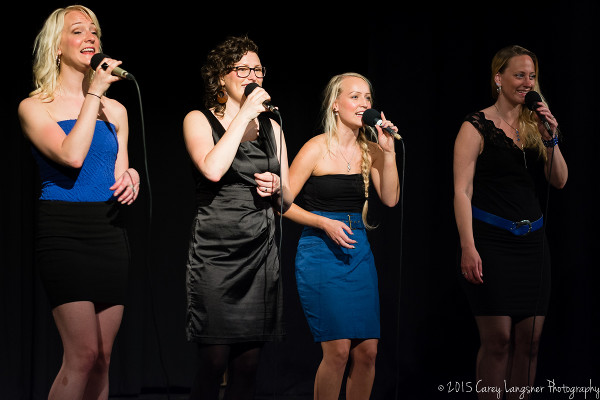 Kongero (Image Credit: Carey Langsner)
Kongero are a Swedish vocal group that Hamiltonians may recall from their inaugural show here last summer as part of the Matapa World Music Festival. Essentially the group consists of four women who sing traditional Nordic music (or at least traditional-sounding in the case of their originals) they call 'Swedish Folkapella'.
They sing in tight harmonies with occasional dance-like rhythms and a sense of humour. Some of the songs are thematically about love, nature, drinking or partying, and other topics. Some are in Swedish and some are wordless.
In some ways, this makes it easier for an English-speaking audience as you can pretty much ignore the perceived lyrical content and just focus on the beauty of their voices and the joy of the rhythms.
All are entertaining.
Usually the members are Emma Björling, Lotta Andersson, Anna Wikenius, and Lovisa Liljeberg. However, when they arrived earlier in the day, Anna was quick to greet me and explain that Lovisa has recently had a baby.
As such, we were pleased to meet Malin Thunell who is a songwriter/composer in her own right and who did a fantastic job. By the end of the show, I was almost thinking, "Lovisa who?" but then they wound up closing with a song dedicated to Lovisa.
Having had the pleasure of sitting with them before the show, I asked them what they were mostly discussing in their interviews these days.
Emma told me that mostly they find themselves discussing hockey players, and then she asked me where she might be able to procure some maple syrup. Ah yes, I thought. The Scandinavian sense of humour is alive and well!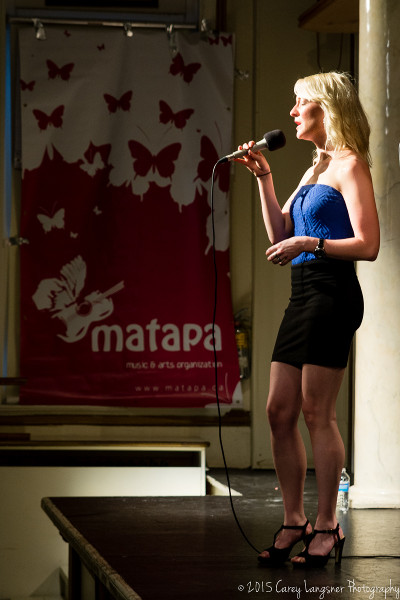 Anna Wikenius (Image Credit: Carey Langsner)
As they dazzled us with their vocal abilities, Emma also informed us that they had been around for ten years (Kongero was formed in 2005 at Ingesund University College of Music). Hopefully they'll make it back before another ten years go by!
Post a Comment
You must be logged in to comment.