New Four-Storey Building Planned at 21 Main Street West
Staff report mainly positive but highlights concerns about lost surface parking and the pre-existing plan to widen Main Street.
By Joey Coleman
Published July 03, 2015
Wilson-Blanchard is planning a new four-storey building at 21 Main Street West, behind the heritage-designated Bank of Montreal building which presently houses Gowlings law firm.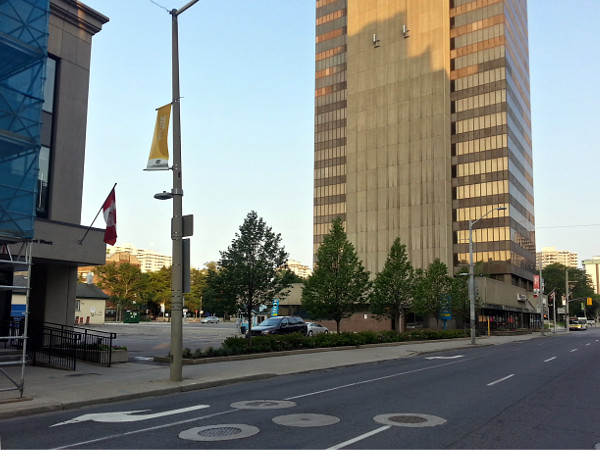 21 Main Street West (RTH file photo)
The proposed building, which will contain two floors of underground parking, will be reviewed by Hamilton's Design Review Panel on July 9 at 4pm. The meeting, in 264 of City Hall, is open to the public.
The proposal is for the first floor to be commercial retail space and the upper three floors to house offices. The vacant lot owned by Wilson-Blanchard at 20 Jackson Street West will be converted to provide surface parking for office tenants.
At present, the footprint of a former office tower on the 20 Jackson Street west lot is blocked off from parking following the demolition of the previous office building in November 2013.
Wilson-Blanchard held a pre-consultation with the City in the late spring of 2014 about a longer timeline Phase 2 development at 20 Jackson Street West to build a 19-storey condominium tower attached to a two-storey retail/office building.
Currently, the City is only reviewing Phase 1 at 21 Main West.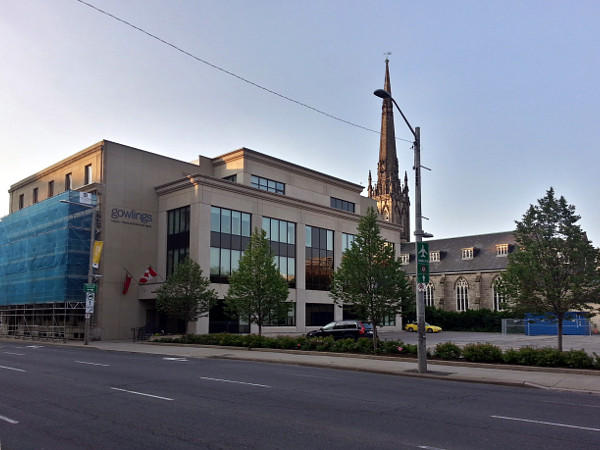 Gowlings building (left) with 21 Main Street West beside it (RTH file photo)
Approvals Process
The Design Review Panel will look at the renderings by project architects DPAI and provide their recommendations of changes to the design plan to City staff who will consider them at a Site Plan review meeting.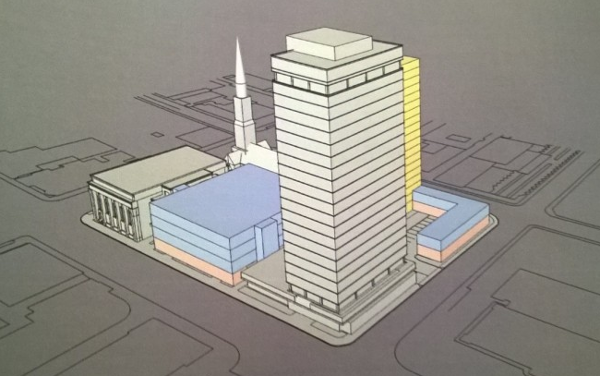 Proposed development on 21 Main Street West
The proposal does not require any zoning changes and will not be subject to a public Planning Committee hearing. Phase 2, if submitted as envisioned, will require a full Planning process.
I reviewed the full file of staff comments and most City departments are supportive of the Phase 1 proposal. In fact, many of the comments from urban planning were very positive.
There are two hurdles to the development: road widening and parking.
Officially, the City of Hamilton plans to expand Main Street from its present five lanes of one-way traffic to six lanes of one-way traffic. In keeping with this City plan, the Development Engineering division is asking for a setback of the building from Main Street.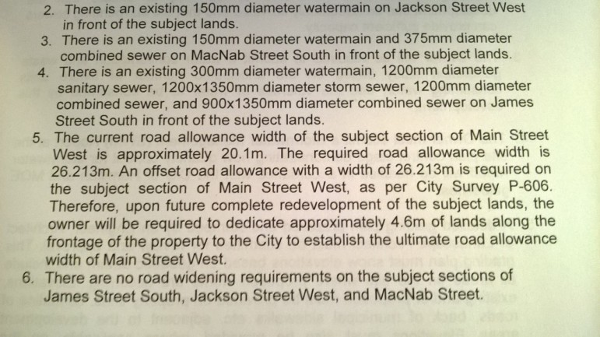 Request for setback to widen Main Street
In addition, the City is concerned that recent developments in the Downtown Core could make the City's downtown parking "crisis" worse.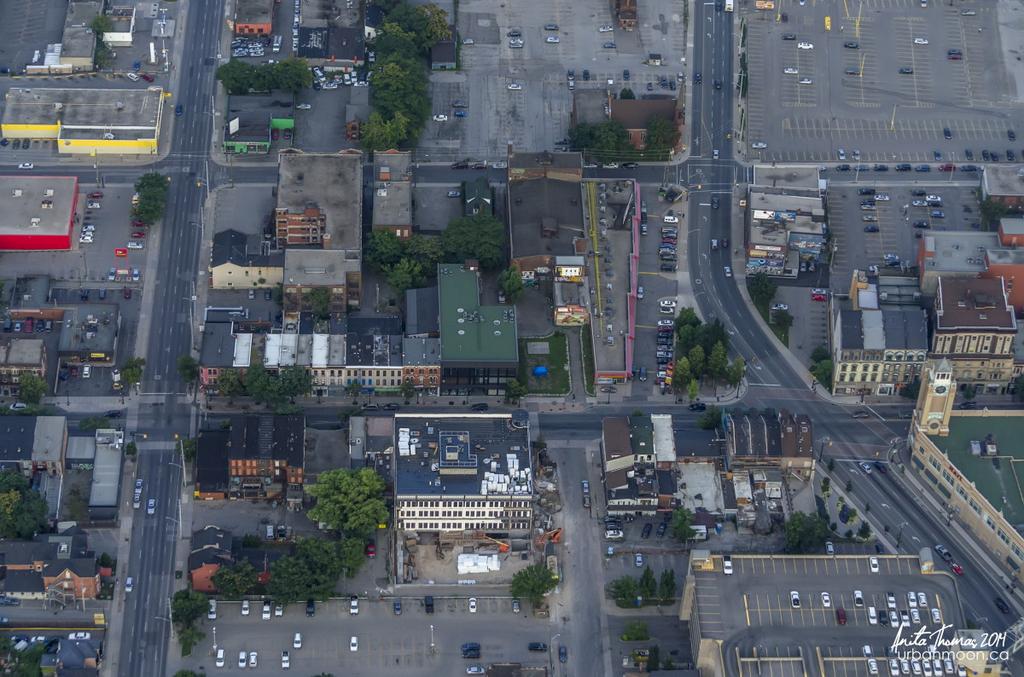 Surface parking in downtown Hamilton (Image Credit: Anita Thomas)
At present, the City of Hamilton has a large amount of surface parking in the downtown and one of the lowest parking rates in Canada. Monthly surface parking can be had in the downtown for as little as $50 per month, just over half the price of a monthly bus pass.
How bad is the crisis? At peak usage, 68 percent of parking spaces are occupied, according to the City's Downtown Parking Study. That utilization, measured in 2012, is actually down from a peak usage rate of 76 percent in 2005.


Concern about parking
The comments from Parking are odd in the context of this development, which will include twice as much parking as the current surface lot by digging two stories of underground parking!
The General Manager of Economic Development and Planning has delegated authority from Council to waive the road widening requirement for Main Street.
Comments from parking are not binding upon the process and are for the consideration of the Chief Planner.
If approvals are given, this building could be constructed in 2016.
This article was first published on The Public Record and is republished here with permission.
Post a Comment
You must be logged in to comment.