Major GO Train Construction for Hamilton
For over two decades, Hamilton has been promised all-day two-way GO train service, with many broken promises. Finally, action is occurring at several Hamilton construction sites.
By Mark Rejhon
Published August 19, 2015
This is part one of a series of articles about GO service expansions to the Hamilton area.
As a Ward 3 resident in Hamilton, I commute daily on GO to Toronto. Thus, I spend time researching GO's future plans relating to Hamilton. Many locals are not aware of the exact specific details of GO's ongoing ten-year expansion plan for the greater Hamilton area. This 3-part special feature aims to change that.
For over two decades, Hamilton has been promised all-day two-way GO train service, with many broken promises. Understandably, many Hamiltonians are skeptical of GO expansion promises. Finally, action is occurring at several Hamilton construction sites.
A preview of major GO service increases
Metrolinx is currently embarking on a ten-year plan called GO Regional Express Rail (RER). Part of this plan includes bringing faster electrified 15-minute all-day two-way service all the way to Burlington/Aldershot.

The number of GO train trips will quadruple from 1500 trains per week to 6000 trains per week, in the next 10 years. Over two hundred GO projects are currently under way towards improved GO service, GTHA-wide.
Shovels already in Hamilton ground
In fact, shovels are already in the ground concurrently for Hamilton:
With the additional infrastructure, we will witness continued gradual incremental increase in Hamilton GO service, and within ten years to all-day Hamilton GO service.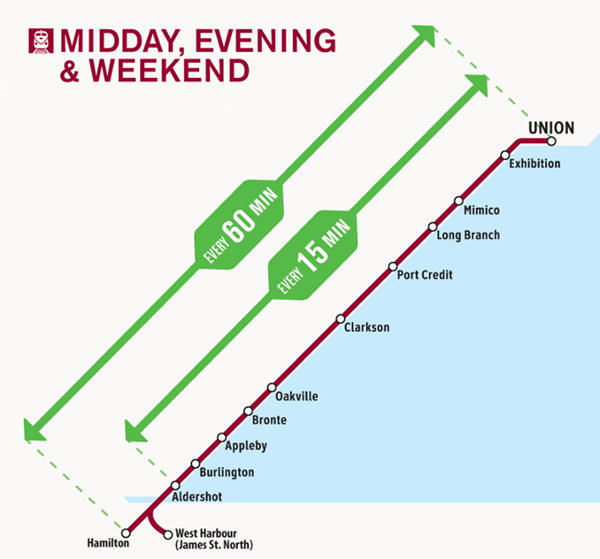 Planned Lakeshore West service increases (Metrolinx)
The lower frequency for Hamilton than Burlington is because Metrolinx owns the railroad only up to Burlington. This creates major difficulty providing frequent fast electric train service beyond Burlington due to track sharing with CN and/or CP.
In addition, the Bayview junction in Hamilton is one of Canada's busiest freight junctions, and is not for sale to Metrolinx for GO use.
To help begin the upcoming major GO expansion to Hamilton, three Hamilton GO construction sites have been photographed with shovels occurring, as follows: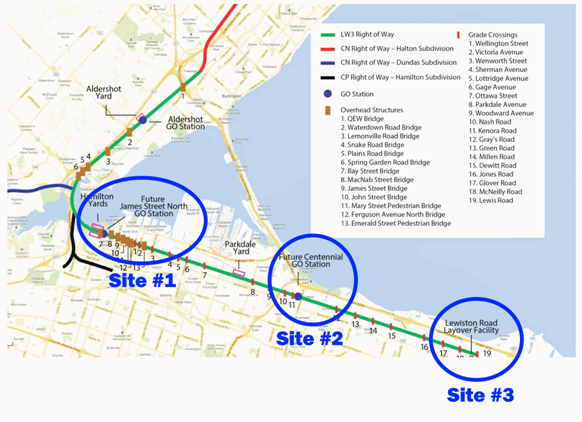 Active Hamilton GO construction sites (annotated version of Metrolinx diagram)
Site #1: West Harbour GO
In July 2015, West Harbour GO station partially opened on time for Pan Am Games, with limited initial service (6:16am and 6:46am trains). However, the station is destined for far more.
The secondary phase of construction for West Harbour continues until 2017. The station is still undergoing construction for future service expansion, with a parking garage.

Hamilton's new West Harbour GO station (photo by Mark)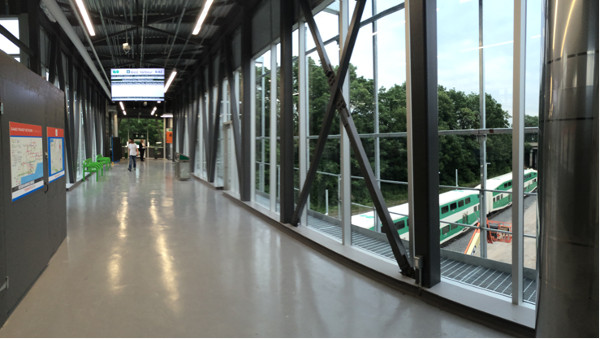 Interior View of West Harbour GO (photo by Mark)

Exterior View of West Harbour GO (photo by Mark)
Phase 2 construction of West Harbor has begun, and is ongoing until 2017 to complete the Bay pedestrian access, as well as a parking garage.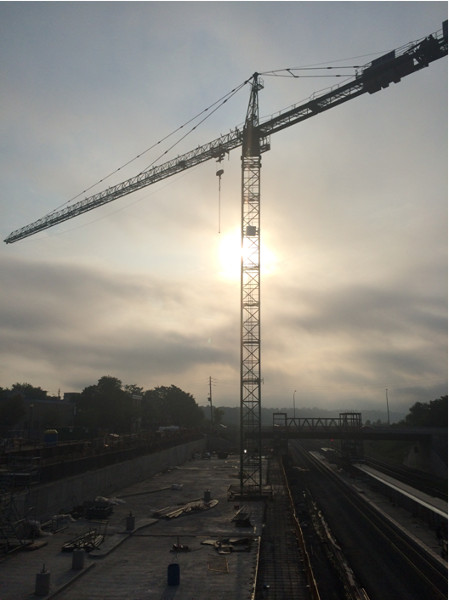 Parking garage will tower more than half as tall as crane (Photo by Mark)
As 2016-2017 comes, a sloping car ramp from James St N will access a Kiss'n'Ride and a 300-car parking garage. An additional access will be available on Tiffany St. as well. There will be room for additional surface parking accessible from Hess St N and Caroline St N, and is also a site for a possible second parking garage should it someday become necessary.
The funded work also includes turning West Harbour station into a "through station" by 2016, rather than a dead end spur. One reason is to allow trains to access the Lewis GO Layover Facility being completed 2016. However, this also opens the door to Niagara Summer Seasonal GO service easily stopping in Hamilton possibly as early as 2016 or 2017.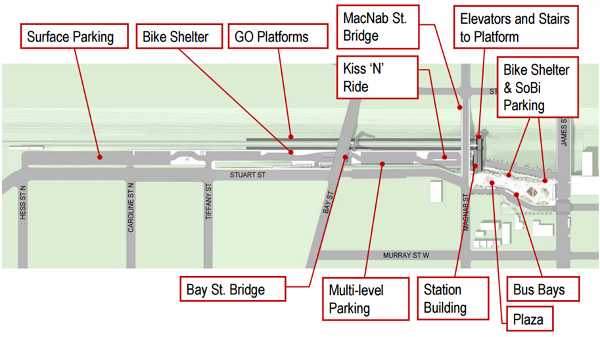 Eventual Layout of West Harbour GO (Metrolinx 2014 presentation)
Until parking is available, many western Hamilton residents still prefer driving to Aldershot GO, especially considering their availability of all-day trains. With additional parking and additional trains, far more people will be using West Harbour GO.


Panorama of a GO Train at West Harbour Platform (photo by Mark)
The A-Line Express bus from the mountain also accesses West Harbour GO, and will eventually be replaced over time with the A-Line LRT. This will gradually reduce the need to drive to the GO station as well. The station is also very pedestrian accessible, being on the edge of Hamilton Downtown.
Site #2: Stoney Creek GO
A Stoney Creek GO station was proposed as early as 2010, and a preliminary plan was published in 2011. A few years ago, Metrolinx purchased the Pines Motel across from the Walmart off Centennial Parkway. As of May 26, 2015, the Stoney Creek GO station is now funded.
The funded $150 million budget includes $35 million for the station and $115 for rail infrastructure, including additional track between West Harbour and Stoney Creek GO, as well as ongoing bridge construction.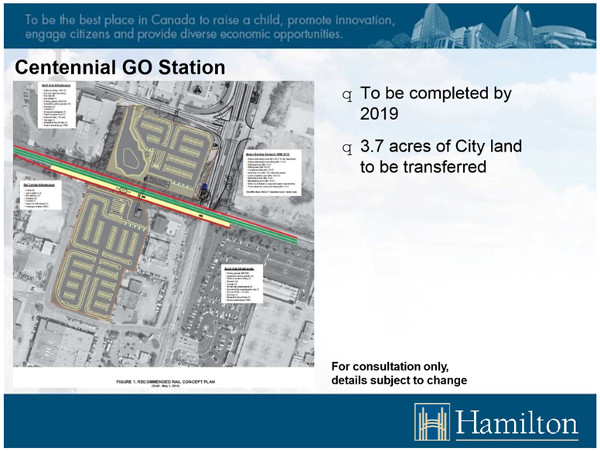 Layout of Stoney Creek GO station on Centennial Parkway (City of Hamilton)
Today, prep work partially funded by Metrolinx is currently ongoing. This is occurring in the form of the Centennial Parkway rail bridge reconstruction. The old 1929 bridge was becoming structurally unsound, which necessitated a bridge rebuild.
Centennial Parkway has been temporarily redirected up to a surface crossing over the railroad, while the bridge is being demolished and rebuilt into a pair of new railroad spans.
The new rail overpasses currently under construction, will incorporate room for up to 4 tracks, and space for a GO platform in the middle of the rail bridge, as part of the upcoming Stoney Creek GO station.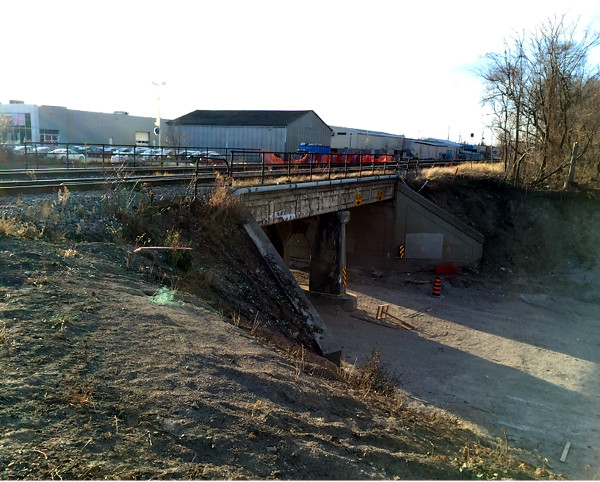 Old railroad bridge in January 2015 (photo by Mark)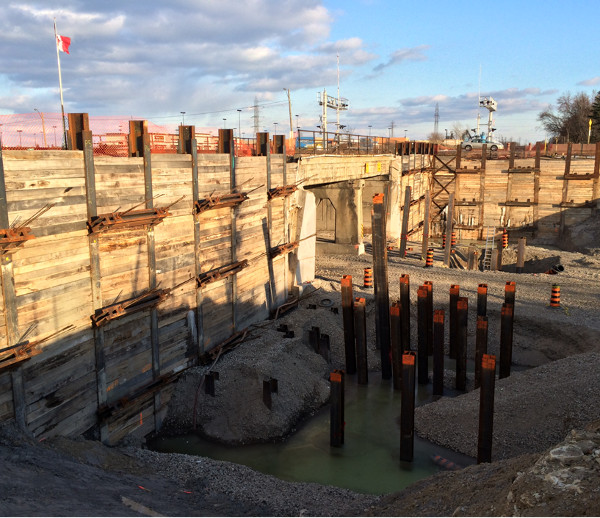 Foundation of new Railroad Bridge in January 2015 (photo by Mark)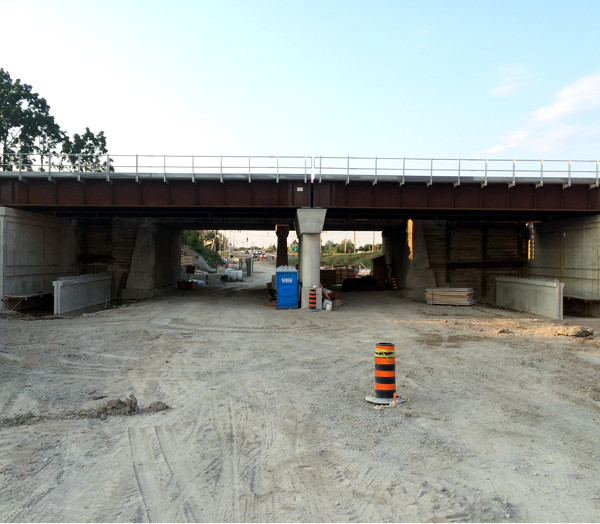 New Railroad Bridge built in July 2015 (photo by Mark)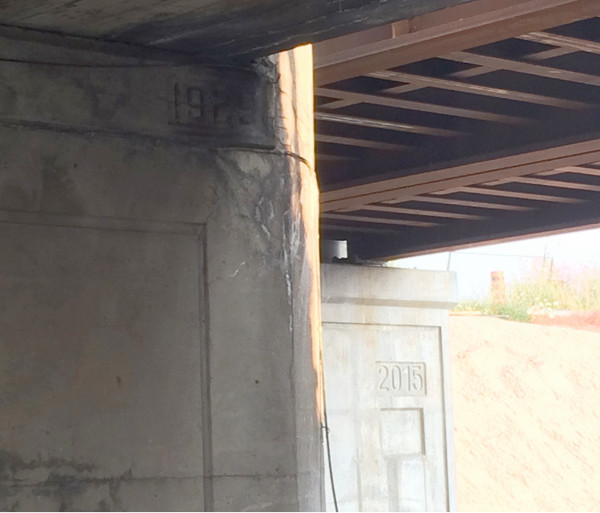 Old 1929 bridge next to new 2015 bridge (photo by Mark)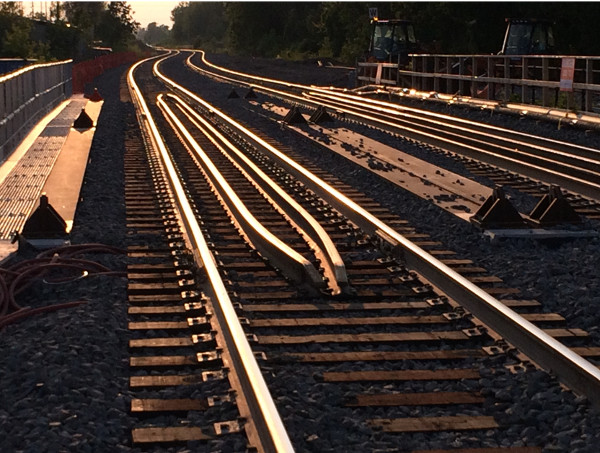 The CN railroad temporarily diverted onto new bridge July 2015 (photo by Mark)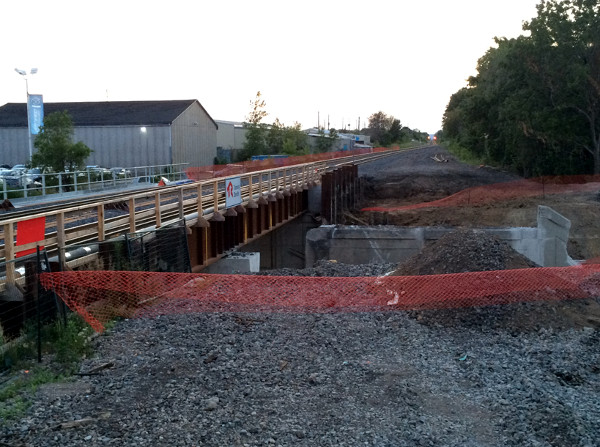 The old 1929 bridge was demolished August 2015 (photo by Mark)
By summer 2016, a second bridge span will be built in the place of the 1929 bridge. Both bridge spans will have room for four tracks and a GO platform in the middle of the bridge. These new rail bridges set the stage for the start of Stoney Creek GO station construction in 2017.
Site #3: Lewis Road GO Facility
GO requires a new location to park trains overnight before beginning Hamilton morning service. This is the Lewis Road Train Layover Facility. Metrolinx purchased land at Lewis Road for a layover yard for four GO trains and room for GO maintenance facilities.
There is enough land to be expandable up to eight tracks (Niagara study, p. 5) that could be electrified (electrification concept, p. 93, section 5.8.3). However, these additional elements are currently unfunded.
This facility will initially have four tracks for diesel GO trains. The facility becomes operational by the end of this year, and construction will wrap up in 2016.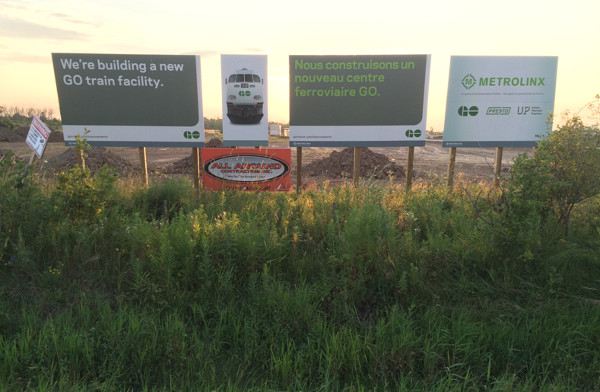 Signage at Lewis Road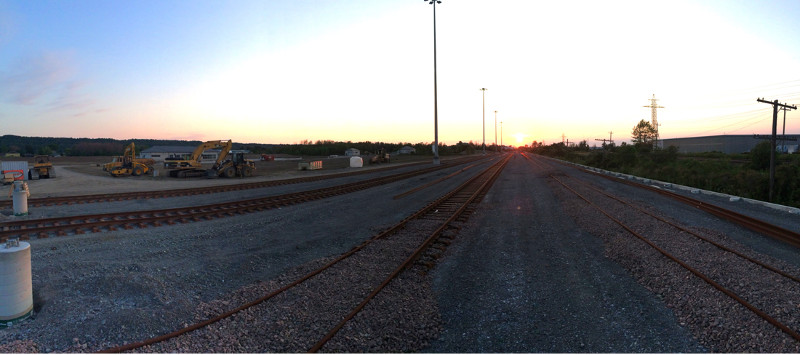 Sidings built at Lewis Road Facility


Panorama of Lewis Road Facility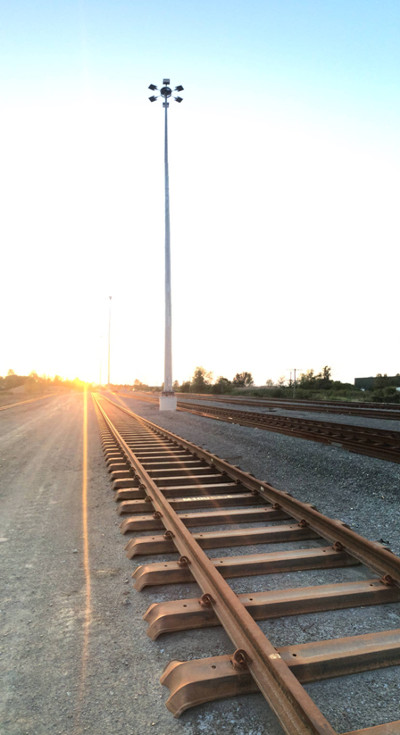 Track awaiting ballast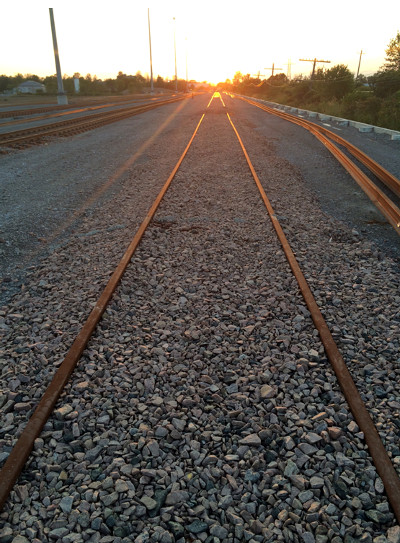 Track with ballast being installed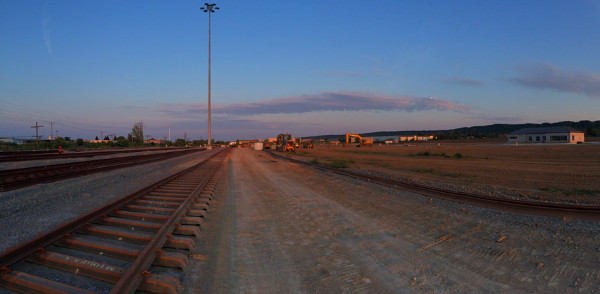 Land space for possible future expansion to 8 tracks (unfunded).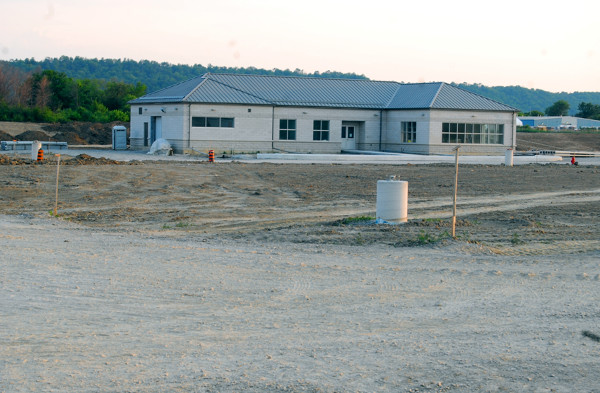 Supporting buildings of Lewis Road Facility
History has not been nice to Hamilton
Rail service had a long and good heyday in Hamilton, even including fast express trains to Toronto. However, after World War II, rail service to Hamilton gradually got decimated, until CN/CP and TH&B discontinued passenger trains.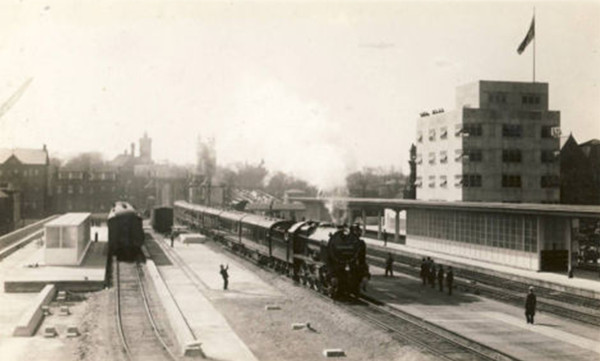 TH&B Hunter station just before it opened in 1933 during its heyday (Image Credit: Transitweb)
After VIA relocated train service to Aldershot, GO became the only train service available to Hamilton. For over twenty years, there were many broken promises by past governments to bring all-day GO service to Hamilton.
However, this is finally changing. The multiple concurrent construction sites show that Metrolinx has finally started major investments in Hamilton towards extending more Lakeshore West service to the southern side of the Golden Horseshoe.
Okay, but WHEN is all-day two-way service REALLY coming?
The short answer: Over the next ten years.
The long answer: We can only speculate on specifics.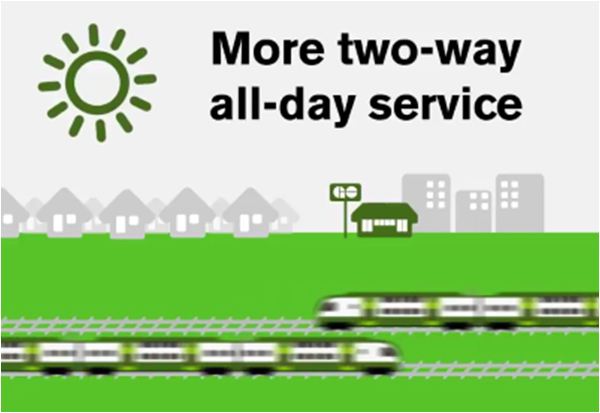 One of many GO RER tweets by Metrolinx
Metrolinx has set a ten-year deadline for their Hamilton RER service concept of hourly service. However, the first small incremental step will likely occur far before then. Metrolinx has a long tradition of incremental services increases.
That said, there is a very realistic and sensible observation of a low-lying apple, for a first incremental step. The existing Niagara Seasonal GO train already passes West Harbour GO station today without stopping.
The ongoing work makes it possible for it to stop in Hamilton sooner. This could bring summer weekend all-day two-way service (once every few hours) to both Toronto and Niagara Falls, with 16 existing trains per weekend (8 per direction).
As part of existing construction plans, West Harbour becomes a bidirectional station instead of a dead-end track terminus (ongoing, 2015-2017). The date of completion (2015-2016) of the Lewis Road GO Layover Facility makes it useful for West Harbour GO to become a non-dead-end station.
This theoretically makes it easy for the existing Niagara train to stop at West Harbour GO.
Alex Burke, Media Relations of Metrolinx, had this to say:
In terms of including West Harbour GO Station as part of Niagara seasonal service, the infrastructure required to transfer trains from the rail corridor in Hamilton to the corridor used to get to Niagara (both of which are not owned by Metrolinx) is part of a secondary phase of construction at West Harbour GO Station. This next phase of construction is expected to begin later in 2015.
[...]
Please note the planning for our 2016 service is ongoing and the details are yet to be determined. We expect that complete information will be available by Spring 2016.
While very promising from an infrastructural point of view, it is worth noting that this is not a definitive confirmation of Niagara Seasonal service.

Niagara seasonal GO train passing West Harbour GO without stopping
It is generally observed that Metrolinx takes longer than expected to complete many service increases, with the complexities of inter-agency co-operation in construction. This happened with the Lakeshore West 30-minute service upgrade, which finally occurred in 2013, several years late.
However, occasionally, good news do occur unexpectedly. The Kitchener/Stoufville lines are reportedly getting hourly all-day service this September to Mount Pleasant and Unionville stations. This is actually one of the biggest GO service expansions since the Lakeshore hourly all-day service began!
This is unexpected as Metrolinx does not own the railroad through Brampton. Hourly all-day two-way off-peak service to Mount Pleasant is not even shown in the Kitchener RER roadmap.
It appears that unexpected service improvements occasionally occur in lieu of the norm of delayed service improvements. It is possible that negotiations with freight companies can go well, and sometimes service is introduced sooner on freight-owned trackage.
On the note of negotiations with CN, Alex Burke of Metrolinx had this to say for Hamilton:
Currently, we are working with CN and the City of Hamilton to develop the infrastructure requirements and staging plan to introduce increased levels of service in Hamilton beyond 2015. Negotiations are underway with CN to secure access to the rail tracks to finalize the number and timing of trains. Those negotiations are progressing well.
That said, Metrolinx cannot confirm specifics about negotiation with freight companies. Time will tell if the tentatively positive words from Metrolinx boil into additional trains.
It is worth noting late trains from Hamilton, delayed by freight trains, can have major cascading effects on station timetables for everyone else down the Lakeshore line. We can hope negotiations go well enough that GO can comfortably ramp up all-day two-way service to Hamilton sooner than 10 years, even if not all the way to hourly at first.
On the other hand, plans can change rather quickly with budget cuts of a future change of government. Fortunately, West Harbour GO and Lewis Road GO Facility is essentially a cat already in the bag, and Stoney Creek GO station construction should be well under way before election time. By then, Hamilton will already have GO infrastructure flexibility for service expansions.
Possible future electrification to Hamilton
Metrolinx has been researching electrification all the way to Hamilton. While this is not part of the current ten-year GO RER plan, several recent observations can be made.
Metrolinx did a conceptual design study on electrification all the way to the Lewis GO Layover Facility, including checking bridge clearances, power substation locations, etc.
LW3 [track between Aldershot and Lewis] consists of a mix of two and three tracks, all of which are planned for electrification. (Section 5.1)
And:
The last traction power facility in the Lakeshore West Corridor is in this section and will be a paralleling station (PS) located at Lewis Road. (Section 5.2.4)
This is a concept only at this time. No timelines are mentioned. That said, Transport Minister Steven Del Duca recently teased electric trains at both West Harbour and Stoney Creek GO station: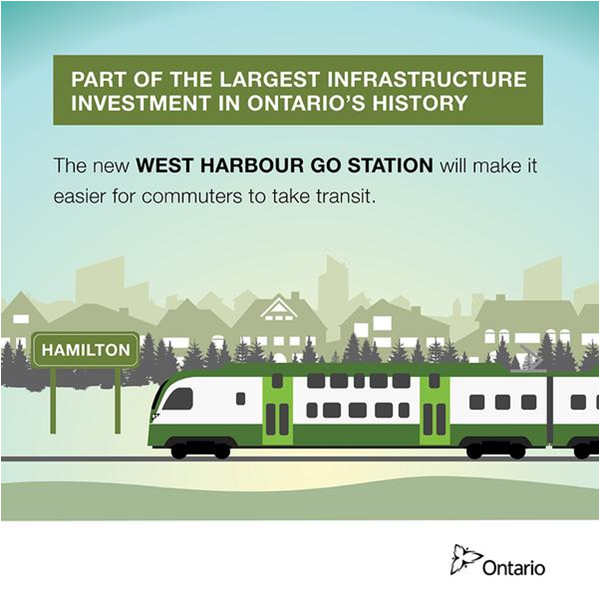 Electric train with catenary at West Harbour GO station (Transport Minister Steven Del Duca/Twitter)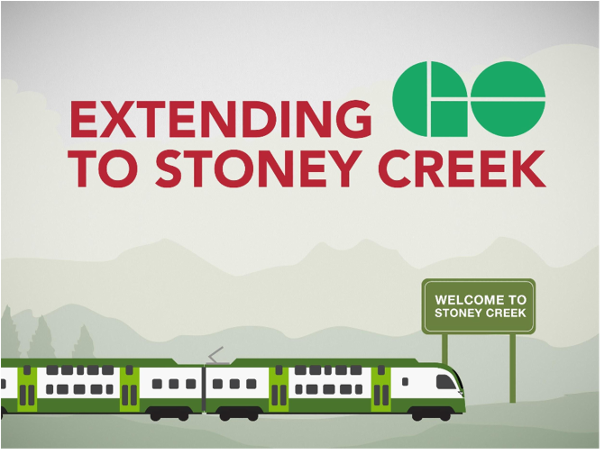 Electric train with catenary at Stoney Creek GO station (Evelyn Myrie/Twitter)
Freight ownership of tracks can affect the timing of any possible electrification to Hamilton. It is observed that diesel freight trains do run underneath electric catenary in many countries already, so it is technically possible without full track ownership.
While there is a desire to eventually electrify to Hamilton, it is important to note that this is not currently funded or scheduled yet.
Why are there two downtown GO stations?
This is a common question. Both Hamilton GO station and West Harbour GO stations have separate pros/cons that warrant keeping both of them concurrently, for the time being.
Hamilton GO - Hunter Street
Corridor owned by CP
More pedestrian friendly
Easily accessible via B-Line
Terminus Station
Intercity Bus terminal
West Harbour GO - James Street North
Corridor owned by CN
Room for free parking
Still very pedestrian friendly
Through Station: Track continues to St. Catharines/Niagara
For example, drivers will find it easier to park at West Harbour GO, while downtowners and B-Line users will find it easier to go to Hamilton GO. As GO extends Lakeshore West rail service in the future, the role of West Harbour GO could become increasingly important as time passes.
The current announced plan is for hourly all-day train service to Hamilton downtown GO station, rather than West Harbour.
However, the role of West Harbour is not necessarily set in stone. It can potentially eventually change to become the all-day service station instead, perhaps once the LRT is built, if favourable to do so. There is more servicing space at the Lewis Road Layover Facility to expand with, which may affect future decision on station role changes.
There is also the proposed year-round GO train service to Niagara Falls, upgrading the seasonal service into a year-round commuter service.
Other service concepts such as Niagara Express turns West Harbour GO into an important interchange station between the Toronto trains and Niagara trains.
The latter idea is a creative means of protecting Lakeshore West trains from being impacted by delays at Welland Canal. Implementation of any of these ideas will modify the importance of West Harbour GO.
Additionally, it may turn out that negotiating with one of the freight companies (CN versus CP) may end up easier than the other. It appears having both stations permits Metrolinx to hedge bets for service expansion to Hamilton, since the Hamilton freight tracks is not currently for sale.
Even Metrolinx acknowledges that the roles of the two Hamilton GO stations may change in the future:
CN owns the corridor west of Burlington and operates it as a main freight line, and CP owns the corridor into the Hamilton GO Centre; this will drive infrastructure requirements and the timing of electrification
and
Additional work needed to determine the roles of the Hamilton GO Centre and the new James North station
In any case, it is possible one station will have peak service, and the other station will have all-day service. It is also possible roles can reverse later on, given the upcoming A-Line LRT, and Hamilton waterfront redevelopment potentially creating a new CBD for commuters.
Hamilton is not the only city getting rail improvements
There are now a large number of concurrent rail projects occurring to bring expanded passenger rail service to Ontario:
Massive GO expansions:
Other shovels currently occurring:
Other funding currently allocated:
Even if half of these become postponed or cancelled, this is still a de facto rail renaissance well under way by North American standards. This is all across-the-board. It makes sense for Hamilton to be included, rather than be left behind.
We should cheer for Hamilton GO expansions
In the next ten years, with LRT and GO expansions, Hamilton will finally become a commute destination, and we will be fully connected to the rest of GTHA's rail network.
With downtown and waterfront revitalization ongoing, and expansion in Hamilton jobs, Hamilton will become an even more attractive place to start up a large business. Outside commuters can now be able to come into town by GO train, not just by car.
With two-way service, Hamilton finally becomes a viable GO commute destination, rather than a bedroom community.

Not one, not two, but three GO stations for Hamilton
Friends and family will be able to easily visit Hamilton by train far more quickly rather than having to transfer to a GO bus at Aldershot. The Aldershot bus transfer often adds 30-60 minutes more to the journey time, depending whether the bus was missed or became full.
Not everyone has access to the Hamilton #16 Express GO bus. As a result, friends and family without cars along the Lakeshore lines, do not visit Hamilton as often as they could with predictable all-day GO train service.
With additional station parking and service, a portion of Mountain commuters will choose to park at West Harbour GO and Stoney Creek GO, rather than always driving further on congested freeways to Aldershot GO or Burlington GO.
New feeder bus routes, and possible future Mountain LRTs, will emerge to serve all GO stations, making it easier for our kid's families to share fewer cars and save money.
Future McMaster students can look forward to GO expansion. After some weekends, I witness well over 200 student-aged passengers with backpacks disembark a single off-peak train at Aldershot GO.
Students will be able to stay on the train into Hamilton rather than having to get off one stop early. Student use of GO would also increase even further.
We welcome all the concurrent genuine shovels going on at Hamilton GO construction sites, working to prepare for Hamilton's future growth in GO service.
Post a Comment
You must be logged in to comment.