Steve Parton Goes Back in Time for Dundas Authors' Book Launch
Steve Parton is one of four authors introducing their new works at a book launch this Friday at St. Paul's United Church in Dundas.
By Mackenzie Kristjon Jenkyns
Published November 10, 2015
This article has been updated.
With Back to the Future Day now clearly in the rearview mirror, it's about time to consider another time travel adventure! I had the great pleasure of sitting with Steve Parton, author of Secret of the Ossuary, in advance of his reading during the Dundas Authors' Book Launch at St. Paul's United Church in Dundas on Friday, November 13, 2015.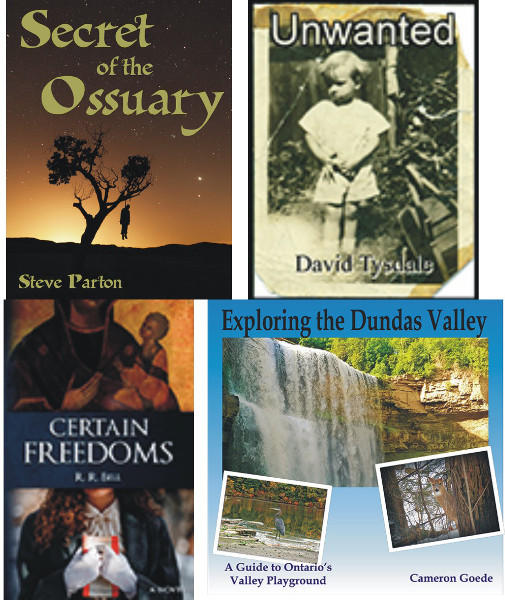 Book covers clockwise from top left: Secret of the Ossuary, Unwanted, Exploring the Dundas Valley, Certain Freedoms
Steve Parton, owner of Avalon Music Academy, is a pillar of the Dundas cultural community and well-known in the area for being highly involved in a multitude of creative pursuits ranging from music to film and now this current novel.
Steve says, "The book started out as a screenplay. I'd been doing other movies and they were fun kind of fluffy movies you'd forget about come Monday morning, and after I finished the last one which was a fun rock and roll movie, I thought about doing something with a little more substance to it. I came up with something a little bit Da Vinci Code and a little bit Indiana Jones."
The basic premise: two McMaster theology students (one Jewish, one Christian) go to Jerusalem and then go back in time to 30 AD. They then meet Judas and witness this famous period from their own perspective. They have iPhones and a camcorder and nothing is exactly as they imagined.
Time to Write
Initially, Steve explains that he went to Los Angeles to discuss the story, and one filmmaker suggested that he re-envision the drama as a novel. At that point, Steve put it on the backburner.
Eventually, Steve was diagnosed with cancer. The doctor explained that it would be a long and slow recovery and he should have lots of books to read. In true Steve Parton fashion, he replied to the doctor, "Books to read? No. Books to write!"
With time on his side, Steve took a few months and delved into the project. Having read and researched three different versions of the Bible and all four traditional Biblical accounts of the life of Jesus, he eventually settled on using Luke's version as a basis, and then had to consider an approach for writing about a time that no one living today had visited.
When asked about the time travel aspect, Steve put it clearly, "Audiences today are more sophisticated regarding time travel than thirty years ago."
As such, he had to be considerate about the approach. The characters end up in this ancient past and don't quite know how or why. This confusion affords him the opportunity to explore their intriguing reactions. Let's just say they are not Bill & Ted but they definitely have an excellent adventure.
"Time travel is something I've always found interesting. If I could do it, would I visit Beethoven, the dinosaurs, Jesus Christ, Napoleon? I chose Jesus Christ but mostly the story is the observations of the Canadians. They learn about these times through their experience with Judas."
The two characters each have different points of view regarding disrupting the future as one "wants to get laid" and the other is a little more concerned with maybe not changing the entire course of history!
Steve has created a 15-minute film which is basically a trailer for the book. This short film screened at the Hamilton Film Festival, was filmed in LA (Malibu) and Hamilton. (Steve played the role of Judas in the film.)
I won't tell you how they accomplished the special effects but let's just say the Apostle Andrew created an issue and costuming was used to full advantage!
Four Dundas Authors
The Hamilton footage was filmed by David Tysdale, who - fast-forward to the future - is one of four Dundas authors holding a book launch to celebrate the release of their newest works. There will a great variety of pieces.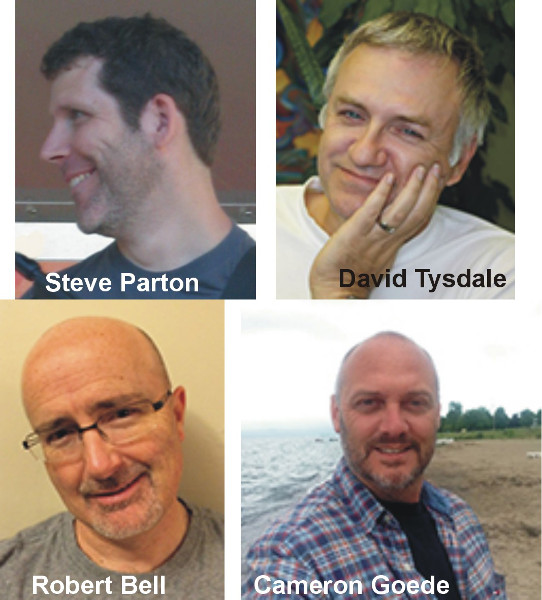 Clockwise from top left: Steve Parton, David Tysdale, Cameron Goede, Robert Bell
All four authors will read briefly, and then will be available for questions, book-signings, and photos. Jeff Mahoney will be hosting.
David Tysdale has been seeing great successes from his biography, Unwanted, about his father growing up in a Hamilton orphanage.
Robert Bell has a fascinating novel, Certain Freedoms, that explores the upheaval of a nation at a turning point in history, set during the weeks leading up to the 1993 siege of Russia's new parliament.
Cameron Goede's book Exploring the Dundas valley describes the best places for hiking and experiencing the Dundas Valley and all its treasures.
The launch will take place on Friday the 13th at St. Paul's United Church, 29 Park Street West, from 7:00-9:00 PM. Admission is free, and light refreshments will be served.
---
Update: updated to add the embed code for the trailer.
Post a Comment
You must be logged in to comment.