New Cannon Bike Lanes Between Gage and Britannia
All in all, the new bike lanes are a major improvement in cycling infrastructure on a street that had both a large number of cyclists and a real surplus of right-of-way that was totally unnecessary for the volume of vehicle traffic it needs to carry.
By Ryan McGreal
Published November 11, 2015
A year ago, the City installed bike lanes on Cannon Street between Lottridge Avenue North and Gage Avenue North, skipping the two blocks between Lottridge and Sherman Avenue North, where the Cannon Protected Cycle Track ends. In late October, the City returned to Cannon to extend the bike lanes east from Gage all the way to the end of Cannon where it meets Britannia Avenue at Barons Avenue North.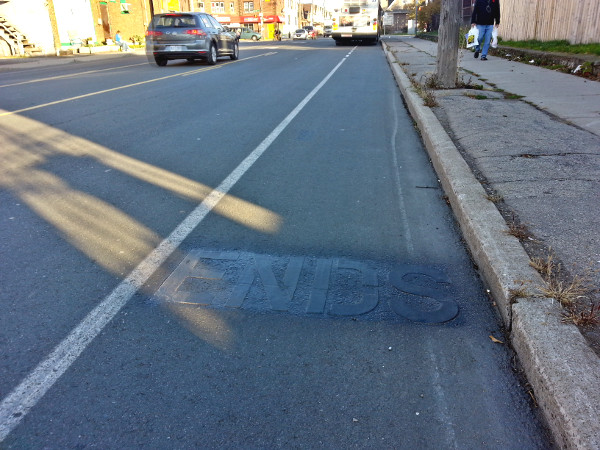 The old Bike Lane Ends pavement marking at Gage has been covered up
Cannon had two vehicle lanes in each direction for a low daily traffic volume - it's huge overkill. Now Cannon is one lane in each direction with a centre turn lane and painted bike lanes in both directions.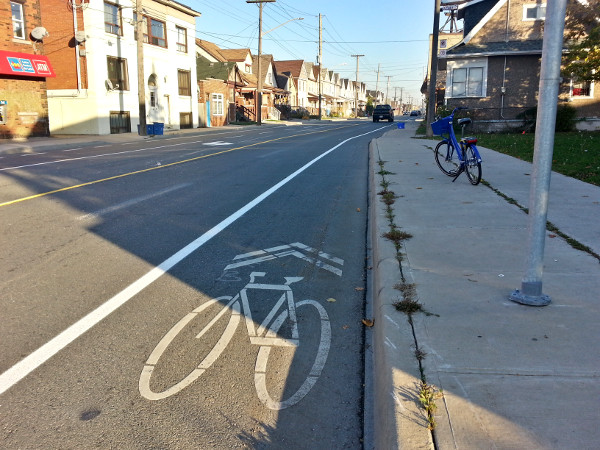 Painted bike lanes on Cannon
This model of street redesign is emerging as a standard way to implement traffic calming on a four-lane urban street where traffic volumes are less than around 20,000 cars a day.
The two vehicle lanes are enough to carry through traffic, while the centre turn lane stops left-turning vehicles from backing up traffic behind them.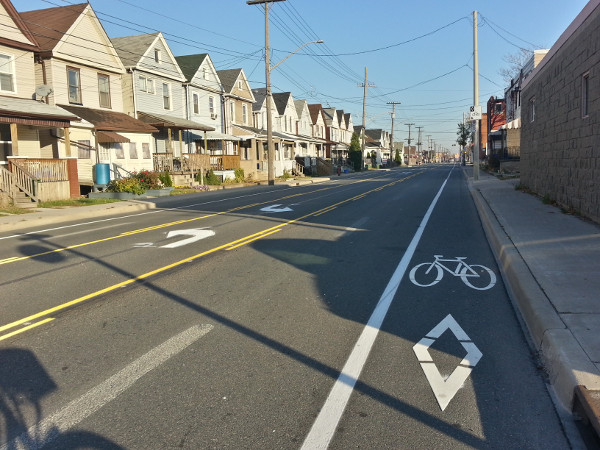 Standard road diet on Cannon
The bike lanes extend two kilometres from Gage to Barons Avenue North, where Cannon bends northeast along the path of the Pipeline Trail to merge with Britannia. Adding in the pre-existing bike lanes between Lottridge and Gage, that's a 2.5 kilometre stretch of bike lane.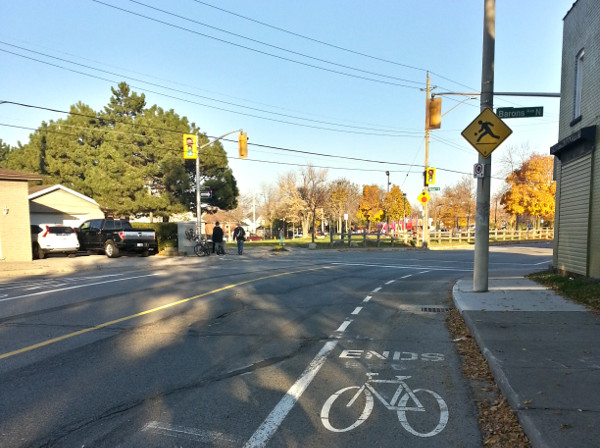 Bike lane ends at Barons and Britannia
Inconsistent Widths
On October 24, Mark Rejhon reported on twitter that the bike lane suddenly narrows east of Kensington Avenue North, whereas the centre turn lane at that location is unnecessarily wide.
In an email to RTH, Rejhon shared his measurements of the bike, vehicle and centre turn lanes at various points, noting considerable variation in their widths. Here is a table of the measurements Rejhon provided, converted to metric.
Cannon Lane Widths (m) at Selected Locations

| Location | N Bike | N Vehicle | Centre | S Vehicle | S Bike |
| --- | --- | --- | --- | --- | --- |
| East Bend | 1.16 | 2.72 | 2.77 | 2.74 | 1.21 |
| Belmont | 1.50 | 2.92 | 2.92 | 2.92 | 1.35 |
| East of Kensington | 1.19 | 2.83 | 3.21 | 2.74 | 1.19 |
| West of Kensington | 1.42 | 2.92 | 2.95 | 2.95 | 1.42 |
We hope the City will repaint this section to ensure that the bike lanes are a safe minimum width.
Westbound
East of Ottawa Street North, the centre turn lane becomes unnecessary so curbside parking is retained on the north side of Cannon with the bike lane passing it to the left.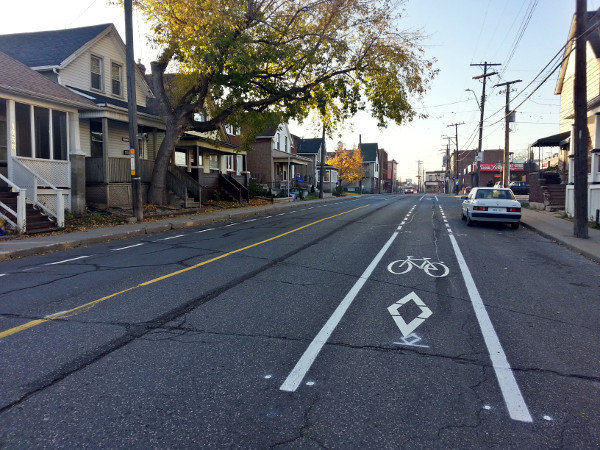 Curbside parking on north side of Cannon
This creates the potential for "door zone" conflicts where parked cars are too close to the bike lanes. The first vehicle I encountered was so close to the bike lane that an opened driver's side door would swing directly into the path of a person on a bike.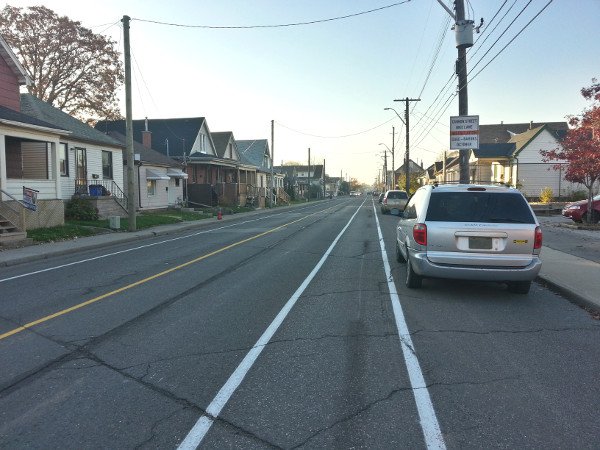 Door zone danger on westbound Cannon bike lane east of Ottawa
At Ottawa Street, the addition of bike lanes has actually improved what was previously a fairly confusing intersection for through traffic on Cannon, due to the east and west sides of Cannon not quite meeting. With the addition of pavement lane markings across Ottawa, the intersection makes more sense for everyone.
The westbound bike lane disappears for less then 100 metres approaching Ottawa and cyclists are indicated via sharrows to share the right-turn lane.
East-End Connections
I've written recently that Britannia would make an excellent cycling route, and the good news is that there is a plan to make this happen. That would produce a continuous route connecting to the Red Hill Trail and the pedestrian bridge across the QEW to the Waterfront Trail along Beach Road.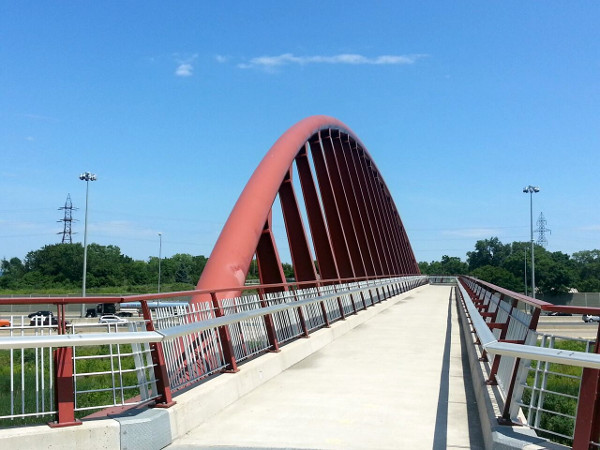 Pedestrian bridge across QEW (RTH file photo)
According to Ward 4 Councillor Sam Merulla, "my plan is to extend the current bike lane beyond Britannia at Barons Ave to St Helen [Catholic School], which can connect you to both the trail to access the pedestrian bridge and Woodward [Avenue] and Melvin [Avenue] through the trail at the Urban farm."
Merulla also plans to add bike lanes on Melvin, which will connect to the Britannia bike lanes via the diagonal trail running between Britannia at MacLaren Avenue and Melvin Avenue at Woodward. Woodward, in turn, already has bike lanes extending all the way to Beach Boulevard.
Major Improvement
All in all, the new bike lanes are a major improvement in cycling infrastructure on a street that had both a large number of cyclists and a real surplus of right-of-way that was totally unnecessary for the volume of vehicle traffic it needs to carry.
Jason Leach was on Cannon last Wednesday on the foggy morning of November 4 and encountered lots of people already making good use of the bike lanes: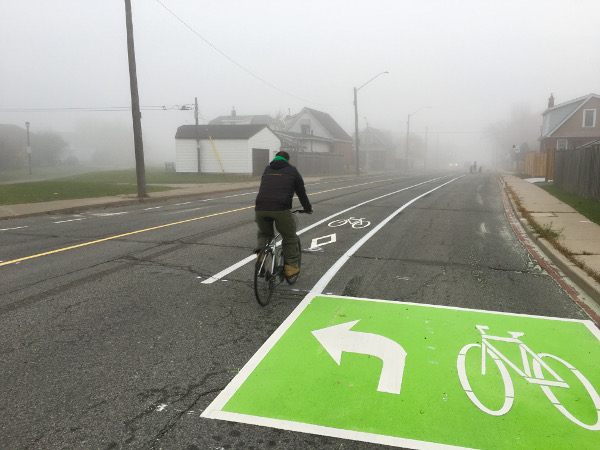 Cyclist on Cannon (Image Credit: Jason Leach)

Another foggy bike ride (Image Credit: Jason Leach)
Of course, I would have much preferred to see the protected two-way cycle track extended all the way, but This Is Hamilton™ and any expansion of the city's cycling network is a step in the right direction.
I just hope the City used better paint this time. The bike lane markings added just a year ago west of Gage are already badly faded, especially past the new stadium.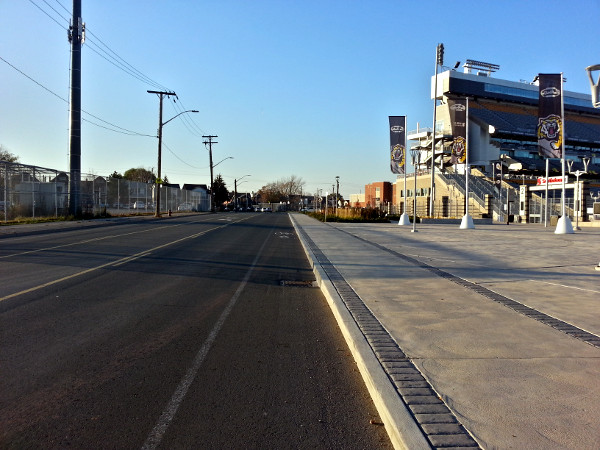 Cannon bike lane faded at Tim Horton Stadium
Broken Link Between Sherman and Lottridge
The other lingering issue is Cannon between Lottridge and Sherman, which for most people is a deal-breaking gap in the bike network.
There is a sign posted on Cannon just east of Cannon directing people driving cars and people riding bikes to share the lane single-file, which is not a great situation for anyone: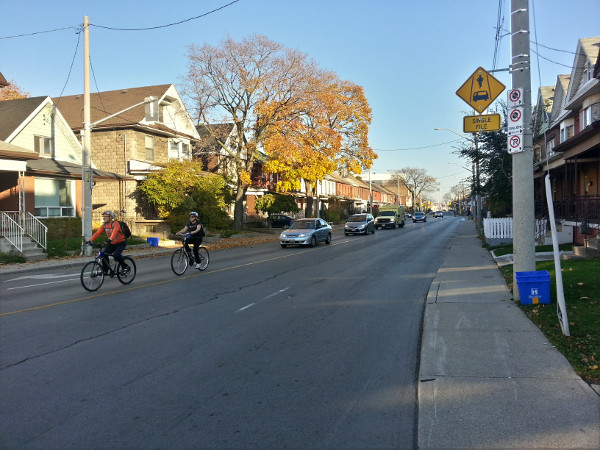 Cyclists on Cannon east of Sherman
West of Sherman, Cannon Cycle Track comes to an abrupt end at the intersection, leaving people on bikes with no obvious way to proceed east through the intersection.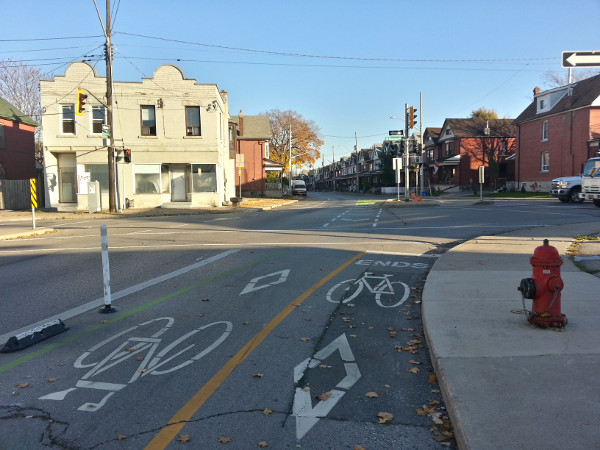 Cannon Cycle Track ends at Sherman
I noticed that there are new west-facing traffic signals mounted on the utility pole on the pedestrian island at Sherman, and I got excited that this meant the City is planning on addressing this broken link on Cannon.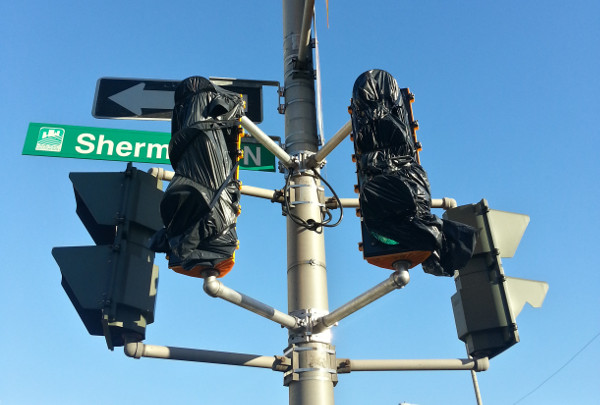 New west-facing traffic signals on Cannon at Sherman
There are also some markings on the pedestrian island itself, suggesting that some kind of changes are planned for it: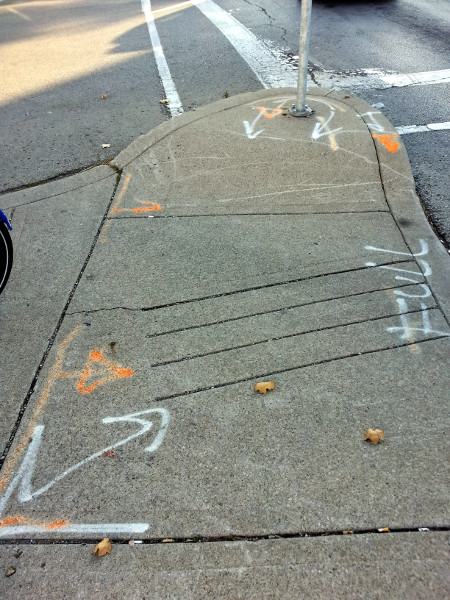 Markings on the pedestrian island at Cannon and Sherman
Unfortunately, it does not sound as if staff have figured this section out yet. According to Daryl Bender, the City's manager for cycling projects, "We have investigated a few options to improve these two blocks for cyclists, but we have not developed a final plan."
The traffic signals are to facilitate eastbound cyclists crossing Sherman, but they will merge into mixed vehicle traffic on the other side of the intersection.
Bender argues that "traffic volumes continue to increase" as you move west from Gage and this presents a challenge for how to incorporate cycling infrastructure.
However, as of 2010 Cannon was carrying only 10,800 cars east of Sherman. That volume can be accommodated easily on one lane in each direction with room for dedicated bike lanes.
Post a Comment
You must be logged in to comment.