Downtown is Looking Up
Don't look now, but downtown Hamilton is potentially on the verge of a major makeover.
By Jason Leach
Published March 18, 2006
Don't look now, but downtown Hamilton is potentially on the verge of a major makeover. Empty buildings and parking lots have blighted the landscape for too long and now we see the potential for a real change in the physical and psychological makeup of the core.
In following up last issue's article on the downtown residential loan program, I was able to obtain some renderings and black and white drawings. The b/w sketches will be made available next issue.
Obviously we'll have a better idea in six months and more so in 12 months as to the status of these projects, but as a staffer in the downtown renewal department told me, they only offer loans to projects that are already well on their way, and they will take those loans away if a developer seems to be stalling or not moving forward with their plans.
After all, there is a lineup of folks with other downtown projects that could use that money and the downtown renewal department will make sure that a cold-footed builder doesn't sit on a grant.
As I mentioned last issue, the amount of street-facing retail space being developed in this next set of projects is exciting, and so are the number of brand new buildings being built. Slowly but surely, we have seen the number of old empty buildings downtown shrink as many are restored and filled with funky office and living spaces.
I am aware of 82 brand new stories of residential space being built in nine separate projects downtown:
King William and Ferguson - 14 stories
King and Ferguson - 11
York/Hess - 15
King/John -5
Main/Bay -10
Bay/Hunter -9
Strathcona/Head -5
Century Theatre -7
Caroline/Napier -6 (under construction)
This doesn't include other projects such as the Connaught hotel/condo, the old Fed building on Main or the Lister Block.
If we are fortunate enough to see all of these projects built, downtown Hamilton will have turned a major corner that can't be denied by even the biggest pessimist. And believe me, many exist.
This upcoming summer should be interesting to see new tower cranes erected, more colour renderings made public and quite possibly more new projects announced as the momentum begins to snowball. Things are definitely looking up downtown.
Following are profiles of four major projects in the series: the city housing building at 87-89 King St. E., the Lyric Century Theatre, the mixed use building at York Blvd. and Hess St., and the Royal Connaught redevelopment.
City Housing Building, 87-89 King St. East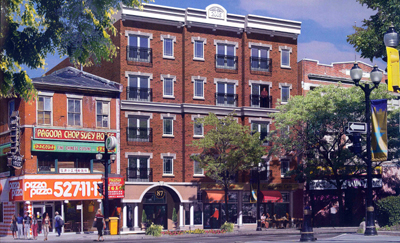 City Housing Building, 87-89 King St. East
Bravo to the city of Hamilton for designing this beautiful five storey apartment building at King and John. I've said much in recent months about the need for Hamilton to reinvest in its urban neighbourhoods and create an environment where our historic buildings are nurtured and taken care of, instead of destroyed.
This building, although new, fits in perfectly with the fabric of Gore Park and King East. A modern high-rise would look out of place here, but this proposal fits the streetscape wonderfully. A city staffer told me that they will likely be somewhat selective of the street level tenants. Don't expect dollar stores or money marts to locate here.
City Housing is on a roll with the City Places building and City Views building already built at Walnut between King and King William, and now this project at the Gore. They are taking a lead role in showing other building owners and developers that Hamilton's heritage is worth saving and highlighting.
Many folks coming downtown will likely say "Now that's what we should be doing with our old buildings," not realizing it's being built in 2006. Hopefully landlords of buildings from the eighteen and nineteen hundreds will get in the game and bring their buildings back to life.
Lyric Century Theatre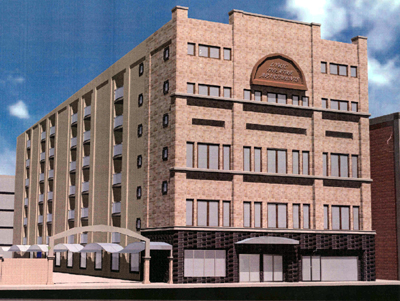 Lyric Century Theatre
This project has been a long, slow process due to severe structural problems and a change in plans for the building.
The image shown is slightly out of date, but shows the general idea for this site: retain the heritage façade on Mary St. and build a new seven storey apartment building behind the structure.
One of the biggest changes now being planned is to build the new building as though it has been slid further to the north. In other words, the façade will remain in its current location, but the rest of the building will be staggered in order to open up some space on the south side of the building for a green park/courtyard element instead of just the narrow alleyway that currently sits there.
It's nice to see the façade retained and restored from one of Hamilton's grand old theatres. Perhaps the owners will develop a mural or phototour in the building's lobby or on the street to honour its past use as a theatre.
This is another great infill development in the King/King William corridor that will bring more life to that neighbourhood.
Mixed Use Project, York Blvd. and Hess St.

Mixed Use Project, York Blvd. and Hess St.
I am quite excited about this project. I'm preparing a 'vision for York' to present on RTH that basically takes the third lane in each direction and turns it into street parking with a bike lane between the parked cars and the live lanes. Then, all the empty building lots need to be promoted as infill sites for buildings in the four to six storey range from Dundurn to Queen and then gradually increasing to ten to fifteen stories between Queen and Bay.
The ground floor should be built at the sidewalk and contain retail shops, cafes, markets, and restaurants with patios and greenery. What is currently a bland highway strip could easily be a vibrant, pedestrian friendly boulevard with its centre median of trees and wide sidewalks. If someone from City Hall is reading this, please move this idea forward.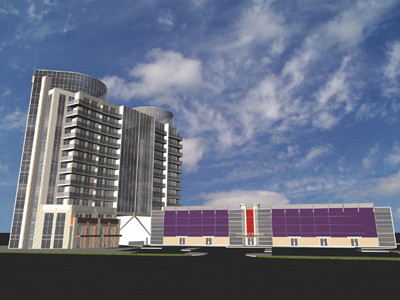 Mixed Use Project, York Blvd. and Hess St.
This project calls for a 15 storey condo tower on the site of Premier Fitness (the old Barn) at York and Hess. The gym is still on site behind the tower. I love the sharp, modern design of this building. As much as we need to nurture our heritage, there is something wonderful about striking, modern architecture blended in with the old.
I love the angle of this building at the corner. It is reminiscent of some of the angled intersections in New York City and even here in Hamilton at the Delta and along King East through Rosedale and Delta.
The ground floor on York will be commercial/retail with the only negative being the parking entrance from York to the fitness club. This is needed, however, due to the fact that Hess is one-way northbound - yet another reason to rid ourselves of these rotten one-way streets.
I hope this building gets built and looks as good as these images show it looking. This could be the beginning of a York Blvd. revitalization process. Or rather, the final phase of the York Blvd revitalization process that the city started in the 1960s and forgot to finish.
Royal Connaught Redevelopment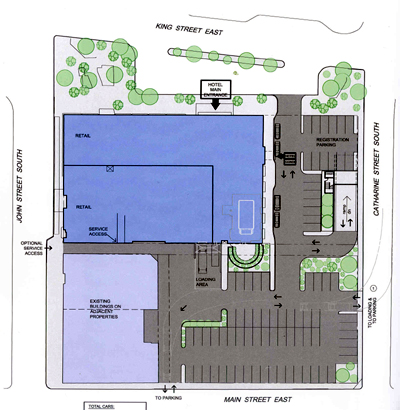 Royal Connaught Redevelopment
There are no spiffy images to show in this plan, mainly due to the fact that the buildings are being gutted and rebuilt inside, but the facades are not changing on the outside. When completed, this condo/hotel project will be a huge boost to the downtown/Gore Park area.
Some highlights to observe in this site plan:
The underground parking ramps along the Catharine st side of the site. Recently, the owners of this project received approval for an 80 meter
(roughly 20 storey) tower to be built at the corner of Main and Catharine. In a different site plan that I've seen that corner was labeled as "future
development". Right now, the goal is bringing these beautiful old buildings back to life.
You'll notice the retail space along John St. Hopefully this will help brighten up a dull, dirty stretch of John that needs new life injected into
it.
Finally, the inclusion of more green space onto the property is a welcome addition. A small sitting area appears at the back side of the hotel and plans call for sprucing up the greenery at the main entrance off of King Street.
This project is one of the largest taking place downtown and is well underway. It will be exciting when the Connaught reopens for many more years as a landmark in our city.
Post a Comment
You must be logged in to comment.