New Urgency Needed to Lead Regional Change
The Province needs a new 'Greenbelt Moment' in which it commits to implementing its regional growth plan with the urgency needed to achieve real progress.
By Richard Joy
Published September 07, 2016
Mixed-use transit hubs are a key element of our broader regional land use strategy. We are heading in the right direction in the Greater Toronto and Hamilton Area (GTHA). We are striving to be a greener, more livable, more socially equitable, more mobile and economically prosperous regional economy. We have policies in play that are aligned to achieve these things.
What we are lacking is the appropriate level of urgency needed to get there. This needs to be addressed, and that it needs to be a bigger priority of our provincial government in particular for this to happen.
The story of Mixed-Use Transit Hubs needs to improve significantly, notwithstanding the great local leadership advanced by the municipal planners of Burlington and Hamilton.
Let's go back a little over a decade when regional land use bells were ringing loudly at Queen's Park. Despite talk of "Smart Growth," low-density urban sprawl was expanding out of control.
Transit infrastructure construction had come to a complete halt (never mind operating subsidiaries), and the Toronto Region's commute times had slipped to second worst in North America.
It was an urgent moment that required immediate and bold action by the Province of Ontario, and just such boldness was delivered.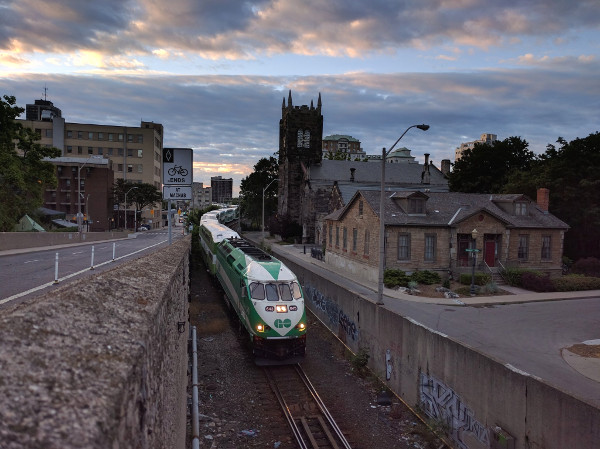 GO Train leaving Hunter Street Station in early morning (RTH file photo)
Province Delivered Bold Action
In under two years, the new provincial government legislated the Greenbelt, a nearly two-million-acre urban containment zone around the Greater Golden Horseshoe.
Next came the Regional Growth Plan, a sweeping provincial planning document that required all municipalities to align their Official Plans toward modern urban form and density.
The regional transit agency, Metrolinx, was created, followed soon after with the Big Move plan to guide massive new commitments to building transit infrastructure.
Ten years later, there is a lot to show for the turnaround in public policy. Sprawl is now at its slowest rate since World War II. Significant urban and suburban densities are being achieved - not just in downtown Toronto, but across the 905. Burlington and Hamilton are among North America's leaders in this regard.
The most ambitious regional transit infrastructure program in decades is well under way, with projects in play across the entire region. Walking and biking numbers are rapidly climbing and transit ridership is at its peak after a twenty-year slump.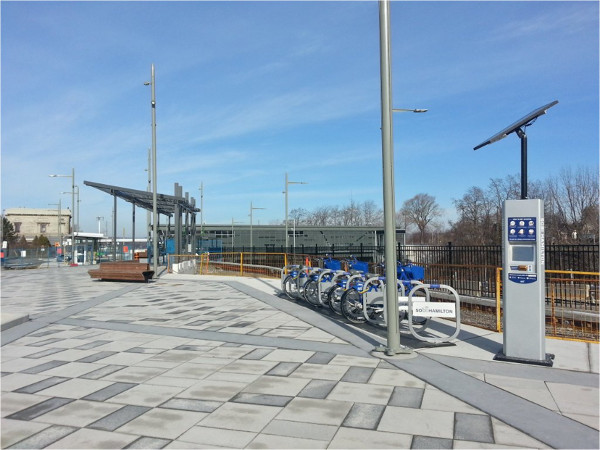 Bike share station at West Harbour GO Station (RTH file photo)
Crisis Not Averted
But the alarm bells should still be ringing. The crisis is far from averted.
Notwithstanding my previous points, gridlock has worsened still, while transit projects lumber along behind schedule - or never get off the ground. Commitments to finance regional transit for decades lack any serious dedicated funding plan.
Meanwhile, population growth continues to be predominantly at the urban edges - only 15 percent of which is located along subways, GO Rail, or planned high order transit lines and stations.
And new urban issues have taken on significant urgency. Affordable housing for low income residents is now a bona fide crisis on its own. Meanwhile, spiralling market housing prices are threatening to deny home ownership to a whole generation.
On the economic front, there is no indicator more chronic than our low productivity levels. Our regional metropolis is the only one of comparable size in North America to witness decline over the past ten years.
Not all, but much of this productivity decline relates to our epic gridlock, the second worst in North America in terms of commute times. This robs our economy of close to $13 billion a year in productivity.
Meanwhile, in the past decade transportation - mostly cars and trucks - has slipped to become the leading source of greenhouse gas emissions. Buildings are number two.
Another 'Greenbelt Moment'
We need another 'Greenbelt moment' in terms of land use in the GTHA. By this I mean we need a definitive, absolute and unequivocal expression of provincial interest on matters that are larger than the interests of any single municipality.
And nowhere could I see the need to advance such a provincial interest more than the intersection of massive provincial (and increasingly federal) transit infrastructure investments and land use.
Transit-oriented development (TOD) is the most effective land use tool available to us to address some of the most major challenges facing our region.
I don't need to explain how TOD can help tackle commute times and climate change by offering fast, low carbon alternatives to the automobile. TOD also offers opportunity for public (and private) value creation that can be harvested to deliver a range of community benefits - especially affordable housing.
And TOD is at the heart of what Millennials are seeking in terms of urban livability.
But perhaps most germane to our challenges is the economy of TOD in the context of mixed use transit hubs. Mixed Use communities - blending commercial and retail, and even some industrial, with residential - have become the leading opportunity for economic growth in North America.
What I can say anecdotally is that in my fairly extensive travel across urban North America, it seems that almost all the economic excitement in terms of land use relates to mixed use intensification. This is especially true in the area of what Richard Florida calls called the creative class economy.
Municipalities Must Deliver
But achieving urban and commercial densities along transit infrastructure, notwithstanding all the compelling reasons for doing so, is very, very challenging. And the bulk of this challenge falls to municipalities to deliver.
To the credit of Burlington and Hamilton, they have become leaders in advancing mixed use intensification along transit corridors and station hubs in the GTHA.
By extension, this makes them leaders in North America, most of which has struggled to truly deliver on this vision.
Yet local resistance to achieving appropriate densities on transit corridors and hubs remains a major barrier to delivering the kind of urban growth we require into the future.
And other public policy barriers, most notably the protection of single-use employment lands, have sterilized most opportunities to create mixed use intensification on high order transit infrastructure.
Provincial Leadership Boldness
So what might the new 'Greenbelt Moment' - the careful assertion of the provincial interests in matters beyond the municipal - look like with respect to Mixed Use Transit Hubs?
For my part I would advance that such provincial leadership boldness could include:
Mandatory minimum zoning set by the Province, where massive infrastructure investments are made - and that these new as-of-right zoning measures be set in place within two years, versus the five years established in the new Regional Growth Plan

Examining how jurisdictions such as London, England have harnessed land value capture to help contribute to public infrastructure costs and other community benefits (especially affordable housing) that the public infrastructure investments create

A review of employment land policies to understand where single-use protections may actually be stifling job growth.

An immediate examination of provincial and federal Environmental Assessments to reduce the irony of EA's serving as barriers to environmentally progressive land use.
Also, hearkening back a decade or so, I would also like to call for a 'Metrolinx Moment.' Metrolinx was a huge breakthrough and should be credited for much.
But ten years in, do we also need to examine its governance structure and powers, including land use authorities? Let's put that idea on the grill too, please!
This essay is adapted from a talk prepared for the panel discussion on mixed use transit hubs at the 2016 Bay Area Economic Summit.
Post a Comment
You must be logged in to comment.