Hamilton Aerial Group's La Nuit du Frisson
An elaborate, otherworldly ritual both thrilling and mysterious, this cabaret combined majestic costumes, music and poetry with fantastic aerial dance performances.
By Mackenzie Kristjon Jenkyns
Published February 14, 2017
This article has been updated.
La Nuit du Frisson: Cirque Cabaret 2017 Review, presented by Hamilton Aerial Group on February 11, 2017 at the Cotton Factory.
Arriving at the recently revamped Cotton Factory at 270 Sherman Avenue North on a warmish February evening, I was both curious to see the changes in the space and also to see what the Hamilton Aerial Group (HAG) cabaret performance "La Nuit du Frisson" would be all about.
Having seen HAG at Supercrawl and other places around town in more casual atmospheres, I felt like I had some idea what might be in store for me and the hundreds of other people, but really? I had absolutely no idea at all what HAG founder Lori Le Mare and her merry troupe had in store for us.
In the large open third-floor space in front of the completely full seating area, we saw hanging rings, aerial silk, trapeze, musical instruments, and a clown walking around (Stephanie Park). Within mere moments, we were drawn into a surreal and magical world which, while imbued with a darkness, also managed to display the beauty and fragility of what it means to be alive.
In the introductory remarks, Hamilton Youth Poets (HYP) poet Victoria Wojciechowska said, "Some people are only sharpened by loss." This poetic wish for magic was immediately followed by an otherworldly stilts and puppetry act that can only be described as a beautiful mix of disturbing and enchanting.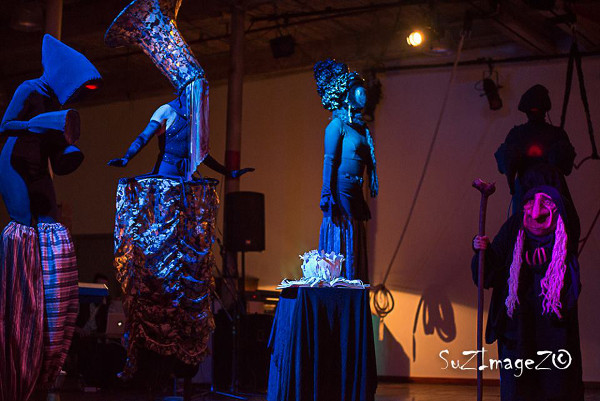 Costumed stilt walkers at La Nuit du Frisson (Image Credit: Suzanne Steenkist)
I felt like we were part of some elaborate ritual that was both thrilling and mysterious, in no small part due to the majestic and shroud-like outfits and headpieces made by Tanis Sydney MacArthur.
After all this haunting movement, enter the first trapeze act. Asia Laviolette was as stunningly graceful in the first act as Pamela Gardner was in the second.
Why isn't this an Olympic sport? Is it an Olympic sport? This was at least as beautiful as figure skating. The evening featured numerous aerial and silks acts which were all equally stunning and beautiful. And I've seen a lot of circuses!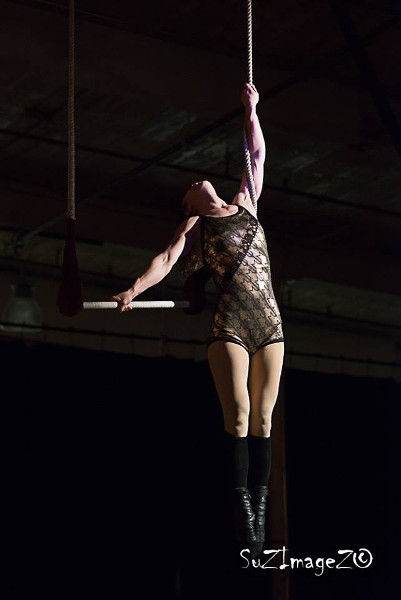 Aerial trapeze (Image Credit: Suzanne Steenkist)
Through the evening, we were graced with musical interludes from Will Gillespie, the Queens of Quirk, Dave Gould, Les Smith, Adam Carter (The Human Race), and Pip. Sarah Perkins (wearing a very devilish mask by Melanie Skene) stilt-walked through the audience during intermission.
Tanis Macarthur and Learie McNicholls provided contemporary dance. Lynne Sargent and Sophia Foss astounded with separate aerial silk shows. And on and on. Never a dull moment with this crowd.
My only real complaint is that they do not do this every weekend! Alas, there are rumours of a show later this year in Cootes Paradise. Stay tuned at the Hamilton Aerial Group's facebook page.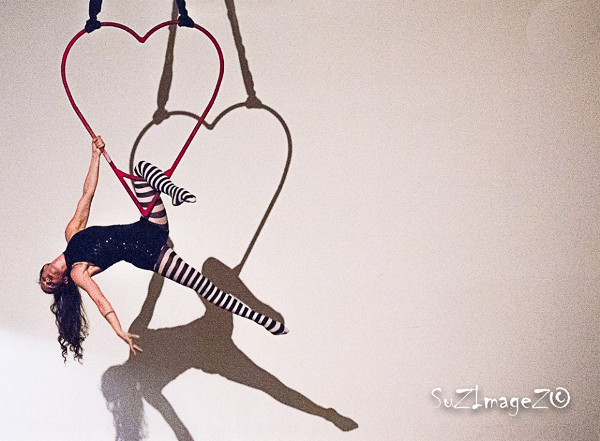 Hanging by a heart (Image Credit: Suzanne Steenkist)
---
Update: Updated to correct the address of the Cotton Factory and the attribution of the quote by Victoria Wojciechowska. Thanks to Lori Le Mare for providing the corrections.
Post a Comment
You must be logged in to comment.