Councillors Punish LRT with Vote Against Bay Station
The LRT opponents on Council can't kill LRT outright, but they are willing to do their damnedest to undermine, sabotage and cripple the system that does get built.
By Ryan McGreal
Published February 16, 2017
This article has been updated.
At yesterday's General Issues Committee (GIC) meeting, City Councillors rejected a unanimous motion from the Light Rail Transit (LRT) Sub-Committee asking Metrolinx to add an LRT station at King Street West and Bay Street.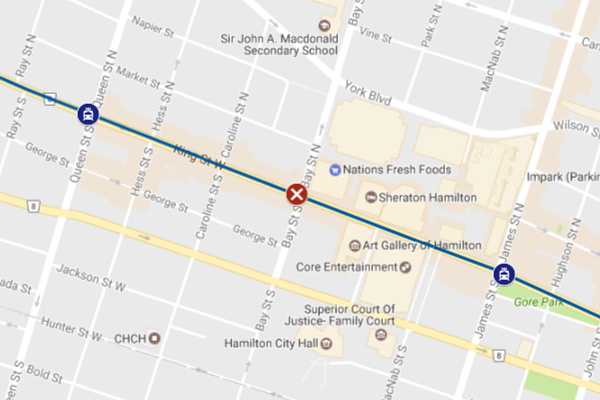 Councillors rejected a proposed LRT station at King and Bay
The motion is included in the LRT Sub-Committee report as item 8.9 on the agenda, but we can't link directly to it because the City's committee website is broken by design.
The motion states:
That LRT implementation staff be directed to work with Metrolinx to add a stop at Bay Street because LRT implementation in Hamilton is at a stage where an added Bay Street stop along the B-line may be permitted.
According to a staff assessment (report PED17021), the station would add approximately $2.6 million to the capital cost of LRT, which is being paid in full by Metrolinx. Final approval of the station by Metrolinx would depend on whether it can be accommodated within the allocated budget.
On an operational basis, the station would add around 50 seconds to LRT travel time in both directions.
Chamber Proposal
The motion originated from a proposal by the Hamilton Chamber of Commerce, supported by a number of downtown businesses and institutional stakeholders in the King and Bay area.
The Chamber made a strong case for the station, noting that it would directly serve a large number of local destinations and trip generators and the cost would more than pay for itself in increased tax assessment on new development without adding significant delay to LRT trips.
According to Ward 2 Councillor Jason Farr, developing the parking lots at Bay and King into high-density mixed use could increase the City's annual property tax assessment from $100,000 a year to $6-7 million.
There are currently stations planned for King and James at Gore Park and for King and Queen, an distance of 850 metres. Bay Street is at the midpoint between these two stations, putting it 425 metres from either station.
The general guiding principle for the LRT has been to space stations at roughly 800 metres in order to find a sweet spot between the speed of the service and its accessibility to passengers. The research indicates that people are generally willing to walk at least 400-500 metres to get to an LRT station.
This distance also maximizes the potential for transit-oriented development along the LRT line, since every developable address along the corridor will be within walking distance of an LRT station.
However, it makes good sense to include LRT stations spaced more closely through the downtown core, where there is a much higher concentration of destinations and trip generators. The staff report notes that other LRT systems do this, including the system currently under construction in Waterloo Region.
Vote for Spite
The Councillors at yesterday's GIC voted 9-6 to turn it down, with hardly any discussion:
For: Mayor Fred Eisenberger, Ward 1 Councillor Aidan Johnson, Ward 2 Councillor Jason Farr, Ward 3 Councillor Matthew Green, Ward 4 Councillor Sam Merulla, Ward 8 Councillor Terry Whitehead

Against: Ward 5 Councillor Chad Collins, Ward 6 Councillor Tom Jackson, Ward 7 Councillor Donna Skelly, Ward 9 Councillor Doug Conley, Ward 10 Councillor Maria Pearson, Ward 11 Councillor Brenda Johnson, Ward 12 Councillor Lloyd Ferguson, Ward 13 Councillor Arlene VanderBeek and Ward 15 Councillor Judi Partridge
Notwithstanding a couple of surprising inversions - Whitehead voting for it and Ferguson voting against it - this was a straightforward case of LRT supporters voting to make the system better and LRT opponents voting against making the system better.
The LRT opponents can't kill the LRT plan outright, since Council repeatedly voted for the project and it would take a "reconsideration motion" with a two-thirds majority vote to reverse those previous votes.
However, it is increasingly clear that they are willing to do their damnedest to undermine, sabotage and cripple the system that does get built.
This is nothing more than council voting out of pettiness and spite because the Province called their bluff on asking for LRT and now they can't back out. It is appalling.
Still Time to Change
The vote to reject the Bay station was taken at General Issues Committee, but it still needs to be ratified in a full Council meeting.
Please take a few moments and send a polite message to Council asking them to reverse the GIC decision, uphold the unanimous LRT Sub-Committee vote, and approve this request.
---
Update: updated to correct the no vote list to include Ward 13 Councillor Arlene VanderBeek, who was inadvertently left off the list. You can jump to the changed paragraph.
Post a Comment
You must be logged in to comment.